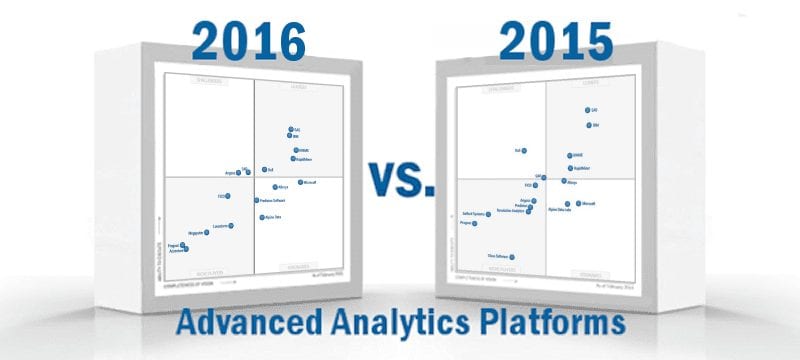 Gartner has officially released the 2016 version of their Magic Quadrant for Advanced Analytics Platforms, a market that the technology and research giant expects to grow substantially in the coming years. By 2018, Gartner believes that more than half of large organizations around the globe will compete using Advanced Analytics and proprietary algorithms, causing disruption on a grand scale. In addition, Gartner believes that by 2020, this market will attract upwards of 40 percent of organizational net new investment in Business Intelligence and analytics.
According to Gartner, the Advanced Analytics industry was the fastest-growing of the analytics segment in 2014, showing 12.4 percent growth. Advanced Analytics tools have been around quite some time, and while the space has traditionally been considered mature and stable, increased excitement has been driven by a desire to use Big Data, Predictive Analytics and machine learning to address issues that used to be difficult to solve. Non-classical use cases are driving much of this interest, things like demand prediction, gaining insights surrounding service and product quality, fraud detection, the streaming of analytics via data in motion, and other types of predictive maintenance. Classical applications of heavily predictive tools is also increasing.
New vendors in this year's report include Accenture, Lavastorm, and Megaputer. Solution providers that no longer meet the criteria for inclusion and have been replaced from the Magic Quadrant include Revolution Analytics, who was purchased in 2015 by Microsoft, Salford Systems, and TIBCO because they did not satisfy the visual composition framework inclusion criteria. Similar to Gartner's 2015 edition, the vendors in this year's report are spread evenly throughout the visual. Starting with the Leaders column, we see household names SAS and IBM once again leading the pack. IBM has certainly closed the gap SAS held a year ago, though each vendor did see a notable decline in their standing based on the vertical ability to execute metric.
KNIME and RapidMiner are hot on the trail of technology giants SAS and IBM, and for the second year in a row find themselves grouped close to one another inside the Leaders column. KNIME, a Swedish company, offers a free, open-source, desktop-based Advanced Analytics platform, and customers of their tool rave about the platform's flexibility, openness and ease of integration with other existing solutions. RapidMiner, showing slight improvement in both metrics, offers a solution that is easy to use, receiving high scores for innovative features such as its "Wisdom of Crowds" and collaboration functionality. Rounding out the Leaders quadrant, Dell makes an appearance after having been comfortably entrenched as a Challenger in 2015.
SAP and Angoss are the lone members of the Challengers quadrant, with SAP holding a similar position as they did last year. Angoss showed impressive vertical movement having been a member of the Niche Players bracket this time last year, and the company holds better-than-average reference scores. With the exception of Predixion Software, who is new to the Visionaries bracket, the quadrant is made up of the same cast of characters that inhabited it in 2015. Alteryx had a foot in the Leaders door in last year's report, but has fallen back a bit in 2016 and has been leapfrogged by Microsoft. Microsoft received the highest completeness of vision score amongst any of the vendors in this report behind their Cortana Analytics tool, which Gartner describes as "the best example of an analytics cloud marketplace."
Alpine Data, formerly Alpine Data Labs, remains in a similar position amongst the Visionaries. Alpine has high reference scores for innovation and has been an early adopter of the Spark and Hadoop stacks. Predixion is headquartered in Orange County, California, and has benefited from the rise in IoT use cases in the last year. The three new vendors can all be found in the Niche Players quadrant of this year's report, with returning providers FICO and Prognoz both tumbling in their standing. Lavastorm recorded high reference scores for Data Integration and manipulation due to customer satisfaction with the provider's data pipelining capabilities. Megaputer, a vendor based in Indiana has a clear strength in its ability to analyze text in 14 languages that is used for both reporting and machine learning.
Read Gartner's Magic Quadrant.