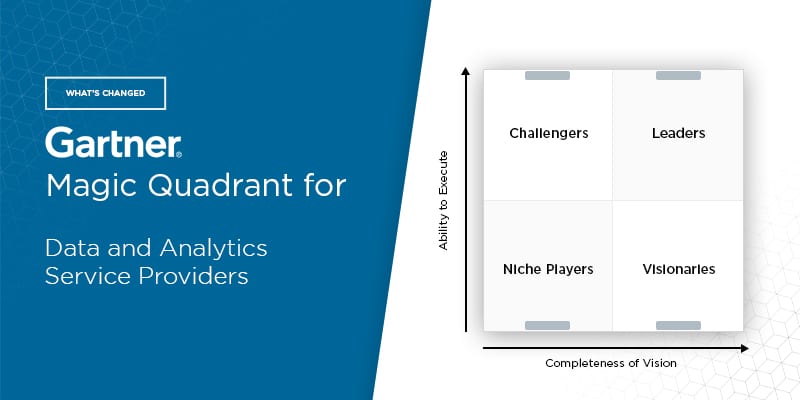 The editors at Solutions Review highlight what's changed since the last iteration of Gartner's Magic Quadrant for Data and Analytics Service Providers and provide an analysis of the new report.
Analyst house Gartner, Inc. has released its 2021 Magic Quadrant for Data and Analytics Service Providers. The researcher defines the market for data and analytics service providers as "consulting, system integration (SI) and managed services for the management of data for all uses (operational and analytical), and for the analysis of data to drive business processes and improve business outcomes through more effective decision making." Core capabilities for vendors in this space include strategy and model designing, data management, analytics and BI, data science and machine learning, data governance, program management, and enterprise metadata.
According to Gartner, the data and analytics services space is "highly fragmented" with thousands of system integrators, consultancies, and other vendors. The researcher evaluates providers specifically on the execution of consulting, implementation and managed services, as well as on the total vision provided for offered services. Organizations are increasingly deploying data and analytics service solutions to support digital transformation and acceleration. As a result, service providers are adapting their business and operating models with mixed offerings to meet changing demands.
Gartner adjusts its evaluation and inclusion criteria for Magic Quadrants as software markets evolve. BearingPoint was dropped for 2021 because it no longer met the criteria for inclusion. Honorable mentions for consultancies, mid-size system integrators, and pure-play vendors in this market include BearingPoint, McKinsey, BRIDGEi2i, EPAM Systems, LTI, Slalom, Fractal Analytics, and Tiger Analytics.
In this Magic Quadrant, Gartner evaluates the strengths and weaknesses of 19 providers that it considers most significant in the marketplace, and provides readers with a graph (the Magic Quadrant) plotting the vendors based on their Ability to Execute and Completeness of Vision. The graph is divided into four quadrants: niche players, challengers, visionaries, and leaders. At Solutions Review, we read the report, available here, and pulled out the key takeaways.
Deloitte is the overall leader in Gartner's Magic Quadrant after pulling ahead of Accenture slightly on the report's vertical axis. Deloitte offers what the researcher dubbs a "well-balanced set of capabilities spanning both technical D&A capabilities and the softer skills around business acumen and change management." The firm offers flexible engagement models, AI scalability, and impressive thought leadership. Accenture remains in an extremely strong position on the graph via its Applied Intelligence network and a mature, asset-based services approach. Accenture also touts integrated business and technology features and the ability to accelerate impact at scale.
EY is close on Accenture's heels and enjoys the top score for Completeness of Vision in this Magic Quadrant. EY leverages data and analytics assets and solutions through AI labs and innovation centers. It offers a business-first approach and a trusted data fabric. The firm works with an ecosystem of external organizations, governments and other standard setters to hasten AI adoption. KPMG and IBM form a bloc in the middle of the 2021 Leaders column. KPMG's service line is supported by 26 regional hubs or digital lakehouses while IBM is a data and analytics services trend-setter. Few firms can match IBM's scale and resources.
PwC, TCS and Capgemini retain their positions among the market leaders. PwC offers an outcome-driven consultative approach, strong analytics and AI features, and broad market coverage. The firm also offers a focus on change management. TCS is known for strong vertical-focused offerings and an impressive collection of consulting assets. TCS leads data analytics-enabled digital transformation via theme-based offerings. Capgemini's global Insights & Data service line collaborates with consulting and industry sectors. Major strengths of the firm include acquisitions and integrations, business change management, and a group portfolio on AI.
Infosys and Cognizant are newcomers to the Leaders column in this report after both were positioned as Challengers in 2020. Infosys offers data-led transformation and has industry vertical expertise. The firm has also invested in innovation and technology hubs, as well as digital studios for customer experience and design. Cognizant's data analytics and AI practice is focused on modernizing decisions through data modernization and intelligent decisioning. The company has deep industry expertise given its focus in specific areas.
Atos is a stone's throw away from attaining market leadership and headlines the Challengers bracket in this iteration. Its global data and analytics practice encompasses The IoT and combines industry vertical understanding and offerings. It offers a digitally fueled vision and delivery and supports modern data architectures. Wipro inched closer to the Leaders column as well, offering various DataOps frameworks the firm offers an "iterative, agile and collaborative approach." Wipro touts a business process-centric approach and maintains a large partner ecosystem.
NTT DATA and HCL Technologies round out the Challengers quadrant. NTT is best known for technology implementation expertise and innovative practices which produce trustworthy data analytics. Clients report high satisfaction with NTT's technology execution capabilities. The 2020 release of a digital success program further enhances the firm's attractiveness. HCL Technologies uses a data-first approach via cloud-based adaptive platforms. HCL data analytics is augmented by Digital Consulting, Applications, and Platform practices.
The 2021 report features two Visionaries in Genpact and EXL, two companies that were included among the Niche Players last year but made notable improvements along Gartner's horizontal axis. Genpact offers data analytics services at a global scale and is highlighted by its business process focus. The firm also has a strong commitment to ongoing customer satisfaction. EXL's data and analytics practice combines domain skills and a suite of proprietary data assets with technology enablement. EXL has also developed a partnership-based model for co-innovation of products in emerging markets and industries.