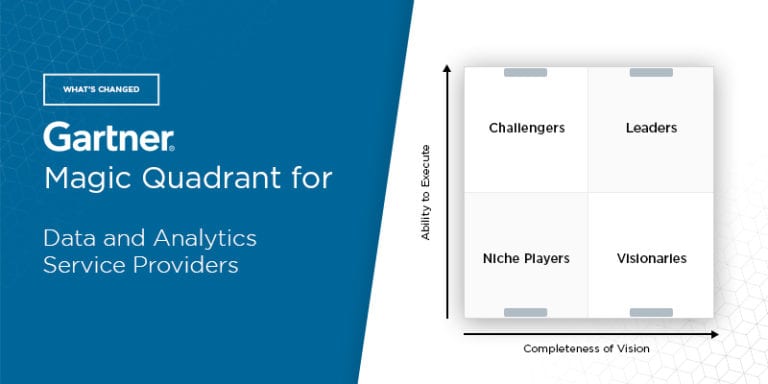 The editors at Solutions Review highlight what's changed since the last iteration of Gartner's Magic Quadrant for Data and Analytics Service Providers and provide an analysis of the new report.
Analyst house Gartner, Inc. recently released the 2021 version of its Magic Quadrant for Data and Analytics Service Providers. According to Gartner, data and analytics stakeholders are increasingly searching for help to re-engineer their data-driven insight generation. The researcher defines the market: as "consulting and system integration (C&SI) and managed services. These services manage data for all uses (operational and analytical), and analyze data to drive business processes and improve business outcomes through more effective decision making."
The market for data and analytics service providers is highly fragmented, and there are quite literally thousands of companies that offer solutions in this space. Gartner's selection is based on a highly-specialized framework that includes support for core capabilities, a vendor's ability to scale data and analytics for enterprise use cases, and a global presence. One could refer to the vendors listed in this report as "full-service offerings." Gartner notes that there are many other capable vendors in this space, many with highly-specialized products, as well as professional services offerings from their existing data analytics software partner.
Gartner's latest report is based on information from several sources, including data and functional capabilities, interactive vendor briefings, feedback from reference customers, and market share and revenue growth estimates.
In this Magic Quadrant, Gartner evaluates the strengths and weaknesses of 18 providers that it considers most significant in the marketplace and provides readers with a graph (the Magic Quadrant) plotting the vendors based on their Ability to Execute and their Completeness of Vision. The graph is divided into four quadrants: niche players, challengers, visionaries, and leaders. At Solutions Review, we read the report, available here, and pulled out the key takeaways.
Representative vendors include Accenture, Deloitte, EY, IBM, PwC, KPMG, TCS, Infosys, Wipro, Capgemini, Cognizant, Atos, NTT DATA, Genpact, HCL Technologies, TechMahindra, DXC Technology, and EPAM. Gartner adjusts its evaluation and inclusion criteria for Magic Quadrants as software markets evolve. As a result, EPAM was added while EXL and NEC were dropped.
Accenture has leap-frogged Deloitte and now owns the top position in this Magic Quadrant, though both companies form a tight bloc at the top of the Leaders column for 2022. Accenture provides services in strategy, consulting, digital, technology, and operations. The firm has partnerships with three-quarters of the Fortune Global 500 and specialization in more than 40 separate industries. Deloitte is a collection of professionals belonging to independent firms that provide audit and assurance, consulting, risk and financial advisory, risk management, tax, and related services to select clients.
EY, IBM, PwC, KPMG, TCS, and Infosys are clustered together in the middle-section of the market leaders, with no single company separating itself (at least from a visual perspective). EY offers four main service lines, including assurance (financial audit and accounting), tax, advisory, and transaction advisory services. IBM utilizes its breadth of experience in cognitive, automation, and cloud to help its customers in the BI and analytics marketplace, both as a technology provider and consultancy. PwC is the second-largest professional services firm in the world and is made up of a network of firms located in nearly 160 countries.
KPMG has three main service lines, including financial audit, tax, and advisory. Its tax and advisory services are divided further into more distinct service groups. KPMG's support services include finance, HR, IT, and facilities. TCS offers a focus on business process transformation, AI-based asset delivery, and upskilling, with data and analytics organized under the company's Analytics and Insights Services line. Infosys' main offerings are strategic consulting, operational leadership, and the co-creation of technology products, namely in the fields of mobility, sustainability, big data, and cloud computing.
Wipro, Cognizant, Capgemini, and Atos round out the Leaders column for 2022, with Wipro and Atos making their debuts in the column. Wipro has a global delivery model, a business-process-led approach to data and analytics, and a focus on talent and innovation. Cognizant offers business and technology consulting, systems integration, application development and maintenance, IT infrastructure services, artificial intelligence, digital engineering, analytics, business intelligence, data warehousing, customer relationship management, supply chain management, and more.
Capgemini offers its services through four main channels: consulting, technology, outsourcing, and local professional services. Atos supports data landscape modernization and governance, has organized its delivery across several global industries by designing vertical-specific tools and facilitates ecosystem collaboration through its cloud-based Digital Hub.
NTT DATA, Genpact, and HCL Technologies fill out the Challengers bracket for this report. NTT adds value via technology implementation expertise, innovation practices, and data and analytics trustworthiness. NTT offers a strong focus on AI and understands the business value of data intelligence. A 2021 visionary, Genpact offers global data and analytics consulting services in industries like consumer products and retail, high tech, and manufacturing. Genpact offers a business process focus as well. HCL Technologies is a major player in the banking, insurance, high tech, life science, and consumer products space. It touts a data-first approach and integrated digital consulting.
To round out this Magic Quadrant, three vendors call the Niche Players column home in this iteration. Led by Tech Mahindra, the bracket also includes DXC Technology and EPAM. Tech Mahindra is niche because most of its resources are in India, though organizations seeking deep technical expertise for end-to-end system integration should consider it. DXC invests in building resource availability, has a business strategy and consulting focus, and offers asset-based services. EPAM is most known for its market responsiveness and customer experience, and according to Gartner, has "responded well to the D&A market's evolving demands."
Honorable mentions for this Magic Quadrant include BCG GAMMA, McKinsey, LTI, SDG Group, Fractal Analytics, and TheMathCompany.