Yellowfin 9.7 Touts New Guided NLQ Natural Language Query Tools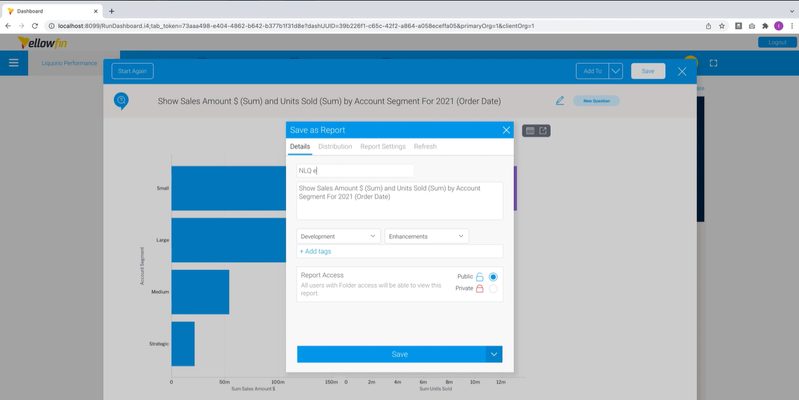 Yellowfin has announced the latest version of its flagship BI and analytics solution headlined by new Guided NLQ natural language query tools. Yellowfin 9.7 leverages natural language processing to enable anyone — regardless of skill level and expertise — to ask data questions in plain language and instantly receive the answer in Yellowfin. Guided NLQ guides users through thousands of comprehensively modelled question types and sequences so they can ask questions in plain language.
[box style="3″]Our Buyer's Guide for Analytics and Business Intelligence Platforms helps you evaluate the best solution for your use case and features profiles of the leading providers, as well as a category overview of the marketplace.[/box]
Yellowfin is an Australia-based BI and analytics company that specializes in dashboards and data visualization. The product features a machine learning algorithm called Assisted Insights that provides automatic answers in the form of easy-to-understand best practice visualizations and narratives. Yellowfin comes pre-built with a variety of dashboards, and users can embed interactive reports into third-party platforms, such as a web page, wiki, or company intranet.
Yellowfin Guided NLQ instantly provides an answer with a best practice visualization and report, overlaying automated analysis where necessary. Additional features in Yellowfin 9.7 include a new mobile app that supports Yellowfin's multi-chart canvas, dashboard, and present widgets and stories that now feature guided NL
In a media statement on the news, Yellowfin CEO Glen Rabie said: "There is significant demand from companies looking to shift analytical capabilities previously only available to analysts to the business user, and Guided NLQ delivers exactly that for true self-service analytics. Combined with Signals and Stories, we see Guided NLQ as the final piece in the puzzle of making analytics more consumer-focussed, fulfilling the need for insights that are automated, contextual to our users' context and delivered in an experience that makes the most sense for them."
Click here to learn more about Guided NLQ and the other new features in Yellowfin 9.7.
[hr style="single"]