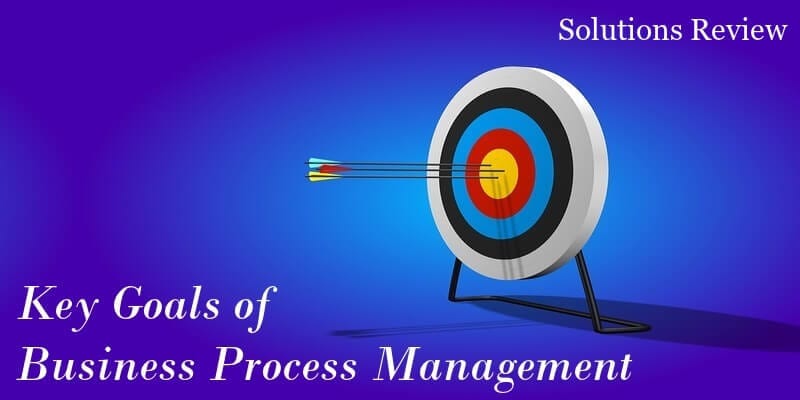 The editors at Solutions Review outline the key goals of Business Process Management.
One of the key goals of Business Process Management (BPM) is to help avoid major challenges in your business. In its most simple form, BPM is the way a company manages their business processes. This usually involves making changes on the workflow, either adding or removing something. Unmanaged business processes lead to time wastage, increase in blame, demoralized employees, lack of data, more errors, and even withdrawal of investors.
What is BPM?
BPM creates, edits, analyzes, monitors, improves to optimization, and automates business processes. Managing these processes can be viewed from two viewpoints; people and technology. For example, stakeholders in a meeting can analyze their processes individually, or collectively to identify areas that need improvement. After which, improvements will be done to have a more efficient and effective organization. In a much simpler instance, improving a product or service to make it of more value to their customers. However, people and technology can also be seen to be interdependent in the whole process, with one standing out. While these processes seem obvious in every organization. They need to be invested in enough to be properly managed.
What is a business process?
A business process involves taking a series of steps to reach a specific goal. This is something a company does on a regular basis like sending quotations, or onboarding a new employee. While BPM is part of operations management, it should not be confused with project management or task management.
A project is one-time and is mostly fashioned to suit a particular customer or product. Project management does not follow a predictable pattern. A task is a step in a project or a business process. A project or a process can include 5 tasks for it to be completed. Tasks can also be seen as guides in a section of a process or project. BPM focuses on a series of operations that are repetitive or ongoing, and which have a predictable flow.
What are the Goals of BPM?
Business process management is extremely important. Departments like HR, Publishing, Finance, and Sales process large amounts of information and are in constant need of analyzing and improving their data. BPM follows a process; design, analyze, improve, monitor, and optimize. The main goal of managing is to;
Combine information for timely easy access, analysis, and improvement.
Automatically synchronize information fed into the system.
Design customized digital models for the process' unique scenarios.
Keep track of all employees and enforce changes you make to the system.
The system will alert IT of existing loopholes and inefficiencies since it also keeps track of the processes.
How will I benefit from BPM?
You have to look at how your organization and clients will benefit from managing your business processes.
Customer satisfaction– an efficient process gives you a better product or service. This in turn will make you sell at a cheaper price, or offer value products than your competitors. Either way, your customers will be satisfied, happy, and get you referrals.
Innovation– constant improvements make your business more agile because you have developed regular changes. This will not only keep your clients waiting for the next improvement but also your employees ready for when you will want to make drastic or major changes in the company.
Active employees– regular changes keep employees on their toes. The process should also involve them when assessing feedback on products they sell. They will even be more motivated when you reward them for the feedback they give.
Human-integrated business processes seem to be satisfactory, but remember that when the work gets bulky, things are bound to go wrong. Getting BPM software (BPMS) not only sets things in order, but also ensures that all steps have been followed.'
Why use BPMS?
In this day and age, everything involves technology. But there are more factors when it comes to using BPM software.
Software has become cheaper. This makes it more affordable even for small business owners. Anyone can buy it without the help of the IT department.
People want to use their mobile phones when working. A software will simplify the bulkiest of information to fit whatever size of screen. So, getting information on certain aspects becomes easy.
You do not need expertise. Using BPM software does not need you to have IT expertise. The system is not complicated and can be used by literally anyone.
The system will store data in the cloud. This will make it beneficial because you will be able to store more information in the cloud.
A company can be able to share workflow with their clients.
Business process management software will definitely get you good results and tracking of your work. You will also be assured that your employees adapt easily to changes, and contribute to product innovation.
---
Looking for more? Download our Business Process Management Buyer's Guide for free to compare the top-24 products available on the market with full-page vendor profiles. The guide includes key capabilities to look for, a BPMS market overview, our bottom line analysis, plus questions to ask before purchasing.
And don't forget to follow us on Twitter, LinkedIn and Facebook for all the latest in Work Tech!

Latest posts by Elizabeth Quirk
(see all)