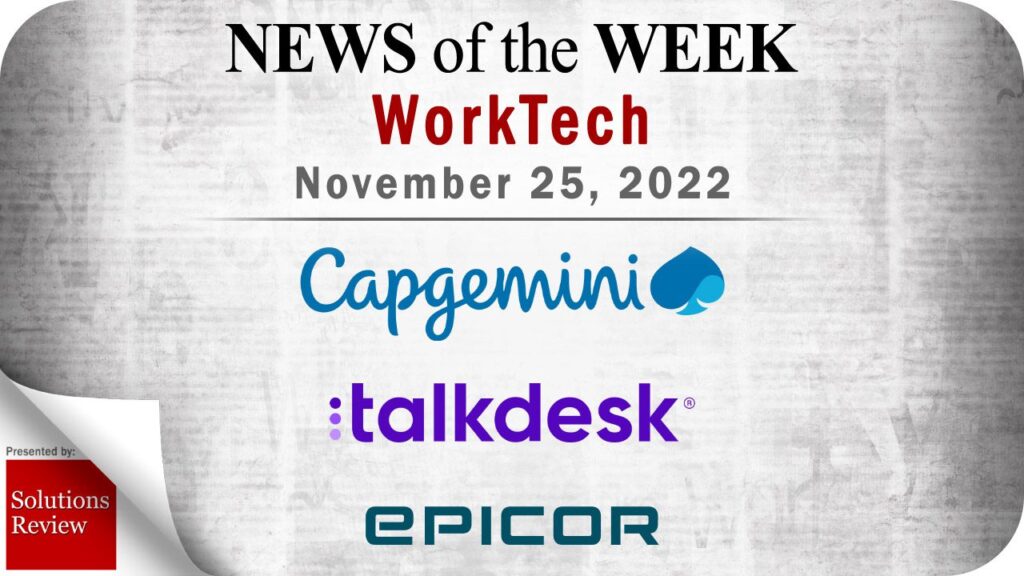 The editors at Solutions Review have curated this list of the most noteworthy WorkTech news from the week of November 23rd. This round-up covers announcements and updates from companies like Capgemini, Talkdesk, Epicor, and more.
Keeping tabs on the most relevant ERP and BPM news can be time-consuming. As a result, our editorial team aims to summarize the week's top headlines in the enterprise technology marketplace. The Solutions Review editors will compile a weekly round-up of vendor product news, mergers and acquisitions, venture capital funding, talent acquisition, and other noteworthy WorkTech information. With that in mind, here is some of the top WorkTech news for November 23rd.
Top WorkTech News From the Week of November 23rd, 2022
---
In an upcoming webinar on November 29th, 2022, Eric Kavanagh, The Bloor Group CEO, will be moderating a panel on how IT leaders can make more informed decisions regarding ERP modernization strategies. The live, one-hour webinar will also host Valoir's Principal Analyst Rebecca Wettemann and Rimini Street GVP, SAP Product Strategy Luiz Mariotto. Additional topics include managing application lifecycles to best enable digital transformation while reducing risk, maximizing returns on SAP investments, and more. Register now at the link below.
---
Capgemini has acquired 23red, a UK-based purpose-driven creative agency that works with clients in the Public and 3rd Sectors. 23red's services can help charities and government businesses develop brands and campaigns that engage audiences via relevant channels, shift audience behaviors, and drive long-term business change. The team at 23red will join frog in the United Kingdom and be part of the Capgemini Invent solution suite.
---
Creatio has announced details on its upcoming 8.0.6 platform update, which will be formally presented during a virtual event on December 13th, 2022. The new version of the Creatio platform will feature an updated composable architecture and enhancements to the Freedom UI. These updates will help organizations automate workflows, streamline the application development process, and provide smoother experiences for end-users.
---
Epicor, an industry-specific enterprise software provider, has released Epicor Service CRM, a solution tailored to automotive service businesses. The Epicor Service CRM suite includes website development, online reputation management, and search engine optimization (SE) tools through Optimize Digital Marketing, a digital services provider for automotive businesses. With the Service CRM module, vehicle service businesses can improve revenue generation, maximize their online presence, and attract, retain, and recapture customers.
---
The 4th Annual WorkTech Insight Jam is less than three weeks away, and we're thrilled to announce several additional speakers and moderators. Newly confirmed panelists include Chad Ruff of Act!, Dan Parsons of Thoughtful, and Kenny Mullican of Paragon Films, Inc., who will also be acting as moderator for the "Industry 4.0: Charting the Future of Industrial Automation" panel discussion. They are all scheduled to appear in one of the exclusive executive roundtable discussions planned for the December 14th event.
---
Talkdesk, a global cloud contact center provider, has announced two new additions to its Talkdesk Builder suite of low-code and no-code customization tools. With Talkdesk Automation Designer and Talkdesk Workspace Designers, organizations worldwide can develop a customized contact center capable of meeting changing customer expectations and bypassing resource constraints. The new products can provide users with the tools they need to create AI-powered automations, optimize business processes, develop custom user interfaces for different contact center roles, and more.
---
For consideration in future WorkTech news round-ups, send your announcements to wjepma@solutionsreview.com.
---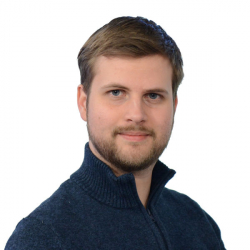 Latest posts by William Jepma
(see all)