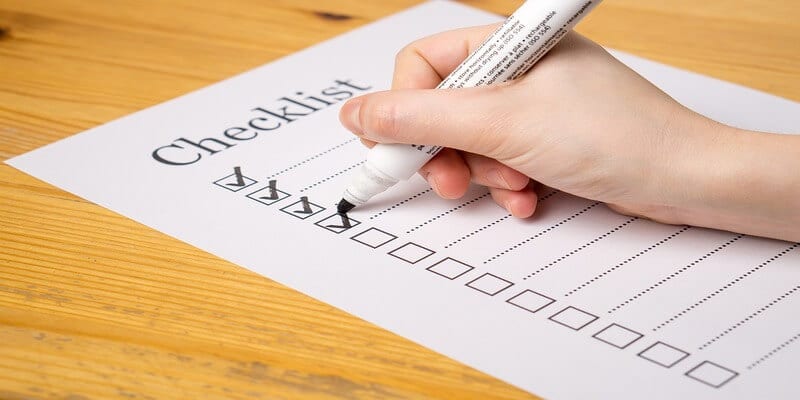 Business Process Management (BPM) software has a plethora of benefits for businesses who wish to organize their business strategies and maximize workflow. Here at Solutions Review, we have put together a 10-point checklist to help you implement and make the most of your BPM tool.
1. Choose Your BPM Platform Wisely
Before you start creating processes, make sure you are building them on a good foundation. The enterprise market is overflowing with BPM and automation tools that include everything from automatic collaboration to fixing broken processes and strategies. It's important to make sure your BPM tool has all of the most important BPM features.
Some BPM tools are designed to offer application development capabilities, while many others are built for visibility and process tracking. We suggest looking for a solution that everyone on the team can use, including non-technical business users. Choosing an easy-to-use BPM can save you from hiring expensive consultants to troubleshoot integration and operational issues.
2. Test Run the Tool
Although you may be tempted to try to automate the monster of a process that is wreaking havoc, the first process you should automate when implementing a BPM solution should be one that is a little easier to manage and where the risks are lower, in case anything should happen.
Until your teams are comfortable with the BPM tool you choose to implement, we suggest refraining from implementing it on mission-critical processes. Test it first on small processes like purchase orders, or other easily manageable projects. Once you and your team gain enough confidence about controlling the BPM tool better, slowly scale up the workflow to include major projects.
3. Identify a Process Owner
When integrating a new software, it can sometimes become disputed land for all teams. Everyone points fingers at each other if there is no one delegated to manage the implementation process and BPM tool operations. Although nowadays with cloud, the software provider / vendor usually takes the role of process owner.
For a BPM software implementation, it is important that you identify a process owner, usually the business lead in charge of the process, unless it's a cloud-based solution. This person will be accountable for the smooth functioning and organization of the process and data. Hence, why it's important to choose a human-centric BPM software solution that all of your employees can feel comfortable with.
4. Set Goals
If you don't have any enterprise benchmarks or goals associated with the BPM software implementation, it will be an aimless endeavor and a waste of time and resources. Keep the 'why' of automating your processes in mind before you trigger any workflow. Some are designed to cut time and spending, other processes are set up for better tracking or getting rid of paper trails.
By identifying the most important priority in your workflow, it allows you to focus on what really matters instead of attempting to achieve multiple goals all at once. We suggest tieing a workflow to a specific objective that you are planning to accomplish and within a timeframe you want them achieved.
Maybe start with making sense of the data from previous processes such as emails, phone calls or chats with a customer. Be clear about the optimal time taken to finish each task under normal conditions, and use that information to set reasonable goals for the BPM platform to achieve.
5. Visualize the Workflow
One key point in any BPM software implementation is sitting down with your team to diagram what the workflow will look like. Start with a simple piece of blank paper rather than a Work Document. Discuss what your ideal work process should look like and how it should run, then draw up a representation of it.
Talk with other team members and ask how the tasks were managed in the past. It's important to understand the history of a process and any big changes they have gone through rather than basing your decisions on assumptions. In doing so, you can get an idea of what worked in the past and what didn't in order to learn from it and become better and more efficient.
We suggest keeping the process minimal so that the hassles of manual processes don't creep into the system – the shorter the process route, the higher the chances are of a BPM tool's success.
6. Involve Everyone on Your Team
A BPM system is usually run by two groups: technical admins who know how to use the BPM platform (or for cloud-based systems: the software vendor), and functional business owners who know how to run the system.
In order to encourage collaboration on the new BPM platform, involve everyone on your team right from the get-go. Meet with everyone and talk with them in order to get feedback to understand pain points and what they need.
7. Pilot Your BPM Workflow
The best way to understand a BPM's impact on your business process without interfering with your ongoing processes is to run it on a pilot test. Take this opportunity to train people or play around with the BPM software solution's features without the fear of risking anything.
A BPM system has to sift through a bulk of business data when performing, so testing the tool can help you figure out the actual system runtime, its bandwidth to handle workload processes, agility, and output.
8. Prepare for Change
Traditionally built BPM methodology focuses on structure and system rigidness, which is why only the elite club of IT personnel are able to make changes to it.
But with the rapid adoption of cloud computing and Software-as-a-Service (SaaS), businesses today need a BPM software that integrates well with pre-existing systems. You wouldn't want to pick a BPM tool that demands the overhaul of your existing process of the IT infrastructure.
We suggest choosing a resource-friendly and flexible BPM solution that adds more value to your ongoing processes.
9. User Training and Prep
The success of your BPM software implementation depends on how your team in the process can interact with the system. BPM software requires every user and every participant to be accountable for the processes being carried out, and the best way to achieve this objective is by coaching your team.
Conducting a workshop about the basics of the BPM tool, the rationale behind its implementation, and results expected.
10. Measure and Adjust
You won't know if automation is actually speeding up your workflows or business strategies if you don't gauge the Return on Investment (ROI) of the BPM software solution. Last but not least, the role of measuring and improving a process is a key element of a successful implementation.
Usually, BPM software solutions are hard to measure because their data is a little more vague compared to other resources in an enterprise. But if you determine what specific types of data you want to look at, you can use key performance indicators (KPIs) to break them down and adjust from there.
---
Looking for more? Download our Business Process Management Buyer's Guide for free to compare the top-24 products available on the market with full page vendor profiles, key capabilities, a BPMS market overview, our bottom line analysis, and questions for prospective buyers.
And don't forget to follow us on Twitter, LinkedIn and Facebook for all the latest in Work Tech!

Latest posts by Elizabeth Quirk
(see all)