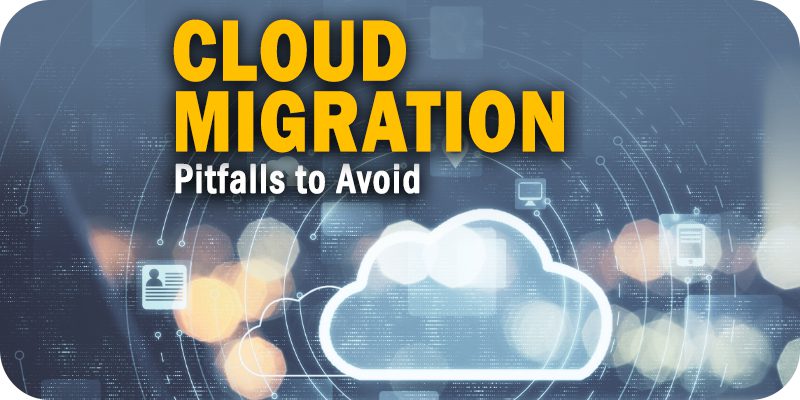 This is part of Solutions Review's Premium Content Series, a collection of contributed columns written by industry experts in maturing software categories. In this submission, Mindtree Global Head of Cloud Kapil Uniyal outlines several key cloud migration pitfalls to avoid so you can drive multi-cloud initiatives forward.

2022 is poised to be the 'Year of Multi-Cloud'. Many enterprises have gotten their proverbial feet wet moving their data, applications, and workloads to the public cloud — Microsoft Azure, Amazon AWS or Google Cloud — as a way to jump-start their digital transformation initiatives. But many haven't maximized their cloud investment, and some have learned the hard way how overpaying for cloud resources can stall their digital efforts.
This is the year when all of that changes. Enterprises are figuring out that not all cloud environments are the same. Each has different capabilities, security functionality, and interoperability with on-premises systems. The hyperscalers keep adding more functionality that makes it easier to run a multi-cloud environment, including adding multi-cloud container management services (Azure Arc, Google Anthos, and AWS EKS Anywhere).
But many enterprises have learned that cloud migration mistakes are magnified as they take on more public cloud. The hyperscalers are supporting multi-cloud, but they still want to lock in customers to their cloud with application dependencies and egress fees that make it difficult to port services and data from one cloud to another. Right-sizing a cloud investment from the start is more important than ever.
Key Cloud Migration Pitfalls to Avoid
Here are a few important tips for cloud migration that will allow enterprises to optimize their cloud footprint and keep their digital initiatives on track:
Don't Mimic Your On-prem Environment in the Cloud
Moving business services, applications, and data to the cloud may require changes to security measures, storage configurations, and monitoring, even if the workload's architecture is the same. Selecting the right cloud service — IaaS, PaaS, SaaS, serverless — is critical.
Don't Move Workloads and Data to the Cloud Without Putting in Place a Robust Backup, Disaster Recovery, and High Availability Plan
Many organizations mistakenly think that their cloud provider is responsible for protecting their mission-critical data. But while cloud providers offer security safeguards, it is ultimately the customer's responsibility to protect their data and configure their security settings to their needs.
Plan for Compliance Requirements in the Cloud
Many countries require personal information about their citizens to be stored and processed on servers within that country. There are also strict requirements on the retention and deletion of certain data, such as the right to erasure. It is once again up to enterprises — not the cloud vendor — to understand where their cloud-based data is being stored, and what needs to be retained versus what must be erased. The requires organizations to have very good visibility into their data before it is migrated to the cloud and to read the fine print of their SLAs.
Have Comprehensive Training, Cross-skilling, and Up-skilling in Place
The global cloud skills shortage is the largest barrier to cloud adoption, per Gartner, Inc. Aggressively moving more infrastructure to the cloud without having the talent to support it is risky. Enterprises should develop a strategy to upgrade their teams in the most in-demand skills, including containerization, security, AI/machine learning, DevOps, data science, low code/no code, multi-cloud deployment, automation, among others.
Establish an Operational Model-focused on Controlling Cloud Costs and Delivering Value
Another common mistake we see is organizations not establishing a strategy to manage their cloud costs before migrating to the cloud. An organization may pay for tools or storage it doesn't end up using. Adopting the FinOps framework allows organizations to unlock the true value of the cloud, plan for future cloud consumption costs and regularly audit their cloud footprint to keep their cloud costs under control.
Don't Ignore the "People Aspect" of Organizational Change Management
Too many organizations migrate their business to the cloud even when their organization's people, processes, culture, structure, and measurement of outcomes are outdated and siloed. An effective OCM framework for the cloud may involve restructuring processes, upskilling the workforce, simplifying governance structures, and employing new ways of incentivizing outcomes that drive business value.
Ensure the Ability to Manage Globally Diverse Multi-cloud Environments
Optimal governance, cost management, and security are top concerns for organizations with multi-cloud environments. Cloud Management Platforms enable centralized view and unified management, including automation, governance, life cycle management, and brokering.
There will likely be more growing pains as enterprises expand their multi-cloud environments in 2022 and beyond, and some may be best served by continuing to use private cloud infrastructure in conjunction with public cloud (hybrid cloud scenarios) to achieve their short-term business goals. The organizations most effectively adopting multi-cloud are continuously planning ahead before a migration, learning from their mistakes, and being ready to take advantage of new features that will take their cloud strategy to the next level.
Latest posts by Kapil Uniyal
(see all)