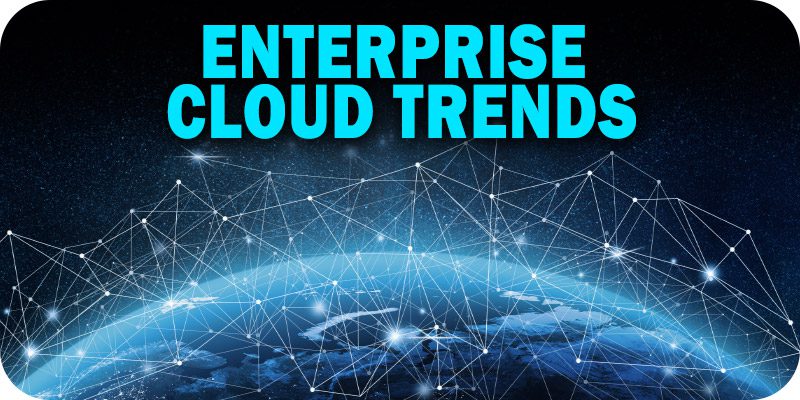 This is part of Solutions Review's Premium Content Series, a collection of contributed columns written by industry experts in maturing software categories. In this submission, Flexera Director of Cloud Market Strategy Brian Adler offers key enterprise cloud trends to know for a cloud-first approach.

The public cloud footprint of enterprises is expanding and cloud usage over the past year has been higher than initially planned. Enterprises are increasing public cloud spending and workload volumes.
These top-line findings reflect the cloud-first policies and cloud migration initiatives of senior IT leaders in enterprise environments. They're among the insights released in the Flexera 2022 State of the Cloud Report. The report highlights shifts in cloud strategies, with special attention on how enterprises (public- or private-sector organizations with 1,000 or more employees) and large enterprises (public- or private-sector organizations with 10,000 or more employees) are moving to and using cloud computing. This 11th annual survey and report include top trends related to enterprise cloud:
Enterprises Struggle to Budget Accurately for Cloud Spend
More than 1 in 3 enterprises spends $12 million+ per year on the cloud, with Amazon Web Services (AWS) holding a slight lead over Microsoft Azure and Google Cloud Platform among enterprises spending over $12 million annually. Overall, 80 percent of enterprises spend in excess of $1.2 million annually on the cloud.
Among all survey respondents, public cloud spending was over budget by an average of 13 percent, and 32 percent of cloud spend was estimated to be wasted. Respondents also expect cloud spending to further increase by 29 percent in the coming twelve months.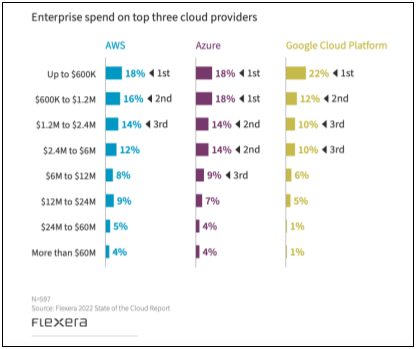 Almost Half of Enterprise Workloads and Data are in a Public Cloud
Enterprises now run 49 percent of workloads and store 46 percent of data in a public cloud. This will grow in the coming year when enterprises plan to move an additional 6 percent of workloads and 7 percent of data to the public cloud. With cloud estates expanding, and as more workloads with compliance mandates enter the cloud, they require improved governance controls to maintain visibility.
Security, Lack of Expertise, and Managing Cloud Spend are the Top Challenges for Enterprises
Each of these challenges was the top concern in 2021's report and is increasingly challenging in 2022. As enterprises expand their cloud footprints, the demand for skilled staff grows. Expertise is necessary to address a range of cloud considerations, including spend, cloud cost optimization, migration initiatives, and the use of trending cloud technologies like containers.
Many large enterprises are turning to tooling to help manage these challenges. Among large enterprises, 41 percent use multi-cloud security tools, 37 percent use multi-cloud cost management tools, 34 percent use multi-cloud governance tools, and 33 percent use multi-cloud management tools.
Optimizing the Existing Use of Cloud is the Top Cloud Initiative for 2022
For the sixth consecutive year, optimizing the existing use of the cloud (cost savings) is the top cloud initiative. In large enterprises, the financial management discipline and cultural practice of FinOps (cloud financial management) is gaining traction to help meet this goal. FinOps teams are working with other groups—including IT/Ops and cloud centers of excellence (CCOEs)—to keep costs down.
Enterprises are Taking a Centralized Approach to Cloud
Centralized controls, tools, and best practices can help enterprises accelerate cloud adoption by centralizing expertise while reducing costs and risks. Enterprises, due to their larger size and more extensive application portfolios, have a greater need for centralization than do small-to-midsized businesses (SMBs). Today, 40 percent of enterprises have a CCOE, another 34 percent have a central cloud team, and an additional 12 percent plan to adopt a central cloud team or similar in the coming year.
Use of Public Cloud Platform-as-a-Service (PaaS) Services is Growing
Across organizations, the number of public cloud users that utilize services beyond basic compute, storage, and network services is growing. That's certainly the case for enterprises. PaaS services most widely used by enterprises right now are data warehousing (used by 58 percent), relational database-as-a-service (DBaaS) (used by 50 percent), and container-as-a-service (used by 46 percent). The next wave of interest in PaaS services, measured by enterprises currently experimenting with the service, is led by serverless and artificial intelligence/machine learning (AI/ML).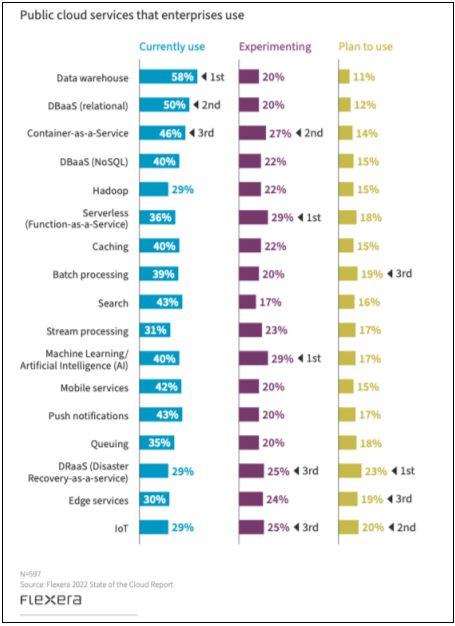 Container Use Has Moved to the Mainstream
More enterprises are using or planning on using container tools. AWS ECS/EKS is currently the most used container tool among enterprises, with 48 percent currently using it and 24 percent planning to use it. It is closely followed by Azure Kubernetes Service (AKS) (42 percent of enterprises using it, 29 percent planning to). Kubernetes and Docker are each currently used by 44 percent of enterprises.
In this post-pandemic world, enterprises are focused on optimizing hybrid IT, rightsizing cloud environments, leveraging consumption intelligence to plan cloud migrations, and looking for the best data to optimize cloud spending. Understanding current enterprise cloud trends can help ease an organization's digital business decision-making processes, technology and vendor selection, cost forecasting, and investment strategies to strengthen their overall cloud journey.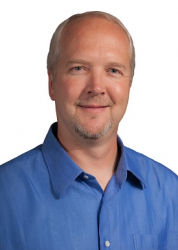 Latest posts by Brian Adler
(see all)