Solutions Review's Expert Insights Series is a collection of contributed articles written by industry experts in enterprise software categories. In this feature, LTIMindtree's Vinay Padegaonkar offers the most key Google Cloud Platform trends to know right now.
Google Cloud Platform (GCP) could be well positioned to gain further market share in 2023 given the heightened need for automation and agility, customer experience excellence, the rise of remote working, and the focus on ensuring business continuity, as well as the demand for more flexibility and technologies powered by artificial intelligence and machine learning.
Like its hyperscaler competitors, GCP is constantly adding new services and enhancements to meet this growing demand and solve future business problems and technology challenges.
Here are 7 major cloud computing trends to watch in 2023 and how GCP may rise to meet the challenge.
Google Cloud Platform Trends
Data & AI Adoption at Scale
Organizations that are looking to implement AI at scale with higher prediction accuracy can turn to GCP to combat challenges associated with enhancing customer experience, optimizing operations, and automating routine tasks. Google Cloud offers solutions that can help address AI-based development and implementation challenges through pre-trained API that requires no code. It also provides custom AI with automated machine learning for predictive modelling on structured and unstructured data without codes, and end-to-end AI with core tools that allow custom models on prebuilt frameworks and serverless training with no ops. It also offers BigQuery M that provides descriptive and predictive modelling on structured data with the use of simple SQL codes.
Interoperability Across Hybrid & Multi-Cloud
Organizations are adopting a multi-cloud strategy to mitigate risk and save costs. In 2023, interoperability will become a crucial consideration across hybrid- and multi-cloud platforms, applications, and data layers.
There are two ways enterprises address their interoperability requirements. First, by using platforms such as Openstack, Openshift, Cloud Foundry, and Snowflake, which provide interoperability for multi and hybrid cloud. Second, by using cloud-native services to support multi and hybrid cloud. For example, Google Cloud's Anthos, BigLake, and BigQuery Omni address interoperability needs while avoiding vendor or platform lock-in. GCP enables enterprises to develop and deploy platform-agnostics applications and support multi and hybrid cloud.
Future-Focused Infrastructure
How enterprises architect their application and data infrastructure will determine their competitive edge in 2023. Organizations looking at scaling up their workloads can explore cloud graphical processing units (GPUs), which, with their parallel architecture, are effective at ML workloads. GCP has various NVIDIA GPUs on Google Compute Engine (GCE), ranging from P4s and T4s, which are
focused on inference. GCE offers custom virtual machine shapes with tooling and workflow support available through on-demand, pre-emptiable, committed-use discounts and sustained-use discount space reservations. GCP provides powerful compute engines that can address future requirements when it comes to executing AI/ML models.
Another area gaining traction is Kubernetes Engine, which offers a managed environment for deploying containerized applications. Organizations can use GPUs and tensor processing units as part of the GCE infrastructure to instantly scale workloads up or down. GKE also provides the ability to use containers to auto-scale.
Convergence of Operational & Analytical Databases
Organizations use two types of data—operational and analytical. Operational data resides in databases for business capabilities and are packaged with applications or microservices. This data is transactional, keeps the current state, and serves the needs of the business' applications. Analytical data is a temporary and aggregated view of the enterprise's facts over time, which is often modelled to provide retrospective or predictive insights. It is used for training the ML models or generating analytical reports. The current technology, architecture, and design reflect the divergence of these two data planes which has invariably led to a fragmented architecture. Extract, Transform, Load jobs and the ever-growing complexity of data pipelines are common challenges to connecting these two planes.
GCP offers a variety of database solutions that can be used for operational and analytical data processing. Cloud Bigtable, Alloy DB, and DataStream for BigQuery are now enhanced to address needs of database operational and analytical needs.
Invisible Security Become Paramount
The pace of digitalization has also led to a surge in cyberattacks and ransomware incidents globally. Organizations are placing enterprise security at the center of all decisions and removing implicit trust relationships in favor of explicit trust for each transaction.
Google Cloud's expanded partnerships with security solution providers will enable enterprises to implement best-in-class security consistently. Instead of siloed security information and event management (SIEM) and security orchestration, automation and response (SOAR) and threat intel solutions, the new Google Cloud Security Operations solution converges security operations capabilities and enables security teams to quickly pivot and manage alerts more effectively. Google Cloud Chronicle's SIEM, SOAR, and GCP's threat intel automates security threat detection and operations seamlessly.
Application Modernization Gains Momentum
The growing demand for agility and innovation, while reducing costs has added pressure on technology leaders. Organizations have invested heavily in technology transformation, especially
infrastructure modernization. In 2023, organizations will focus on application transformation and bringing innovation into their business processes.
Google Cloud provides a comprehensive set of capabilities to modernize applications. Anthos empowers users to quickly build new applications and upgrade existing ones for increased agility. GCP also provides modernization by accelerating traditional app modernization into native containers. Automating containerization provides the much-needed jump start for organizations that still haven't initiated their modernization program.
SAP on GCP Will Gain Traction
The focus on ERP transformation through migration and modernization programs for SAP workloads will intensify. Google's AI, ML, and advanced analytics capabilities will help organizations maximize insights from their SAP data. The blocks, which include vision, translation and text-to-speech conversion, will enable agile decision-making by automating processes, making intelligent predictions, and streamlining operations.
Google Cloud is also making further enhancements, including ways to modernize mainframes, improve developer productivity and transform software supply chains. As many enterprises adopt a multi-cloud strategy to gain more flexible resources and capabilities for each workload, Google Cloud's continued transformation makes it a hyperscaler to watch closely in 2023.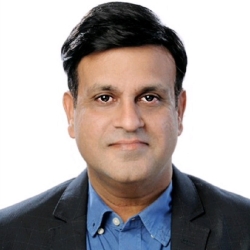 Latest posts by Vinay Padegaonkar
(see all)