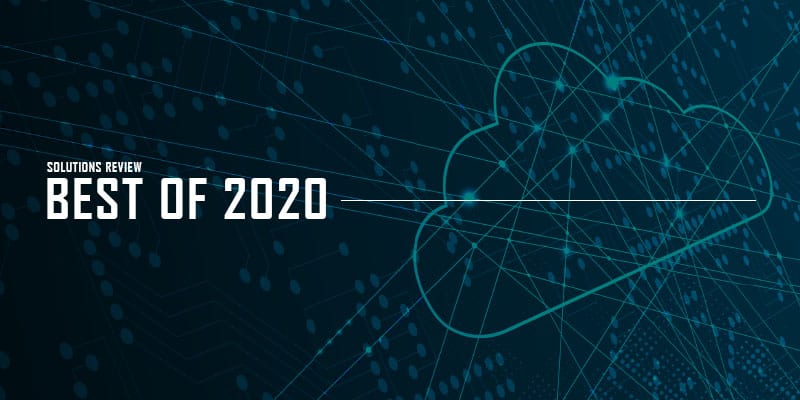 Solutions Review's listing of the top Infrastructure as a Service providers is an annual mashup of products that best represent current market conditions, according to the crowd. Our editors selected the top Infrastructure as a Service providers based on each solution's Authority Score, a meta-analysis of real user sentiment through the web's most trusted business software review sites and our own proprietary five-point inclusion criteria.
The editors at Solutions Review have developed this resource to assist buyers in search of the best infrastructure as a service providers to fit the needs of their organization. Choosing the right vendor and platform can be a complicated process — one that requires in-depth research and often comes down to more than just the tool and its technical capabilities. To make your search a little easier, we've profiled the best infrastructure as a service platforms all in one place. We've also included platform names and areas of focus, as well as introductory software tutorials straight from the source so you can see each solution in action.
Note: Companies are listed in alphabetical order.
Platform: Elastic Compute Service
Related Products: ECS Bare Metal Instance, Elastic GPU Instance, Dedicated Host
Description: Alibaba Cloud Elastic Compute Service (ECS) is an online computing service that offers elastic virtual cloud servers to cater cloud hosting needs. The service provides fast memory and the latest Intel CPUs to help users power cloud applications and achieve fast results with low latency. ECS instances come with DDoS protection to protect data and applications from DDoS and Trojan attacks. Alibaba Cloud lets users deploy ECS instances with just a few clicks from its console and scale capacity up or down based on real-time demands.
Platform: Amazon Elastic Compute Cloud
Related Products: Simple Storage Service, Amazon Aurora, Amazon Lightsail
Description: Amazon Elastic Compute Cloud (EC2) is a web-based service that provides resizable compute capacity in the cloud designed to make web-scale cloud computing easier for developers. Amazon EC2's simple web service interface lets users obtain and configure cloud capacity with minimal friction, providing them with complete control of computing resources. The service allows administrators to increase or decrease capacity within minutes, and features a lockdown security model that eliminates the possibility of human error and tampering.
Platform: CenturyLink Public Cloud
Related Products: Cloud Connect, Dynamic Connections
Description: CenturyLink Public Cloud is a platform that allows businesses to build global IT operations in the cloud. The solution lets users easily connect to and deploy on multiple public or private clouds with the simplicity of a single, managed hybrid cloud platform. CenturyLink clients can create, run, and scale applications at speed with the vendor's portfolio of flexible cloud solutions. With CenturyLink Public Cloud's hybrid-ready services, administrators gain the governance, automation, and advanced features needed to accelerate business.
Platform: Droplets
Related Products: DigitalOcean Kubernetes, DigitalOcean Databases, Spaces
Description: DigitalOcean Droplets is a flexible compute service that allows users to spin up a virtual machine in less than a minute. The service offers standard, general purpose, CPU-optimized, and memory-optimized configurations, providing flexibility to build, test, and grow applications from startup to scale. Users can deploy custom images, one-click apps, or standard distribution, skipping the installation and configuration and going straight to deploying code. Droplets can be deployed anywhere with a reliable connect and flat pricing across eight data center regions.
Platform: Compute Engine
Related Products: Cloud GPUs, Cloud Build, Anthos
Description: Google Cloud Compute Engine delivers scalable, configurable virtual machines that run in Google's data centers with access to high-performance networking infrastructure and block storage. Users can select the right VM for their needs, including general purpose or workload optimized VMs. Compute Engine can also integrate with other Google Cloud services such as artificial intelligence, machine learning, and data analytics. Google Cloud allows users to ensure applications have the capacity they need to run as they scale.
Platform: IBM Cloud
Related Products: IBM Cloud Virtual Servers, Red Hat OpenShift
Description: IBM Cloud is an open and secure public cloud for businesses that leverages open source technologies to help users drive innovation, trust, and value. The vendor supports over 1,000 enterprise clients and over 16,000 production clusters using Kubernetes, managing cloud-native resources at unparalleled scale. IBM's recent acquisition of Red Hat allows them to take advantage of Red Hat Open Sight, making it easier for users to connect and migrate Red Hat OpenShift workloads to the public cloud.
Platform: Azure Virtual Machines
Related Products: Azure Kubernetes Service, Azure Dedicated Host
Description: Microsoft Azure Virtual Machines allow users to deploy VMs featuring up to 416 vCPUs and 12 TB of memory. The service providers computing options for every workload on Microsoft Azure, tapping into a diversified range of Azure virtual machines that accommodate the applications users create. Users can govern, monitor, and back up VM environments through the service, ensuring compliance and deploying applications to production faster. Azure also gives recommendations for VM availability, security, performance, and cost.
Platform: Oracle Cloud Infrastructure
Related Products: Oracle Database, Oracle Cloud Applications
Description: Oracle Cloud Infrastructure is an infrastructure as a service offering that provides consistent high performance as well as governance and security controls. The platform includes several cloud services, with capabilities for compute, storage, networking, connectivity, edge services, security, identity, and compliance. Oracle Cloud Infrastructure is a Generation 2 enterprise cloud built from the ground up to meet the needs of business-critical applications; the platform also supports legacy workloads while delivering modern development tools.
Platform: Rackspace Public Cloud
Related Products: Rackspace Dedicated Servers, Pivotal Cloud Foundry
Description: Rackspace Public Cloud, powered by OpenStack, is an expansive set of tools and technologies to help businesses achieve and maintain growth. The platform is backed by thousands of engineers and industry experts and allows full control of environments by eliminating vendor lock in and granting access to cutting edge features. Users can spin up a server in under a minute, using the solution's control panel or the OpenStack Compute API. Rackspace's single control panel provides visibility, control, and access to powerful management tools.
Skytap
Platform: Skytap Cloud
Description: Skytap Cloud is an infrastructure as a service offering designed to modernize traditional business applications. The solution allows users to migration traditional applications onto the cloud and modernize them at a user-defined pace, with on-demand self-service resources for users to create a custom software-defined data center and networks. Hybrid applications that users run in Skytap Cloud can connect to on-premise resources, other apps in Skytap Cloud, or external cloud providers to allow for a multicloud approach.
Platform: VMware Cloud
Related Products: CloudHealth
Description: VMware is an infrastructure as a service provider that allows users to build, run, management, connect, and protect any application on any cloud. The vendor's cloud services let developers build and deploy modern applications from the data center to the cloud to the edge. Users can migrate seamlessly between environments and ensure that all data and applications remain secure and protected in any cloud. With VMware, IT professionals can also optimize cost and resource management across clouds.
---
---