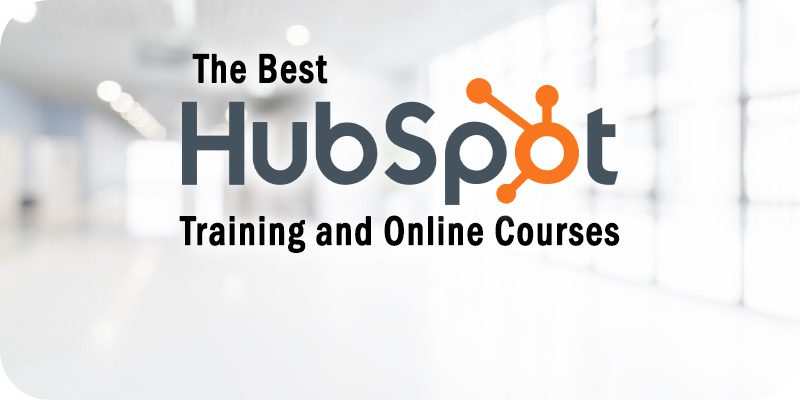 The editors at Solutions Review have compiled a list spotlighting some of the best HubSpot CRM training and online courses worth considering. Solutions Review participates in affiliate programs. We may make a small commission from products purchased through this resource.
The HubSpot CRM platform allows companies to incorporate sales, marketing, and customer service processes into a single platform. With an intuitive UI and a suite of accessible features, HubSpot's CRM is designed to help users generate new leads, improve relationships with existing customers, and improve their brand image. HubSpot offers a free and premium model of its CRM platform, making it an especially viable option for small and enterprise-level organizations alike.
With that in mind, we've collected five of the best HubSpot CRM training and online courses to consider if your company is planning to grow its customer relationship management capabilities. We've provided a summary of each training course's basic offerings. Click on the GO TO TRAINING link to learn more about each class and register.
Note: The HubSpot training and online courses are listed alphabetically by the online learning platform name.
The Best HubSpot CRM Training and Online Courses
---
OUR TAKE: With nearly 200 ratings and a score of 4.7, this beginner-friendly course is ideal for students who want to become confident HubSpot CRM users.
Platform: Coursera
Description: With the use of a split-screen video, the instructor will provide step-by-step instructions to guide you through things like creating a HubSpot account, creating and managing contacts, navigating the sales pipeline, designing a marketing email, customizing report dashboards, and more. The course is free, browser-based, and is approximately 2 hours long.
GO TO TRAINING
---
TITLE:

Set Up Your HubSpot CRM for Growth
OUR TAKE: HubSpot Academy is packed with dozens of pre-recorded courses and certifications to help HubSpot CRM users learn the platform, making it a great entry point for beginners.
Platform: HubSpot Academy
Description: For organizations looking to get started on HubSpot's scalable CRM platform, the company's official Set Up Your HubSpot CRM for Growth training course offers a brief walkthrough of CRM's role in business success, how it connects to a company flywheel, and more. The course is free for anyone with a HubSpot account.
GO TO TRAINING
---
TITLE:

Learning HubSpot CRM
OUR TAKE: Taught by David Rivers, who has over 20 years of experience helping businesses improve the way they use technology, this is a great course for anyone looking to get comfortable with the basics of HubSpot's CRM platform.
Platform: LinkedIn Learning
Description: This course outlines how HubSpot's CRM management and automation tools can streamline the sales process, connect the CRM to your email, create contacts and deals, and use full-featured dashboards to understand the sales pipeline better. The course is 80 minutes in length and can be accessed on desktop, tablet, and mobile devices.
GO TO TRAINING
---
TITLE:

HubSpot CRM and Sales Platform Training
OUR TAKE: This course is taught by Glenn Miller, co-founder of Lupo Digital and HubSpot Agency Partner, and covers material relevant for beginners and professionals alike.
Platform: Lupo Digital
Description: Lupo Digital is a specialist digital growth agency, consultancy, and training partner that also offers HubSpot Inbound Training courses. The HubSpot CRM and Sales Platform Training course can be done one-on-one, as a group or team, or as a blend of the two approaches. The HubSpot training course includes 10 unique sales training units that can be used as the user wishes and includes customized training aligned to on-the-job needs.
GO TO TRAINING
---
TITLE:

HubSpot CRM Essentials
OUR TAKE: Udemy's HubSpot CRM Essentials course is designed for sales and customer services professionals and anyone curious about HubSpot's functionalities.
Platform: Udemy
Description: In the 90-minute course, users will learn the CRM's essentials, streamline the sales process, and discover how to use the CRM's meeting and document management tools to collaborate with customers. You will need access to HubSpot before partaking in the course, but users will have lifetime access to the training after purchasing.
GO TO TRAINING
---