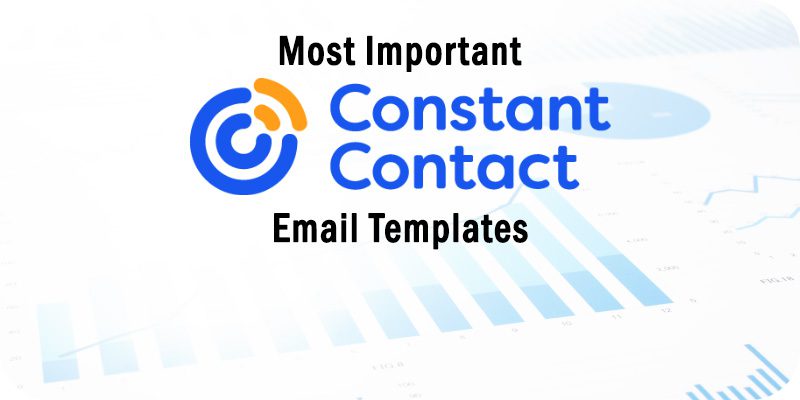 The editors at Solutions Review have compiled a list of the most important Constant Contact email templates your company can and should use to personalize its email marketing campaigns.
Creating email templates is one of the best ways to launch and manage your company's email campaigns effectively. Not only do email templates allow you to save and edit designs for easy reusability and personalization, but they also help you establish and maintain a consistent brand identity. Marketing companies and partners can even provide you with pre-built and customizable templates that will save your team even more time.
Constant Contact is one of those companies. Constant Contact's email marketing service includes over a hundred pre-designed, industry-specific, and mobile-responsive email templates for your business to use. Each template can be edited and customized to fit your brand identity, speak to your customer's needs, and drive more business.
Constant Contact Email Templates
To help your company take advantage of Constant Contact's email marketing services, the team at Solutions Review has outlined some of the most common types of email templates and how they can help you get the most value from your email campaigns. The list is organized alphabetically.
Whether you're announcing a new product, celebrating a customer's birthday with a special offer, or commemorating your company's anniversary, Constant Contact has a suite of announcement email templates designed to help you stand out in a customer's inbox. Use an attention-grabbing layout and a few key specifics to grab your customer's attention and get them to clickthrough.
Not every email needs a lot of design, which is why Constant Contact offers basic email templates that can clearly and reliably get your message across. Basic templates prioritize text over design and can be used to create flyers, letters, and emails.
Email newsletters should help your brain develop and maintain a meaningful relationship with your customer. With that in mind, you want your newsletter to look nice and speak to your brand identity in a way that fosters connection with valuable content. Constant Contact's email newsletter templates can do just that. Use the company's editor to select a template, choose your colors, add your text, logo, and images, and proudly send it to your audience.
A well-designed event invitation should spotlight the most compelling incentives of attending an event and include a visible, easily clickable link to an RSVP page. Constant Contact's event invitation email templates have these design elements pre-built, so all you have to do is make it specific to your company, send it to your lists, and watch the reservations come in.
Seasonal emails don't have to be centered around the big holidays to bring in business. A good holiday template can help you take advantage of the biggest and smallest holidays by putting your audience in a festive mood or simply delighting them with a happy birthday message.
Constant Contact makes it easy to build or import custom code to create customized HTML5 email marketing templates unique to your brand. Constant Contact will make sure you have responsive email templates that look great on browsers, desktops, tablets, and mobile devices alike.
Whenever your company is having any sale, your customers will want to know about it, and an email is one of the best ways to give them a heads up. Sales email templates should catch the customer's attention, let them know when the sale starts, and entice them to shop with some select sales items. And with the built-in reporting included in Constant Contact's sales email templates, you can track clicks and opens to learn what kinds of messaging work best for your audience.
A simple "thank you" will go a long way toward developing a lasting relationship with customers. Thank you email templates are usually professional and straightforward in design and will often improve a customer's experience with your brand, which will not only encourage them to come back but may incentive them to refer others.
---
Solutions Review participates in affiliate programs. We may make a small commission from products purchased through this resource.