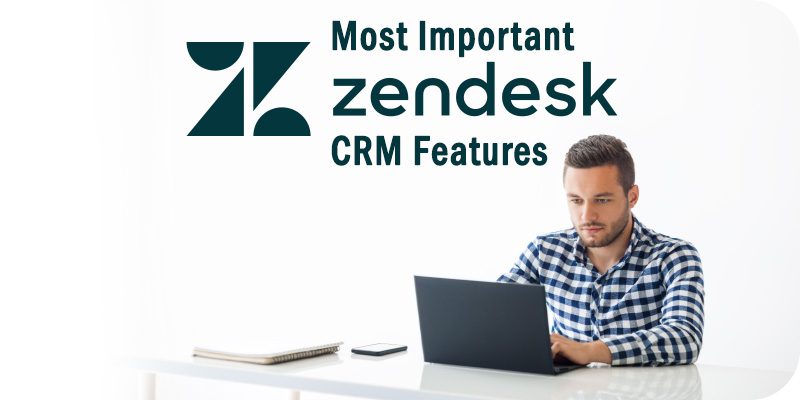 The editors at Solutions Review have outlined some of the most valuable Zendesk CRM features that sales teams can use to improve revenue, maximize productivity, and manage the pipeline.
Zendesk is a top-rated software provider known for equipping its customers with a CRM platform focused on customer service and sales needs. With Zendesk Sell, its sales CRM platform, users can access sales automation software, pipeline visualization and management tools, mobile access, lead management, reporting capabilities, and more. Zendesk is a good fit for organizations that prioritize sales pipeline development, rapid progression through the pipeline, and pipeline visualization data.
If you're looking for a more detailed summary of the Zendesk CRM features your sales team can take advantage of, you've come to the right place.
The Most Important Zendesk CRM Features for Sales Teams
---
Sales Emails
Email is one of the oldest and most reliable tools for marketers and salespeople alike. With Zendesk Sell, users have access to a suite of sales email intelligence features to help sales teams keep track of conversations and focus on winning over customers. Zendesk's email-centric features include activity reporting, email automation, sequencing, real-time push notifications, email tracking, and a native mobile app.
---
Integrations
Like any good software, Zendesk Sell allows its users to expand its functionalities with a collection of out-of-the-box integrations and APIs. For example, users can use APIs and SDKs to set up an integration project with pre-built code libraries and sync services. Alternatively, companies can create a Zendesk app of their own, install a public application from another software provider, build custom solutions, and more.
---
Prospecting
Boost sales productivity, increase conversions, and unlock new opportunities with Zendesk Sell's various prospecting tools. Sales teams can create targeted lists, prospect across multiple channels, identify the right people to talk to in each account, optimize contact records, build targeted lead lists, automate outreach, and use the platform's intelligent lead recommendations to get connected with untapped markets.
---
Reporting and Analytics
Zendesk Sell comes equipped with an extensive collection of sales reporting and analytics tools to help teams maintain their sales pipelines and performance. Companies can use Zendesk's calculated sales performance metrics to get deeper visibility into their sales channel, analyze trends by region or team to identify the factors that drive performance, and even predict deals and revenue growth. Other features include over 20 types of data charts, customizable dashboards and data visualizations, and the ability to download or export customer data in various formats.
---
Sales Calls
If a sales team wants to utilize old-fashioned sales call strategies, Zendesk Sell can help. With its native dialer tool, salespeople can make calls from their computers with a single click or streamline their outreach with automatically generated call lists and automated dialing. The platform will instantly log and record all outgoing and incoming calls and provide its users with out-of-the-box reports that compile metrics like call duration, outcome, and more. Other features accessible on the Zendesk CRM include SMS messaging and sales scripts.
---
Solutions Review participates in affiliate programs. We may make a small commission from products purchased through this resource.