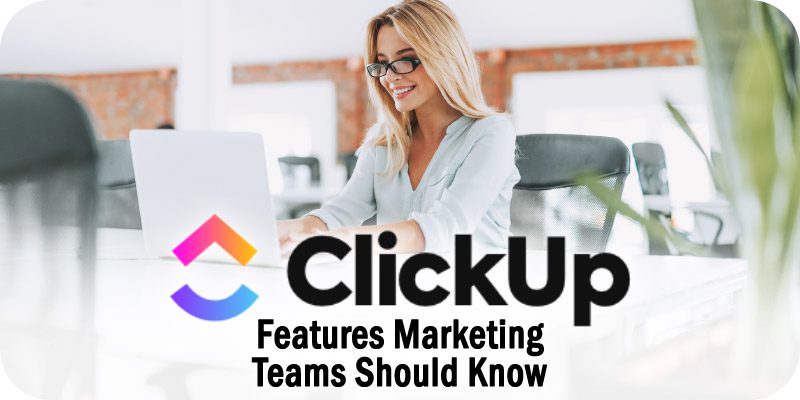 The editors at Solutions Review have looked into the ClickUp application platform and have summarized some of the ClickUp project management features that marketing teams might benefit from. Solutions Review participates in affiliate programs. We may make a small commission from products purchased through this resource.
ClickUp is a task and project management application designed to help teams of all sizes plan, organize, and collaborate from a single, customizable app. The software comes with hundreds of features that businesses can customize for whatever use case they need. Alongside its sales, development, marketing, design, and other functionalities, ClickUp provides a suite of project management features that marketers can use to improve collaboration, streamline project organization, and track progress toward company goals.
With that in mind, the Solutions Review editors made the following list to spotlight some of ClickUp's project management features that marketing teams of all sizes and industries can use to improve their strategies.
The ClickUp Project Management Features Worth Knowing About
---
Time tracking is a crucial part of managing a project's progress, and ClickUp can help make it easier than ever. Customers can track time, add notes, set estimates for task completion, and view reports from anywhere. The time tracking tools can be used on desktop, mobile, and web browsers via ClickUp's chrome extension, allowing users to link any time logged on any platform back to a specific task on ClickUp. Other features include customizable timesheets, sorting tools for identifying bottlenecks, filters, editing tools, and more.
With ClickUp Automations, businesses can eliminate the busy work involved in routine tasks and create consistent, automated processes that allow users to focus on the most valuable workloads. The software offers users a collection of pre-built and customizable automations for creating new tasks, changing statuses, saving time, and integrating with other leading marketing and project management applications.
Marketers can use ClickUp's project management functionalities to create high-level views for monitoring customer lifetime value (CLV), tracking average deal sizes, and visualizing their customer data in a single, connected place. ClickUp's dashboards can be customized for various use cases with over fifty dashboard widgets, so users can decide what kind of data, activities, and information they want to visualize.
---
---
With ClickUp, marketers can use ready-made templates for various use cases—including finance, recruiting, marketing, sales, CRM, project management, and more—or customize one to fit a specific set of criteria. Once a template is created, it can be saved, customized further, or used again for various tasks, helping users avoid repetitive tasks and save time.
Collaboration Tools
Collaboration is a critical part of any successful marketing team. ClickUp provides its users with features designed to help improve collaboration and maintain company alignment across projects and departments. These features include proofing tools, shareable comments, email functionalities, real-time messaging, and interactive "whiteboards," which can help virtual teams brainstorm ideas and convert them into trackable tasks.
If there are any marketing functionalities that ClickUp cannot provide natively, the odds are high that there's an integration to help. Marketing teams can integrate ClickUp with their email marketing efforts or connect with an extensive collection of marketing and CRM tools, including Slack, Outlook, Calendly, Zoom, Microsoft, Zendesk, Discord, and dozens more.
---
<script> (function() { var d = document, s = d.createElement('script'), cb = new Date(), h = window.appWikiRequestUrl || 'https://appwiki.nl'; s.src = h + '/js/partner-brand-views-logger.js?cb=' + cb.getFullYear()+cb.getMonth()+cb.getDate()+cb.getHours(); s.defer = true; s.async = true; (d.head || d.body).appendChild(s); })(); </script>