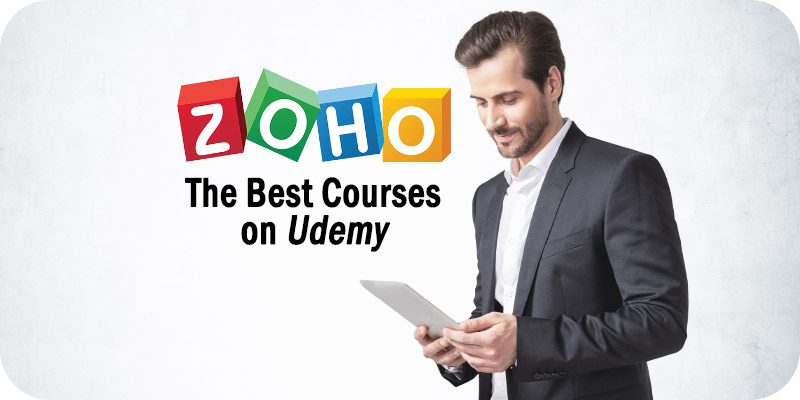 The editors at Solutions Review have compiled the following Zoho training courses to help marketers get acquainted with the platform's functionalities.
As one of the leading names in the industry, Zoho's end-to-end CRM platform provides companies worldwide with a fully customizable solution outfitted with a suite of omnichannel, analytics, automation, process management, sales enablement, and other services to help businesses across industries build meaningful relationships with their customers. However, like any software, there can be a learning curve for marketers who are new to the Zoho solution suite.
With that in mind, our editors compiled this list to spotlight some of the best Zoho training courses and programs on Udemy's learning platform. These videos come from industry experts and can help viewers learn more about the platform's functionalities and benefits.
The Best Zoho Training Courses for Marketers
---
OUR TAKE: If you're an active or aspiring Zoho CRM admin user, this top-rated training course will help ensure that you have all the skills and know-how you need to succeed. Don't miss out!
Description: This course is designed to help Zoho CRM users of all experience levels improve their understanding of the platform's capabilities and equip themselves with the higher-level insights they need to move their careers forward. In two compact hours, students will learn how to use Zoho CRM's tools to convert leads, create custom fields, track customer emails, make to-do lists for other users, clean the CRM interface, set workflow rule automations, import basic data sets into the platform, integrate Zoho Forms with the CRM, and more.
GO TO COURSE
---
OUR TAKE: Kickstart your coding skills with this course, tailored to marketers and non-programmers who want to ease into the tools available on the Zoho Deluge platform.
Description: Coding can be a daunting prospect, but it doesn't have to be. With this introductory course, marketers will learn how to use Zoho Deluge, a coding toolset capable of streamlining how they use their CRM solution. Students who enroll in the course will receive access to almost three hours of material designed to ease them into Deluge's coding tools, help them create API connections with Zoho CRM, design Zoho Books custom functions, integrate with other software (including all of Zoho's other tools), and more.
GO TO COURSE
---
OUR TAKE: This bestselling course can be completed in under two hours, making it an accessible introduction to the Zoho CRM platform and its capabilities.
Description: With this beginner-friendly training course, marketers of all experience levels will learn about Zoho CRM's basic capabilities, including its order, invoicing, opportunity management, and lead qualification tools. The compact course is split into five modules and covers topics like filtering leads, creating contacts, converting leads into accounts, making deals, reporting, creating forms, establishing approval processes, and more. The course is offered by the Learning Skills Academy, which offers ten different courses on Udemy that over ten thousand people have taken.
GO TO COURSE
---
OUR TAKE: Regardless of your industry experience, if you're using Zoho's CRM platform, this course has something for you.
Description: With over five hours of video material, this course will equip active and beginner marketers with all the insights they need to feel comfortable with the basic and advanced features of the Zoho CRM platform. Some of the Zoho CRM tools covered in the course include its records, relationships, views, filters, tags, calendars, meetings, contacts, GDPR, accounts, deals, documents, analytics, sales orders, campaigns, and more.
GO TO COURSE
---
OUR TAKE: If you're looking for higher-level coverage of Zoho's CRM automation, development, and other advanced tools, this in-depth course can help.
Description: Developed for Zoho CRM users with ample experience on the platform, this bestselling course will teach students how to automate the platform with custom functions, develop Zoho Creator apps, build marketplace extensions, and integrate Zoho CRM with other online services. Alongside the course's seven hours of video material, it offers a collection of quizzes and assignments to help its students practice the more advanced, complex tools they will be using.
GO TO COURSE
---
---
Solutions Review participates in affiliate programs. We may make a small commission from products purchased through this resource.