The Best Content Management Systems (CMS) to Consider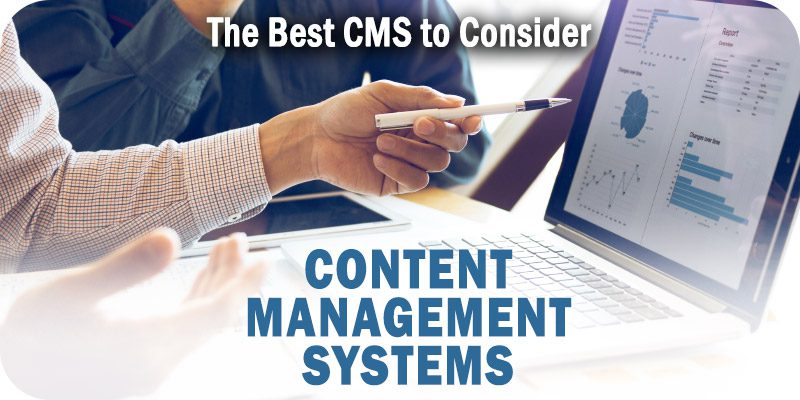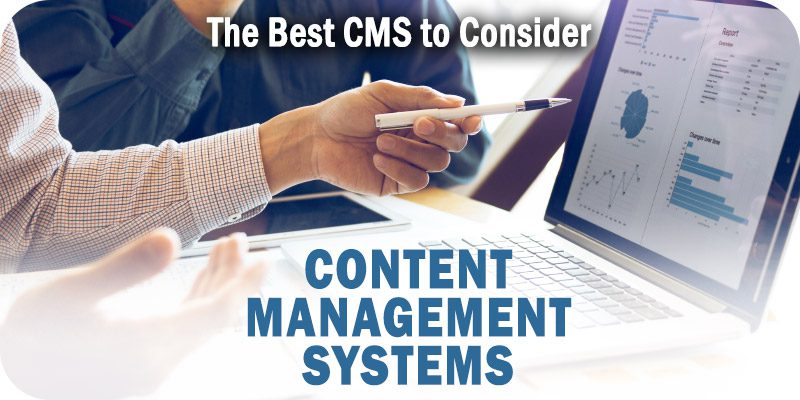 The editors at Solutions Review have compiled the following list to spotlight some of the best content management systems (CMS) and tools for companies to consider.
Content Management Systems (CMS) are a crucial software category for businesses of every size and industry. And with good reason, considering everyone on the Internet has interacted with a CMS, even if they weren't aware of it. These systems help companies create, edit, organize, publish, and manage digital content with tools for digital asset management, content collaboration, website building, and role-based content management. With a CMS, businesses can improve how they manage their websites and content without relying on a full-time team of content developers and coders.
While there are many content management systems, finding the best one for your business needs can be challenging. With that in mind, the editors at Solutions Review have compiled a list of the top-rated CMSs worth considering. Our editors selected these software solutions based on each provider's Authority Score, a meta-analysis of user sentiment through the web's most trusted business software review sites, and our proprietary five-point inclusion criteria. The list is organized in no particular order.
The Best Content Management Systems (CMS) to Consider
---
Description: HubSpot offers various capabilities centered around marketing, sales, customer service, content management, and operations. The company is a leading global CRM and marketing platform, as users can easily customize its suite of accessible services. With HubSpot's CMS offering, marketers, developers, and IT teams can develop seamless digital experiences for their customers. Its CMS features include flexible themes, drag-and-drop page editing, SEO recommendations, contact attribution reporting, dynamic content, adaptive testing tools, serverless functions, full integration with HubSpot's CRM, local website development, site performance monitoring, threat detection, and more. They also offer a free CMS with a full suite of free key features.
---
Description: WordPress is one of the market's most well-known content management systems. Users of all experience levels can use its accessible web publishing software to create websites, blogs, newsletters, and digital experiences. The company offers a suite of products to individuals, small businesses, and enterprises alongside an extensive collection of plug-ins and apps that enable users to customize their sites even further. The product suite includes WordPress hosting, website builder tools, domain names, professional email, website design services, blogs, and more. Larger companies can also work with WordPress VIP, an enterprise-grade model of its CMS.
---

Description: Shopify is a global commerce company that provides tools for starting, growing, marketing, and managing a retail business. Entrepreneurs can use Shopify's store builder, customizable theme templates, and collection of third-party apps to create memorable shopping experiences for their customers. For example, Shopify offers a fully featured e-commerce CMS to help users develop and customize their e-commerce sites. Its CMS comes equipped with standards-compliant templates, inventory tracking, product management, keyword tags to streamline browsing, payment tracking, order management, real-time statistics, e-commerce marketing tools, secure domain name hosting, and more.
---
Description: Adobe is a global provider of digital media and marketing solutions for companies and individuals across industries. With Adobe Experience Cloud, the company provides clients with applications designed to help them develop and manage customer experiences. The Adobe Experience Cloud product suite includes Adobe Experience Manager (AEM) Sites; an AI-powered hybrid CMS developed on a scalable, secure, and cloud-native foundation. AEM Sites include features for web content management, unified customer profiles, cross-channel content, API delivery, developer-facing tools, marketing-friendly templates, real-time targeting, omnichannel personalization, integrations, and more.
---
Description: Contentstack provides a Content Experience Platform (CXP) designed to help marketers and developers create composable digital experiences, improve customer journeys, improve internal collaborations, and streamline content management efforts across web, mobile, and IoT channels. Its headless CMS features include a central content hub, unified user experiences across a company's tech stack, modular content, localization tools, headless APIs, and workflows for streamlining content creation, review, approval, and publication. Contentstack's headless microservices architecture also allows users to expand its CMS with a marketplace of integrations and partners.
---
Description: Wix's website builder platform offers businesses a solution equipped with enterprise-grade infrastructure, website design tools, customizable templates, and other business features to help users grow online. For example, the company's toolset includes hundreds of designer-made website templates, a drag-and-drop builder, a whole stack of web development tools, search engine optimization, custom domain names, enterprise-grade security, secure web hosting, custom design tools, and more. Companies can also utilize Wix ADI (Artificial Design Intelligence) to create a personalized website with custom images and text.
---
Description: Drupal is an open-source, web-based digital experience platform (DXP) equipped with a suite of content management tools, APIs for multi-channel publishing, and other functionalities for creating websites and applications across the FinTech, retail, entertainment, sports, travel, healthcare, e-commerce, and other industries. Its capabilities include content authoring, security, marketing automation, multilingual translations, content-as-a-service, personalization tools, and more. Users also have access to several hosting options, including VPS hosting, shared hosting, managed/enterprise hosting, cloud hosting, reseller hosting, and dedicated hosting.
---
Description: Contentful is an API-first composable content platform provider that helps companies convert their digital content into strategic business assets. With the Contentful Composable Content Platform, businesses can orchestrate content from various sources, publish it to any digital channel, provide users with tailored interfaces, ensure reusable content, and incorporate governance through role-based access management and workflows. Companies can expand Contentful's capabilities with an ecosystem of apps, partners, and professional services for building custom applications and customizing Contentful's interface.
---
Description: Magnolia is a digital experience platform (DXP) and headless content management system (CMS) provider for e-commerce, retail, media, finance, and travel companies. Developers and marketing teams can use Magnolia's headless CMS to manage experiences from a visual user interface, create content, and integrate with Single Page Applications (SPAs) and Progressive Web Apps (PWAs) on front-end frameworks like React, Angular, or Vue. Its features include task automation, out-of-the-box delivery endpoints, flexible content modeling, authoring tools, visual editing, custom workflows, and more.
---

Description: Oracle is a global software provider that's been equipping organizations with enterprise resource planning (ERP), human capital management (HCM), customer relationship management (CRM), enterprise performance management (EPM), and supply chain management (SCM) software for over forty years. With the Oracle Content Management solution, marketers, developers, and business leaders can create, manage, store, and deliver digital assets and sites from a CMS built on an API-friendly platform. Capabilities include asset management, enterprise publishing workflows, multi-site governance, experience orchestration, content microservices, embeddable management UI, and more.
---
Description: TYPO3's CMS is a free, open-source, and enterprise-level platform published under the GPL license. Marketing and IT teams can use the platform's capabilities to connect to customers, develop memorable digital experiences, and remain competitive without paying for expensive software. Those capabilities include smart content management, multilingual installations, a universal front-end user experience, enterprise scalability, content authoring, digital marketing features, enterprise-level vendor support, asset management, customizable design, content scheduling, and open, adaptable architecture.
---

Description: Sitecore provides companies with an end-to-end, SaaS-enabled, and composable digital experience software platform. The company's SaaS DXP solution includes three products: Content Cloud, Engagement Cloud, and Commerce Cloud. Its CMS, XM Cloud, is included in the Content Cloud solution and can help businesses create, manage, and launch content. XM Cloud combines agile visual authoring tools for marketers with the flexible development functionalities developers need. Additional capabilities include real-time data, integrated personalization tools, a headless architecture optimized for Google Lighthouse scores, workflows, and more.
---
Description: Optimizely provides companies with an open, extensive digital experience platform to help them create and optimize digital customer journeys. The platform's CMS capabilities create compelling digital experiences, manage all its content from a single location, and deliver content flexibly. Those capabilities include content management, approval workflows, A/B testing, media management, content authoring, audience targeting, project management,  robust security, flexible scalability, drag-and-drop layout design tools, and more. Optimizely's CMS is built on .NET and Microsoft Azure, and users can deploy it as a decoupled (headless), coupled, or hybrid solution.
---