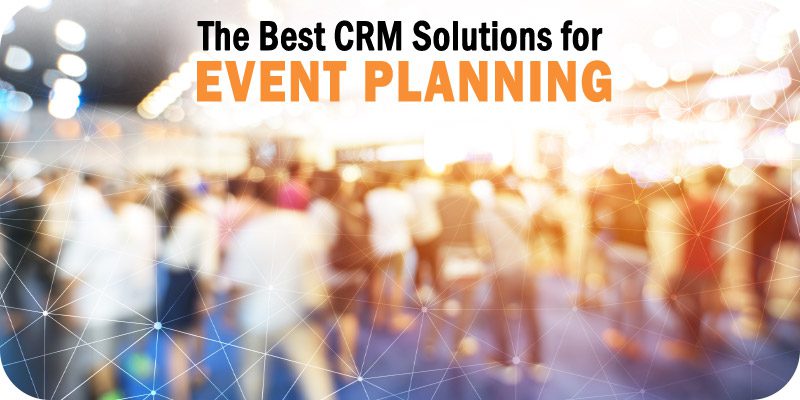 The editors at Solutions Review have compiled the following list to spotlight some of the best CRM solutions for event planning and management. Solutions Review participates in affiliate programs. We may make a small commission from products purchased through this resource.
The Customer Relationship Management (CRM) software category has something for just about everyone. These platforms help businesses of all sizes and industries coordinate their sales, marketing, and services strategies for optimized lead generation, conversions, and retention rates. For example, CRM capabilities can be a crucial asset for event planners and managers, as they're responsible for managing large amounts of data regarding guests, scheduling, vendors, and more.
However, finding the right CRM solutions for event planners and managers is easier said than done. With so many companies offering different CRM products, identifying the best solution for your company's unique needs can be challenging. To help, the editors at Solutions Review have compiled a list spotlighting some of the best CRM solutions for event planning and summarized the capabilities each one offers.
Our editors selected these software solutions based on each provider's Authority Score, a meta-analysis of user sentiment through the web's most trusted business software review sites, and our proprietary five-point inclusion criteria. The list is organized in no particular order.
The Best CRM Solutions for Event Planning and Management
---

Description: Bitrix24 is a low-cost CRM software with marketing automation, customer support, and client management features. In addition to being available in the cloud and on-premise, Bitrix24 is accessible on desktop and mobile devices. For event planning and management, the company's cloud CRM offers multiple calendars, shared calendars, vendor management, 360-degree contact profile views, detailed relationship data history, tools for boosting event attendee engagement, event scheduling, lead prospecting, call center functionalities, and more.
---
Description: Cvent is an event marketing and management platform that provides event organizers and marketers with software for online event registration, venue selection, event marketing, attendee engagement, and tools for onsite, virtual, webinar, and hybrid events. The company's product suite can automate the streamline the process of managing events and optimizing the attendee experience. Specific capabilities include modern check-in processes, automatic promotion, budget management, personalized marketing, branded websites, event data management, mobile access, and more.
---
Description: EventMobi is an end-to-end event management software designed to help organizers improve how they plan, promote, monetize, and deliver virtual, hybrid, and in-person events. It offers an extensive product suite that includes capabilities for interactive event mapping, multi-event management, event mobile apps, badge printing, attendee check-in, appointment booking, reporting tools, live polls, event branding, experience management, networking, social media dashboards, website design, and more. EventMobi also provides various training, support, and design services to help clients get the most value from the platform.
---
Description: GlueUp provides event organizers, marketers, agencies, Chambers of Commerce, NGOs, and other businesses with the tools they need to streamline operations, optimize business processes, and eliminate engagement challenges. Its Event Management Software is designed to help planners increase planning productivity, simplify event operations, follow up with attendees after the event, and capture data insights from every step. Capabilities cover everything from website development tools to customer registration forms, branded invitations, social media marketing, and real-time engagement analytics stored in a CRM system.
---

Description: Monday is a cloud-based, scalable, and flexible project management software for companies of all sizes. Included in the company's marketing platform is an event management software designed to help users plan, manage, and optimize online events, conferences, meet-ups, and more. Its event management capabilities include real-time monitoring, event marketing, cross-department collaboration tools, event registration, custom forms, social media integrations, event promotion, vendor management, attendee networking, and more.
---

Description: Planning Pod is an online software platform that offers a suite of event and venue management tools on one cohesive platform. The company also provides an event management CRM solution to help venues and event planning professionals streamline customer, lead, and attendee management. Businesses can use Planning Pod's CRM to track contact details, manage the sales pipeline, monitor leads, automate lead capture, streamline client communications, schedule meetings, merge data sets, personalize communications, and integrate with other email and social media platforms.
---

Description: Zoho is a multinational company specializing in software development, cloud computing, and web-based business tools. Its CRM solution suite includes journey orchestration, marketing automation, sales enablement, analytics, process management, and event management. Those event management tools can help businesses centralize attendee communication, send invites to contacts, connect with new leads, measure events against the deals in your pipeline, keep leads engaged with auto-responders, send mass emails, track social media engagement, and more.
---