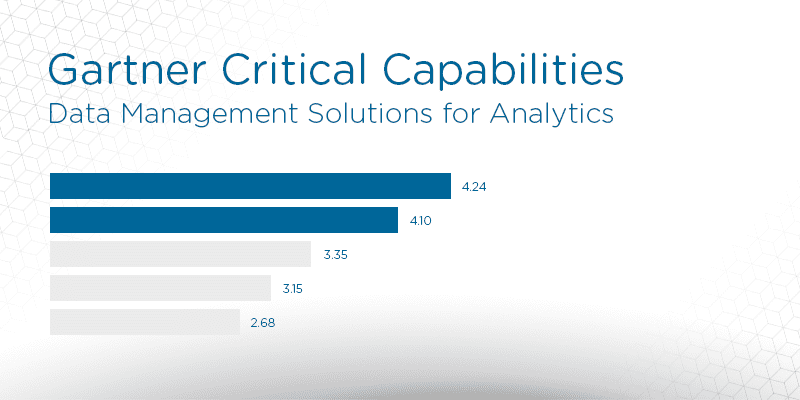 Analyst house Gartner, Inc. recently released its 2018 Critical Capabilities for Data Management Solutions for Analytics, a companion resource to the popular Magic Quadrant report. Used in conjunction with the Magic Quadrant, Critical Capabilities is an additional resource which can assist buyers of data management solutions in finding the products that fit best in their organizations.
Gartner defines Critical capabilities as "attributes that differentiate products/services in a class in terms of their quality and performance." Gartner rates each vendor's product or service on a five-point (five points being best) scale in terms of how well it delivers each capability. Critical Capabilities reports include comparison graphs for each use case, along with in-depth descriptions of each solution based on the various points of comparison.
The study highlights 21 vendors Gartner considers most significant in this software sector and evaluates them against 12 critical capabilities and four use cases prevalent in the space, including:
Traditional data warehouse
Real-time data warehouse
Logical data warehouse
Context-independent data warehouse
The editors at Solutions Review have read the report, available here, and pulled out three key takeaways.
The cloud is a major disruptor in this market
Gartner refers to the cloud as an "alternative deployment option" due to its current versatility. The expectation is that cloud and on-prem hybrid configurations will become the new normal, and as such, the solution providers will follow suit with innovations in their existing product portfolios. Gartner recommends that data and analytics leaders use cloud-based solutions for new data management use cases, and hybrid ones in scenarios where the migration path is simplistic. More than half of the organizations Gartner surveyed use a cloud-based tool or hybrid cloud and on-prem product.
Real-time data management solutions for analytics will soon be the new normal
There are two major factors putting a strain on traditional data management solutions for analytics. The first is the proliferation of different data repositories and models in use. The second, real-time data analysis, is set to become a standard market condition in the months ahead. Gartner argues that the real-time use case is moving from niche to mainstream, and although they are currently limited in size and scope, must now be taken into account by the solution providers if they hope to keep up with this shift.
Hadoop is now mature, but Gartner remains lukewarm
Demand for Hadoop-based tools has largely been driven by the deployment of big data analytics tools. However, as the move to the cloud intensifies, Hadoop vendors will need to shift their offerings in that direction. Moreover, Hadoop deployments are expected to struggle with increased use of artificial intelligence and deep learning. Gartner highlights the maturation of this technology, but goes so far as to say that its capabilities are still not "approaching the robust capabilities across multiple use cases offered by more-traditional vendors."
Read Gartner's Critical Capabilities to see how all the top providers scored.