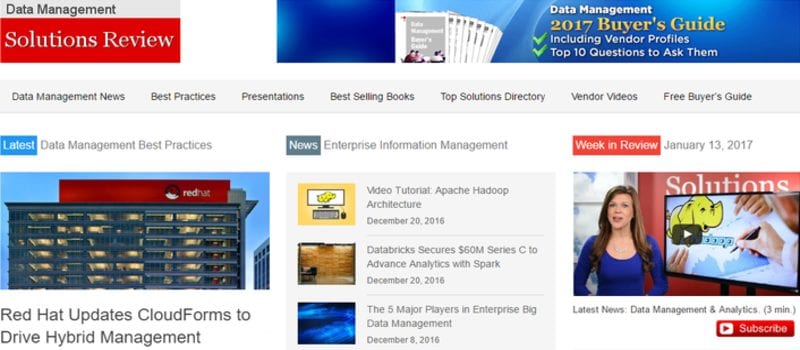 The Solutions Review team is proud to announce that the all new 2017 Data Management Buyer's Guide is now available as a complimentary download to site visitors. The updated report features full, one-page profiles of the top solution providers with a detailed outline of their software offerings in an easy-to-digest guide, providing IT professionals with all of the critical information needed to identify Big Data tools that best fit their needs. The guide also includes a complete evaluation of the enterprise marketplace, a capabilities reference, the top 10 questions to ask, and our bottom line analysis.
Data Management solutions meet at the intersection of Big Data and business analytics. These tools allow for the ongoing care of vital data so that it may be readily and continually available for analysis, the process by which insights are discovered. Thus, Data Management platforms may be seen as mediators between all of the data an organization collects for future use, and a grand organizer that makes tidy analysis possible. Data-driven businesses are increasingly viewing Data Management solutions as necessary to help them govern data from a variety of sources.
Top providers highlighted include: 1010data, Adobe, Cloudera, Cxense, EnterWorks, Hortonworks, Hewlett Packard Enterprise, IBM, Informatica, Krux, Lotame, MapR, MarkLogic, MemSQL, Microsoft, Oracle, Panoply.io, Pivotal, RedPoint Global, Redshift (Amazon), Riversand, SAP, SAS, Snowflake Software, Stibo Systems, Talend, Teradata, and Zaloni.
The Solutions Review 2017 Data Management Buyer's Guide eliminates the process of enterprise technology seekers of having to sift through endless vendor web pages and sales pitches to bring readers an agnostic view of the market, allowing for easier and more informed purchasing decisions.
The process used to create a Solutions Review Buyers Guide is grueling one. We are constantly monitoring all things data, including the solution providers themselves, market trends, best practices, and news and new product announcements to constantly and tirelessly ensure that our resources are able to fulfill their one requirement: help buyers of enterprise technology solutions make the best possible buying decisions.