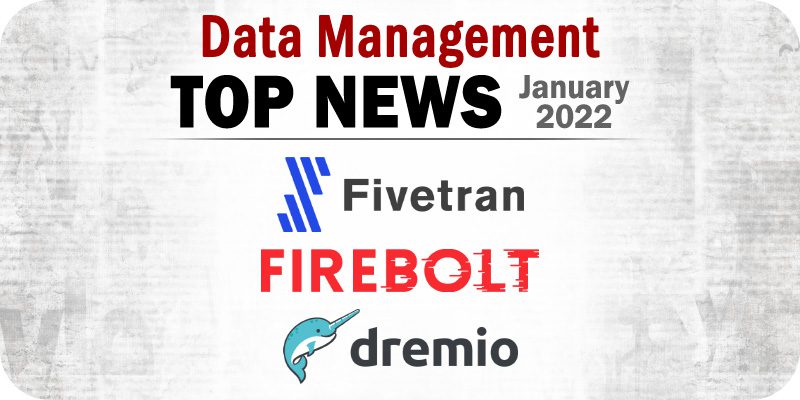 The editors at Solutions Review have curated this list of the most noteworthy data management news items for January 2022. In this month's roundup, Fivetran Transformations news, Precisely's latest acquisition, venture capital raises for Dremio and Firebolt, and more.
Keeping tabs on all the most relevant big data and data management news can be a time-consuming task. As a result, our editorial team aims to provide a summary of the top headlines from the last week, in this space. Solutions Review editors will curate vendor product news, mergers and acquisitions, venture capital funding, talent acquisition, and other noteworthy big data and data management news items.
Top Data Management News for January 2022
Fivetran Extends dbt Core with Integrated Scheduling and Data Lineage Graphs
By adding integrated scheduling to Fivetran Transformations, users can now schedule their dbt Core models to run automatically following the completion of a Fivetran connector sync. This reduces data latency and speeds up the end-to-end ELT pipeline, while also helping customers save money on unnecessary compute costs by only running transformations on new or updated data.
Firebolt Raises $100 Million in Series C Funding
With the new funding round, Firebolt reaches a $1.4B valuation just 12 months after emerging from stealth mode. This latest round of funding brings its total investment to $269 million. The new funding will enable Firebolt to capitalize on the increasing demand from tech companies to build analytics-enabled products. Funding will primarily be used to further expand its product and engineering teams.
Dremio Nabs $160 Million in Series E Funding
This preemptive fundraising occurred just one year after a $135 million round led by Sapphire Ventures in January 2021. The investment will help Dremio accelerate its technology innovation, grow its customer-facing organization, contribute to open-source initiatives, and invest heavily in educating and enabling a growing community of data lake practitioners.
Precisely (Clearlake & TA Associates) Set to Acquire PlaceIQ
The acquisition of New York-based PlaceIQ expands the Precisely data integrity portfolio to include mobile location data while also providing customers with broader access to enterprise-wide data management solutions, including data governance, data enrichment, and additional location data attributes. Financial terms were not disclosed.
Zaloni Data Governance Now Certified on Cloudera's Data Platform
Zaloni's data governance platform, Zaloni Arena, is now a Cloudera Certified Technology and has been tested, validated, and certified to work with the Cloudera Data Platform. Together, the Zaloni Arena platform and the Cloudera Data Platform help companies manage and govern data throughout the end-to-end data supply chain to improve data quality, ensure data security and reduce time to insights.
Coalesce Secures $6 Million in Seed Funding for Enterprise Data Transformations
Coalesce emerged from stealth with the funding round to "revolutionize the data transformation space." The capital will be used to advance the Coalesce platform while growing sales, marketing, engineering functions, and go-to-market strategy. Founded by a team of data automation pioneers, Coalesce simplifies the modeling, cleansing, governance, and documentation of data by bringing efficiency and flexibility.
BigID Secures Capital Injection from Splunk Ventures for Data Management Innovation
Splunk Ventures is investing in BigID's next phase of growth and innovative technology development. BigID Co-Founder and CEO Dimitri Sirota added: "Teaming up with Splunk is a natural fit—it's all about the data, after all—as we continue to innovate for our customers across privacy, security, and governance for today's and tomorrow's data landscape."
For consideration in future data management news roundups, send your announcements to tking@solutionsreview.com.

Latest posts by Timothy King
(see all)