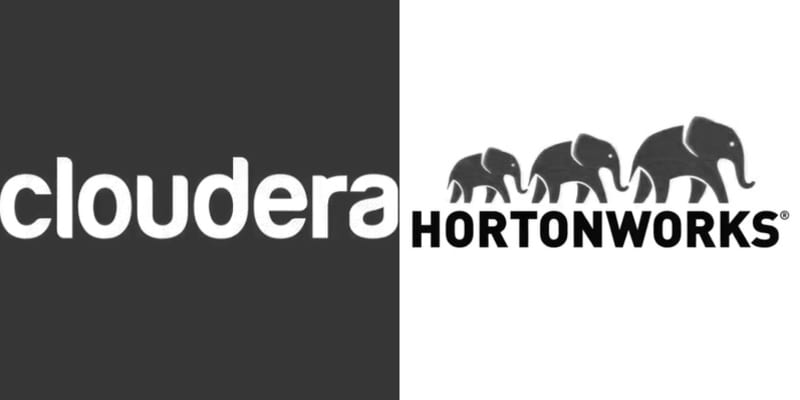 Cloudera and Horonworks have entered into a definitive agreement that would see the two big data companies merge, according to a joint press release. The news is sure to shake the data and analytics marketplace to its core, and the merger will make this conglomerate the largest data management solution provider in the world. Though details are still emerging, the merger will enable the companies to accelerate development of data warehouse, hybrid cloud, and machine learning technologies.
Cloudera offers a data storage and processing platform based on the Apache Hadoop ecosystem, as well as a proprietary system and data management tools for design, deployment, operations and production management. Cloudera differentiates itself from other Hadoop distribution vendors by continuing to invest in specific capabilities, such as improvements to Cloudera Navigator (which provides metadata management, lineage and auditing), while at the same time keeping up with the Hadoop open-source project.
The Hortonworks Data Platform is a secure and open source Apache Hadoop distribution based on a centralized architecture (YARN). Hortonworks provides users the ability to run the platform in the data center as well as on the public cloud of choice. The tool includes a range of processing engines that enable users to interact with data in multiple ways, and applications for big data analytics can interact with data from batch to interactive SQL or low latency access with NoSQL.
In a statement to the press, Cloudera's CEO Tom Reilly said: "Our businesses are highly complementary and strategic. By bringing together Hortonworks' investments in end-to-end data management with Cloudera's investments in data warehousing and machine learning, we will deliver the industry's first enterprise data cloud from the Edge to AI. This vision will enable our companies to advance our shared commitment to customer success in their pursuit of digital transformation."
Technologists and industry pundits took to Twitter to share their thoughts about the news, including CNBC's Jim Cramer who called it a "hugely important deal." While some believe it'll be a positive development for the space at large, others aren't so sure. Better yet, what will the powers that be name the new company?
The transaction is expected to close during the first quarter of 2019.

Latest posts by Timothy King
(see all)