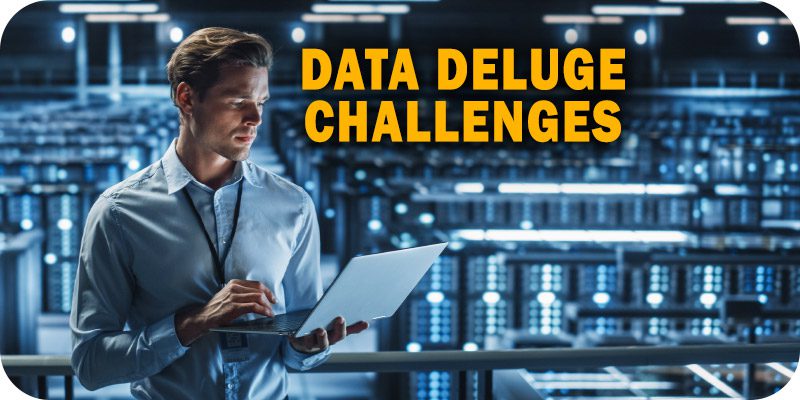 This is part of Solutions Review's Premium Content Series, a collection of contributed columns written by industry experts in maturing software categories. In this submission, Laserfiche Director of Cloud Services Daniel Herndon offers his take on data deluge challenges through five expert tips.

Netflix and Amazon exemplify data-driven decision-making at the speed of business. These organizations have used data as central to their business success, creating personalized experiences for customers and using analytics to optimize operations — whether that is in filmmaking or supply chain management. Business leaders understand that data are "gold" and invaluable for business decisions.
In an effort to capture that value, organizations are participating in a modern day gold rush — collecting everything that they can. However, in today's world with vast amounts of content, data collection is leading to unintended consequences: a data deluge. For example, 43 percent of captured data remains largely unused by organizations, and just 39 percent of companies manage data as a business asset. While this might simply seem like lost opportunity, unused data isn't just waste — it's a liability. Not only are huge data volumes more difficult to manage, but they also consistently drive up IT costs. In a 2018 Deloitte study, CIOs reported that the average IT spend was 3.3 percent of revenue and trending upwards at an average of 49 percent every year, which means that IT department budgets will face increasing scrutiny by financial management.
While the challenges of managing a data deluge — including the costs and risks of breaches — can seem daunting, there are ways to overcome them and reap the benefits of today's gold rush. And to compete in today's data-driven market, taming the data deluge is not just a nice-to-do, but an imperative. Insights-driven organizations are dominating their sectors (growing 30 percent more annually than their competitors, according to Forrester). Organizations must use the appropriate tools to manage data, minimize risk and develop a holistic plan for ongoing data management, all while developing a data-driven culture to make the most of their "gold."
Data Deluge Challenges
---
Better manage data so that compliance or access isn't a risk
Data is an immense asset, so opting out of data collection to avoid a data deluge only sets up an organization to lose their competitive edge. However, unstructured and unsecured information flood puts businesses at risk of privacy and compliance issues. According to IBM Security's Cost of a Data Breach Report 2022, the average cost of a data breach in 2022 has climbed to $4.35 million, up 12 percent from 2020.
Without control of data, the damage does not stop at sanctions and fines. Companies that suffer data breaches often see reputational damage and customer loss. Along with these considerations, business leaders must also grapple with the fact security risks are a persisting, ever-evolving concern. Complicating matters, most organizations simply don't have the skills or bandwidth to adequately address these challenges.
Decision makers must minimize the risk of privacy and compliance breaches. To do so, they must assess how data is stored and who has access to it. With the necessary tools, their organizations can better manage granular access, auditing and other processes for maintaining compliance. These concerns are yet another reason for using the cloud, where vendors handle data backups and shoulder much of the security burden.
Get captured data under control using the cloud
SaaS solutions and their elasticity are an ideal fit for organizations concerned with managing content and related tasks like capture and analysis, which is why it isn't a surprise that nearly 70% of IT decision makers say their companies have hastened moves to the cloud during the past year. As technologies like IoT, collaboration and chat tools for distributed workforces, and social media proliferate, organizations need an efficient way to securely leverage the data those technologies create. In this way, The cloud offers competitive advantages over on-premises systems.
Cloud vendors also have their client's biggest interests — scalability, reliability, and, most of all, security — at heart. Which is why decision makers who feel like they're drowning should turn to the cloud to get their data under control. Selecting a cloud-based system built from the ground up with data residency and data privacy requirements in mind and the capability to support a global customer base is key.
Of course, the cloud is not a panacea for security concerns. It's important to select trusted cloud vendors whose security measures and mechanisms align with your organization's security goals, which may differ depending on your use case, industry and regulatory requirements. Additionally, implement a shared responsibility security model, and clearly delineate the security operations handled by the vendor and your organization to mitigate security coverage gaps or exposures.
Have a holistic plan for data
The appropriate infrastructure and tools are crucial for keeping afloat during a data deluge. But technology without a plan is lumber without blueprints. Where would Netflix be if it decided to use data like platform searches or content abandonment rates but never outlined exactly how it would collect, store, process and evaluate that information? Piling up data without a plan is expensive and unsustainable.
Strong business leaders will help their companies extract value from data and establish a plan for realizing ongoing value. A holistic data plan allows companies to understand how and why they collect and use data. Data plans should seek to eliminate system and data silos by outlining modernization efforts, and facilitate continuous data-driven innovation by fostering collaborative partnerships across teams.
Beyond the Technology: Considering Culture
Above all, decision makers should push to foster a data-driven organizational culture — meaning that all employees understand the meaning, value and risks associated with the data they gather and use. This is potentially the most challenging part of overcoming the data deluge, as change doesn't come easy, especially at organizations with long-standing processes and behaviors. According to the Harvard Business Review, 91.9% of executives point to cultural obstacles as the greatest challenge in becoming data driven.
However, considering culture is potentially the most important part of any organization's approach. Every employee who touches data is another link in the risk chain, so everyone must understand what to collect as well as appropriate data governance. Additionally, an adaptable, data-driven culture will enable an organization to keep up with the increasingly rapid pace of change.
So while business leaders are making decisions about data management, governance and risk, they should be sure to consider the human aspects.
Those who turn data deluge into insights will fortify the organization's future
Data deluge is the result of organizations collecting more data and the culmination of technology trends with steepening trajectories. The data in question are a veritable goldmine for business decision making. But what happens when data volumes associated with today's digital reality wash over decision makers moving at analog speed? Does the data even maintain its value if decision-making frameworks and leadership structures aren't equipped to handle the flow of information from a digital world?
Harnessing data instead of drowning in them can enable decision making at the speed of modern business, as organizations like Netflix and Amazon have illustrated. To reach that sort of business pantheon, decision makers must first get their data under control, minimize risk, establish a plan and build it into their culture. Because the goal should not be to simply survive data deluge; it should be to excel in spite of it.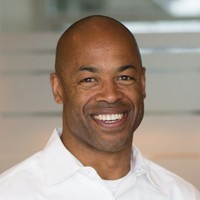 Latest posts by Daniel Herndon
(see all)