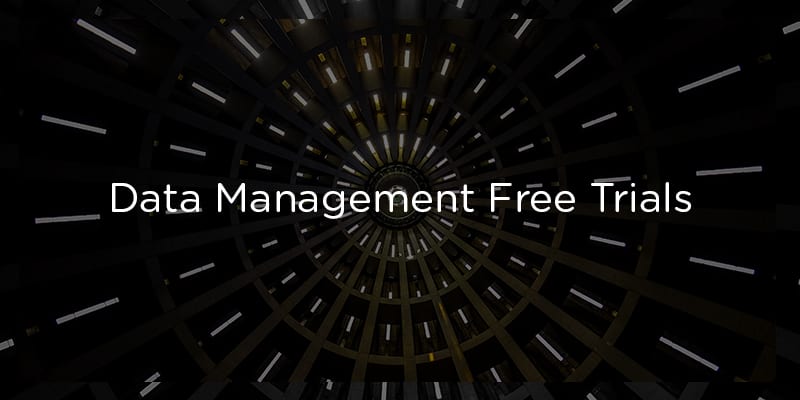 Identifying the data management software that's best for your organization can be a painstaking process, often involving lots of research and long hours speaking to vendor representatives. To make the vendor selection process an easier one, Solutions Review has compiled this list of 11 data management free trials to explore during the vendor selection process.
Organizations are adopting dedicated data management tools for running complex analysis on disparate data more than ever. These demands are being filled with hybrid and cloud platforms that allow for flexible deployment, ingestion, integration, and security.
Though testing out different solutions could add more time to the process of seeking out and selecting the software that's right for you, we believe it to be worthwhile. It will also provide you more exposure to the tools available in the space, and perhaps even make you aware of features you weren't before.
Without further ado, these are the top providers in the data management market offering data management free trials and a brief synopsis of each. Clicking on the

buttons will send you directly to each company's free trial details where you can learn more or sign up and get started.
Ataccama
Ataccama ONE features data profiling and cataloging, data quality and governance, and master data management capabilities. The solution offers a machine learning-centric user interface, as well as a data processing engine that is responsible for data transformations, evaluating business rules, and matching and merging rules. Click Try Now at the top of the page to get started.

Druva
Druva offers an all-encompassing data protection platform built on Amazon Web Services. The solution backs up data across infrastructure, endpoints and cloud applications to include analytics, metadata search, and anomaly detection. Phoenix can also be managed from a central location to provide full control over server backups and data composition.

Informatica
Informatica's data integration portfolio includes both on-prem and cloud deployments. Informatica combines advanced hybrid integration capabilities and centralized governance with self-service business access for various analytic functions. The free trial features 30-day access to Informatica Intelligent Cloud Services, and provides cloud-based tools for data mapping and real-time integration.

MemSQL
MemSQL offers a real-time data warehouse that ingests data continuously to help users perform data analysis. The tool can ingest and transform millions of events per day while also analyzing billions of rows of data using standard SQL. MemSQL can be deployed on-prem, in the cloud via Amazon Web Services or Microsoft Azure, or as a service including drop-in compatibility with existing middleware, integration, and BI software.

Note: MemSQL is not available as a trial, but a free-tiered commercial product.
Oracle
Oracle Cloud offers a comprehensive data management platform for traditional and modern applications. The product is specifically engineered for high-performance database workloads as well as hyper-scale big data and streaming workloads. The free trial promotion enables users to get $300 of free credits for up to 3,500 hours of Oracle Cloud usage over a 30-day period.

Qubole
Qubole's flagship data management product is its Autonomous Data Platform, a solution that self-manages and self-optimizes by sending alerts, insights and recommendations (AIR) based on cloud agents connected to the customer's data policies and preferences. Qubole uses a combination of heuristics and machine learning for workload continuity as well. You can test drive Qubole free for 14 days based on your cloud provider.

SAP
SAP's HANA Data Management Suite is a solution for all data management, orchestration and governance from data marts to data lakes. It provides the capabilities for acquiring, processing, and analyzing data and making that data available anywhere. The company is currently offering free trials for its SAP Advantage Database Server, SAP Data Hub, and SAP Master Data Governance.

Semarchy
Semarchy offers a master data management solution called xDM. The product utilizes machine learning algorithms to enable stewardship and advanced matching, survivorship, curation, and classification. The tool features a native data model that facilitates transparent lineage, audibility, and governance as well. Semarchy offers a 30-day license key free trial of xDM on-prem and cloud.

Snowflake
Snowflake offers a cloud data warehouse built atop Amazon Web Services. The product loads and optimizes data from virtually any source, both structured and unstructured. Snowflake features broad support for standard SQL, and users can do updates, deleted, analytical functions, transactions, and complex joins as a result. Snowflake is available as a 30-day free trial.

Talend
The Talend Data Management Platform is a user-based subscription software with data integration and data management functionality. The product features built-in data quality features so users can make trusted data available. It also provides embedded quality controls and rules management that helps enrich and protect data. Talend is offers its Talend Cloud on a trial basis.

Tamr
Tamr offers a popular data mastering platform that powers analytic insights, boosts operational efficiency. and enhances data operations. The vendor's cloud-native solutions act as an effective alternative to traditional MDM tools through machine learning which consolidates, cleanses, and categorizes data. Tamr's Master Records feature provides a complete view of all entities via simple yes and no questions. Tamr is the foundation for modern DataOps in various enterprise verticals and is backed by NEA and Google Ventures.


Latest posts by Timothy King
(see all)