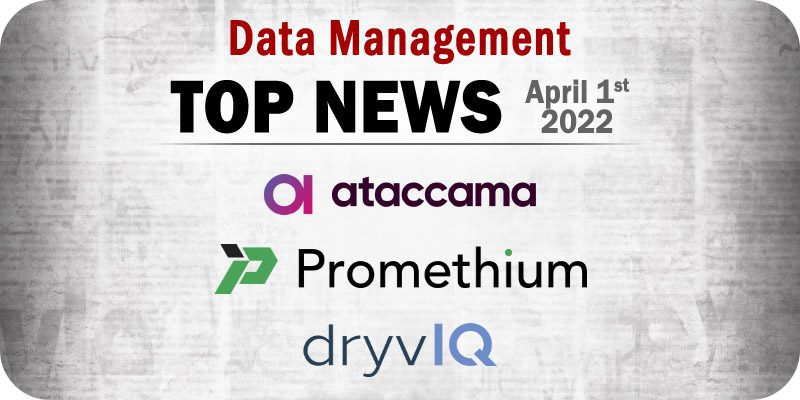 The editors at Solutions Review have curated this list of the most noteworthy data management news items for the week of April 1, 2022. In this week's roundup, news from Ataccama, Promethium, and DryvIQ.
Keeping tabs on all the most relevant big data and data management news can be a time-consuming task. As a result, our editorial team aims to provide a summary of the top headlines from the last week, in this space. Solutions Review editors will curate vendor product news, mergers and acquisitions, venture capital funding, talent acquisition, and other noteworthy big data and data management news items.
Top Data Management News for the Week Ending April 1, 2022
Ataccama Unveils New Data Stories Module
Data Stories enables users to create visualizations from their data, applying time-lapse to multiple data sets. Users can add in-context content to explain data points and change graph segments to show important data. They can then share these visualizations or create videos so that other users can view them. The announcement was made at Ataccama Innovate 2022.
Promethium Announces No-Code Federated Query Pipelines for Snowflake
Promethium's federated query pipelines can enable Snowflake customers to publish a federated query created in Promethium to Snowflake's platform with just a few clicks, without writing code or designing ETL pipelines. Data teams can now get data to Snowflake much easier and much faster. Specifically, Snowflake customers can use Promethium to accelerate data pipelines and move data to Data Cloud without the complexity and long wait times of traditional ETL and data migration.
DryvIQ Drops New AI-Focused Data Management Platform
Dryv enables organizations to identify, organize and manage unstructured data within their existing enterprise content repositories – including personally identifiable information (PII), intellectual property, and other sensitive information. Foundational artificial intelligence and machine learning technologies, along with pre-built policy packs, automate the remediation and orchestration of this content across information silos to support regulatory compliance, enhance business agility, improve productivity, and mitigate corporate risk.
For consideration in future data analytics news roundups, send your announcements to tking@solutionsreview.com.