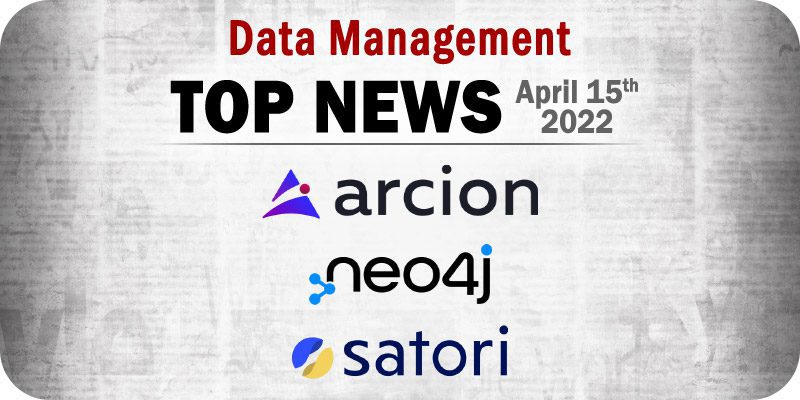 The editors at Solutions Review have curated this list of the most noteworthy data management news items for the week of April 15, 2022. In this week's roundup, news from Arcion, Neo4j, Satori, and more.
Keeping tabs on all the most relevant big data and data management news can be a time-consuming task. As a result, our editorial team aims to provide a summary of the top headlines from the last week, in this space. Solutions Review editors will curate vendor product news, mergers and acquisitions, venture capital funding, talent acquisition, and other noteworthy big data and data management news items.
Top Data Management News for the Week Ending April 15, 2022
Arcion Unveils New Cloud-Based Change Data Capture Offering
Arcion Cloud makes it easier for organizations to connect one data source to another in the cloud. With a few clicks, companies can now efficiently replicate data directly from Oracle and MySQL to cloud platforms like Databricks and Snowflake. Companies will be empowered to build production-ready, real-time, high-volume data pipelines from enterprise transactional databases to cloud platforms.
Airbyte Announces its Acquisition of Grouparoo
Grouparoo's team understands the challenges of building a reverse-ETL solution and will have an important role to play. Airbyte's CEO said in a blog post: "The consolidation of these two communities around one single project will allow Airbyte to deliver the high quality, reliable integrations, and be the only solution to cover the long-tail of connectors across ELT and reverse-ETL."
Ascend.io Drops its Third Annual Research Study on the Priorities of Data Teams
The survey of 540 U.S.-based chief data officers, data engineers, data scientists, data analysts, enterprise architects uncovers the top bottlenecks for team productivity, with two-thirds of respondents citing team size or hiring limitations as a key limiting factor, why data access is still a major issue for teams; respondents are spending nearly 19 hours per week trying to gain access to data to do their jobs, and plans for how data teams will increase bandwidth, such as turning to automation to increase productivity.
Explorium Releases its 2022 State of External Data Acquisition
It found organizations source data from multiple providers, they need a formal strategy to find and integrate external data, and how technology solutions can help enterprises to overcome challenges to using third-party data. Over 22 percent of businesses are spending over $500,000 annually to acquire data from third-party providers and nearly 60 percent spend more than a million.
MongoDB Announced a new Pay-As-You-Go Solution on Google Cloud
The offering provides developers with a simplified subscription experience and enterprises more choice in how they procure MongoDB on Google Cloud. With this new pay-as-you-go MongoDB Atlas offering, customers only pay for the resources they use and can scale based on their needs, with no up-front commitments while using their Google accounts. This offering will also make it easier for customers to build, scale, and manage data-rich applications with MongoDB Atlas within the Google Cloud Console.
Neo4j Releases Graph Data Science as a Service
Neo4j Graph Data Science is designed to make it easy for data scientists to achieve greater predictive accuracy with comprehensive graph analysis techniques. Users can improve models through a library of graph algorithms, ML pipelines, and data science methods. Neo4j Graph Data Science has been widely adopted and is trusted to perform at scale, easily handling hundreds of billions of nodes and relationships.
Satori Expands Database Integration Options
Data teams can now reduce the complexity in managing usage of their growing data platform. With Satori, organizations can manage data access across thousands of data stores from a single location and apply security controls in policies rather than SQL commands to enable distributed data stewardship. Satori support for MySQL, CockroachDB and MariaDB is available immediately.
Snow Software Enhances Snow Commander Line
Snow has made several improvements to Snow Commander, a dynamic hybrid cloud management solution that leverages automation to deliver business agility, oversight, and operational efficiency. New capabilities will enable enterprises and service providers to simplify hybrid and multi-cloud management through streamlined IT service delivery.
For consideration in future data analytics news roundups, send your announcements to tking@solutionsreview.com.

Latest posts by Timothy King
(see all)