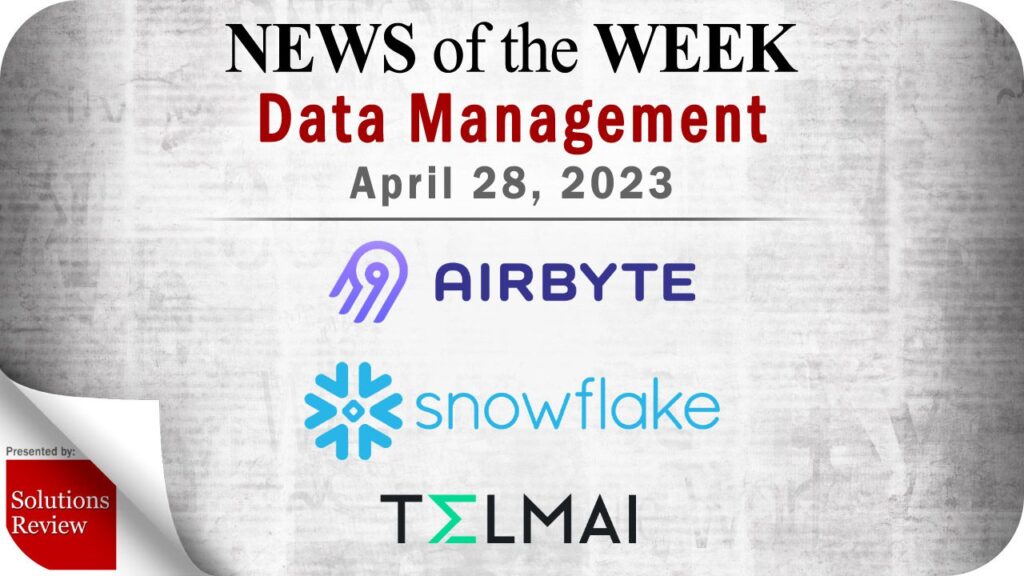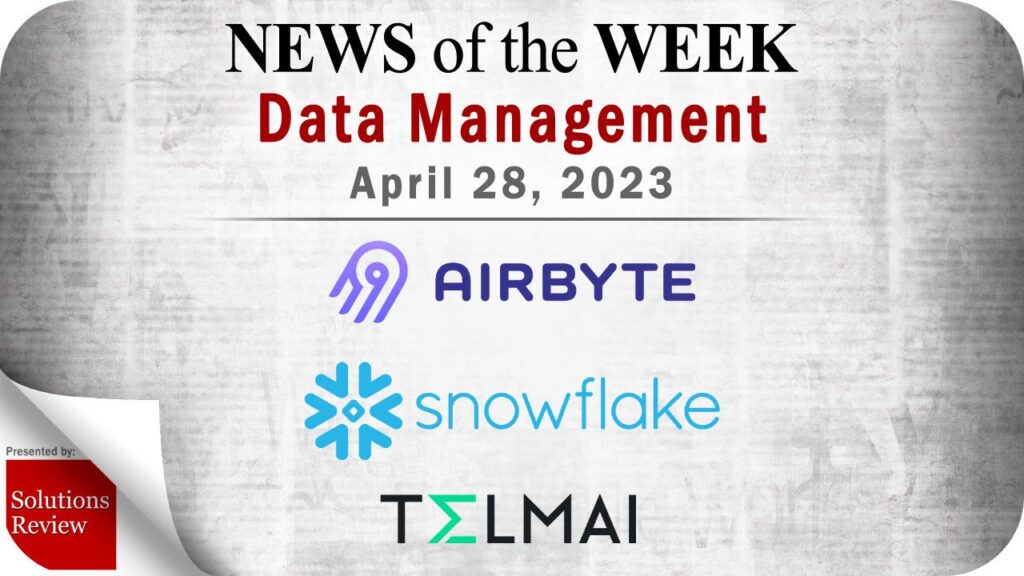 Solutions Review editors curated this list of the most noteworthy data management news items for the week of April 28, 2023.
Keeping tabs on all the most relevant big data and data management news can be a time-consuming task. As a result, our editorial team aims to provide a summary of the top headlines from the last week, in this space. Solutions Review editors will curate vendor product news, mergers and acquisitions, venture capital funding, talent acquisition, and other noteworthy big data and data management news items.
Top Data Management News for the Week Ending April 28, 2023
Airbyte Unveils New API for Automating Data Movement
Software and data engineers can now automate various data integration tasks by interacting with Airbyte Cloud programmatically through the API, rather than only manually through the Airbyte Cloud user interface. Other companies that want to provide data movement within their own products can also use the API to embed Airbyte Cloud's data movement capabilities directly into their product offerings.
AWS Announces New DataZone in Preview
With Amazon DataZone, data producers populate the business data catalog with structured data assets from AWS Glue Data Catalog and Amazon Redshift tables. Data consumers search and subscribe to data assets in the data catalog and share with other business use case collaborators.
CRN Unveils its Big Data 100 for 2023
To help solution providers that operate big data practices—or are thinking of starting one—CRN provides the Big Data 100, an annual list of leading vendors in the big data space with innovative, forward-thinking products and services that solution providers can offer their customers for managing, utilizing and analyzing big data.
Digibee Drops 2023 State of Enterprise Integration Report
Digibee's research was developed in partnership with research firm CensusWide and is based on a survey of more than 1,000 U.S.- and Canada-based CIOs, CTOs, developers, and enterprise architects. The fieldwork was carried out between February 7, 2023 and February 20, 2023.
Dremio Earns Microsoft Top Tier Partner Status
Partners are selected based on their technical expertise and ability to deliver innovative solutions that help customers solve complex business challenges. As a Top Tier Partner, Dremio works more closely with Microsoft's sales team to drive go-to-market momentum and deepen customer engagement that improves data consumption and efficiency.
InfluxData Drops Expanded Time Series Database Capabilities
Developed as the open-source project InfluxDB IOx, InfluxDB 3.0 now serves as the foundation for all InfluxDB products, both current and future, delivering significant gains in performance, high-volume ingestion and compression, real-time querying, and unlimited scale to the database.
K3 Low-Code ETL & Integration Launches on AWS
K3 is an intuitive, low-code integration and ETL (Extract, Transform, Load) software platform crafted to simplify data management processes. This user-friendly solution enables the seamless extraction of data from a multitude of sources, efficient data transformations and cleansing, and the delivery of polished data to the preferred destination.
Komprise Launches Intelligent Tiering for Microsoft Azure
This exclusive offering is the only Microsoft Azure Marketplace solution that gives customers access to file analysis and tiering to and within Azure. Customers can acquire this without purchasing the full Komprise Intelligent Data Management platform.
Mezmo Releases Free Trial of Telemetry Pipeline
Digital services and applications are critical to modern business. But the resulting explosion of telemetry data and the increase in data sources with varying data formats and multiple platforms required to analyze the data create complexity and drive up costs.  Mezmo is bringing to market innovative solutions to meet the growing demand for wider access, more control, and easy usage of telemetry data.
Snowflake Set to Host 2023 Snowflake Summit in Las Vegas
Snowflake Summit 2023 will offer a first-look at Snowflake's latest product innovations transforming the Data Cloud. In addition, the event will feature a variety of breakout sessions, technical certifications, hands-on labs, a developer zone, and more to help organizations across industries drive increased value with data.
Telmai Announces Google Cloud Partnership for Data Quality Monitoring
This partnership is built on product integrations between Telmai and Google Cloud. It combines the speed and scale of Google Cloud BigQuery with the ML-driven anomaly detection and data quality monitoring of Telmai. Companies that use Telmai can monitor the quality of their data in BigQuery in addition to various other data sources, analytic databases, semi-structured datasets, and event streaming sources. Telmai proactively detects and investigates anomalies and data drifts in real-time using ML.
Expert Insights Section
Watch this space each week as Solutions Review editors will use it to share new Expert Insights Series articles, Contributed Shorts videos, Expert Roundtable and event replays, and other curated content to help you gain a forward-thinking analysis and remain on-trend. All to meet the demand for what its editors do best: bring industry experts together to publish the web's leading insights for enterprise technology practitioners.
The Best Coursera SQL Courses Right Now
The language is most useful for handling structured data and offers advantages like the concept of accessing many records with one single command and eliminating the need to specify how to reach a record over older read-write APIs. This list of the best SQL courses on Coursera below includes links to the modules and our take on each.
The Best Big Data Courses on Coursera Right Now
Coursera is one of the top online education platforms in the world, partnering with more than 200 universities and companies to provide a range of learning opportunities. We compiled this list of the best big data courses on Coursera if you're looking to grow your skills for work or play.
For consideration in future data management news roundups, send your announcements to the editor: tking@solutionsreview.com.