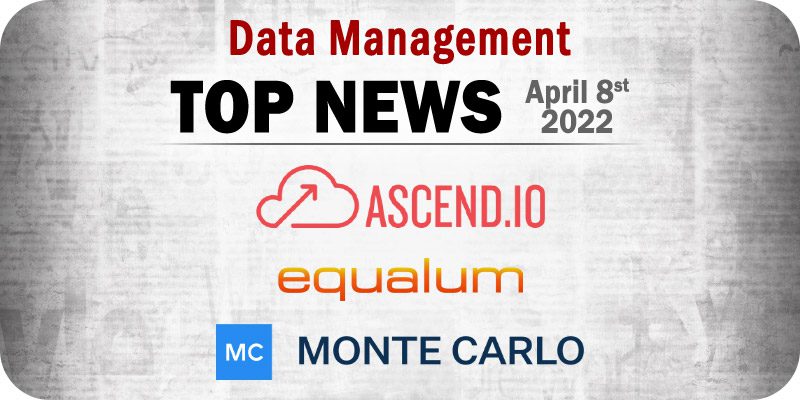 The editors at Solutions Review have curated this list of the most noteworthy data management news items for the week of April 7, 2022. In this week's roundup, news from Ascend.io, Equalum, Monte Carlo, and more.
Keeping tabs on all the most relevant big data and data management news can be a time-consuming task. As a result, our editorial team aims to provide a summary of the top headlines from the last week, in this space. Solutions Review editors will curate vendor product news, mergers and acquisitions, venture capital funding, talent acquisition, and other noteworthy big data and data management news items.
Top Data Management News for the Week Ending April 7, 2022
Airbyte Makes its New Cloud Service Generally Available
Airbyte Cloud comes with pricing based on compute time, provides hosting and management, and enables customers to have multiple workspaces and access management for their teams. It also supports oAuth authentication to enable less technical users to connect their tools. With the introduction of Airbyte Cloud as an alternative to on-prem deployment, the company announced a new licensing model last month where the user community and maintainers of data connectors have incentives to deliver new features and bug fixes for the continuously growing list of connectors.
Alana Marzoev Announces the Launch of ReadySet
ReadySet is a SQL caching engine that helps developers build real-time applications without making code changes or switching databases. The product is wire-compatible with MySQL and Postgres and interoperates with tools from their ecosystems. Integrating ReadySet into an application is as simple as swapping out a database connection string. It also incrementally maintains result sets of SQL queries based on writes to the primary database.
Ascend.io Raises $31 Million in Series B Funding
The additional capital will be used by Ascend.io to scale go-to-market efforts and expansion into new geographies, as well as extend Ascend's Data Automation Cloud to support full multi-cloud data mesh automation. The Ascend platform works continuously in the background monitoring data integrity and optimizing data workloads, resulting in drastically reduced time spent on management and maintenance.
Atlassian Debuts its New Data Lake and Analytics Tools
Atlassian Data Lake contains cross-product and cross-instance data for easy analysis with pre-modeled and enriched fields to speed up insight generation. Atlassian Data Lake is built on the enterprise-grade Atlassian platform to ensure privacy and security. At launch, Atlassian Data Lake will include data from Jira Software and Jira Service Management, but the company working to bring all of the data across all Atlassian products into it.
data.world Nabs $50 Million in Series C Funding
The additional capital will accelerate data.world's global expansion, talent acquisition, and product innovation to meet the growing market demand for its next-generation data catalog. As part of the transaction, Mike Reilly, a vice president in the Growth Equity business within Goldman Sachs, has joined the data.world Board of Directors. With the completion of this $50M growth fundraise, data.world is hiring at an accelerated pace.
Equalum Continuous Data Integration 3.0 is Now Generally Available
Equalum's Continuous Data Integration Platform (CDIP) Version 3.0 is available for on-premises, hybrid or cloud-based operations, including all required Azure, AWS, and Google Cloud Targets. The platform supports real-time streaming use cases as well as Batch ETL, Replication, and Tier One Change Data Capture. Version 3.0 includes a suite of new capabilities to facilitate complex transformations and data manipulations with ease in addition to other new offerings and enhancements.
Monte Carlo Unveils New Circut Breakers Functionality
Monte Carlo's Circuit Breakers automate testing and manage all quality checks across the entire data pipeline within a single interface. Circuit Breakers limit the downstream impact of bad data by stopping data quality issues closer to the source. With this release, Monte Carlo becomes the first Data Observability provider to deliver both automatic and custom orchestration-based tests to monitor for data quality issues.
SingleStore Launches SingleStoreDB for IBM
This subscription-based software, which can be deployed on-premises, in private clouds, or in public clouds, is designed to enable customers to scale out as needed. Main customer benefits include reduced legacy database and hardware costs, accelerated time to insight with a single database, and the ability to quickly run data-intensive reports. Through the new collaboration, IBM will offer the purchasing, licensing, and support of the SingleStore Database.
Talend Acquires Gamma Soft Change Data Capture
The addition of Gamma Soft's highly complementary, enterprise-class change data capture technologies will help customers streamline their data modernization initiatives, including cloud migrations, and support advanced, real-time analytics use cases across hybrid and multi-cloud environments. Headquartered in Paris, France, Gamma Soft helps companies continuously track and replicate changed data in real time from a source, such as data warehouses, data lakes, and other databases.
For consideration in future data analytics news roundups, send your announcements to tking@solutionsreview.com.

Latest posts by Timothy King
(see all)