Data Management News for the Week of August 11; Updates from Monte Carlo, Quest Software. Semarchy & More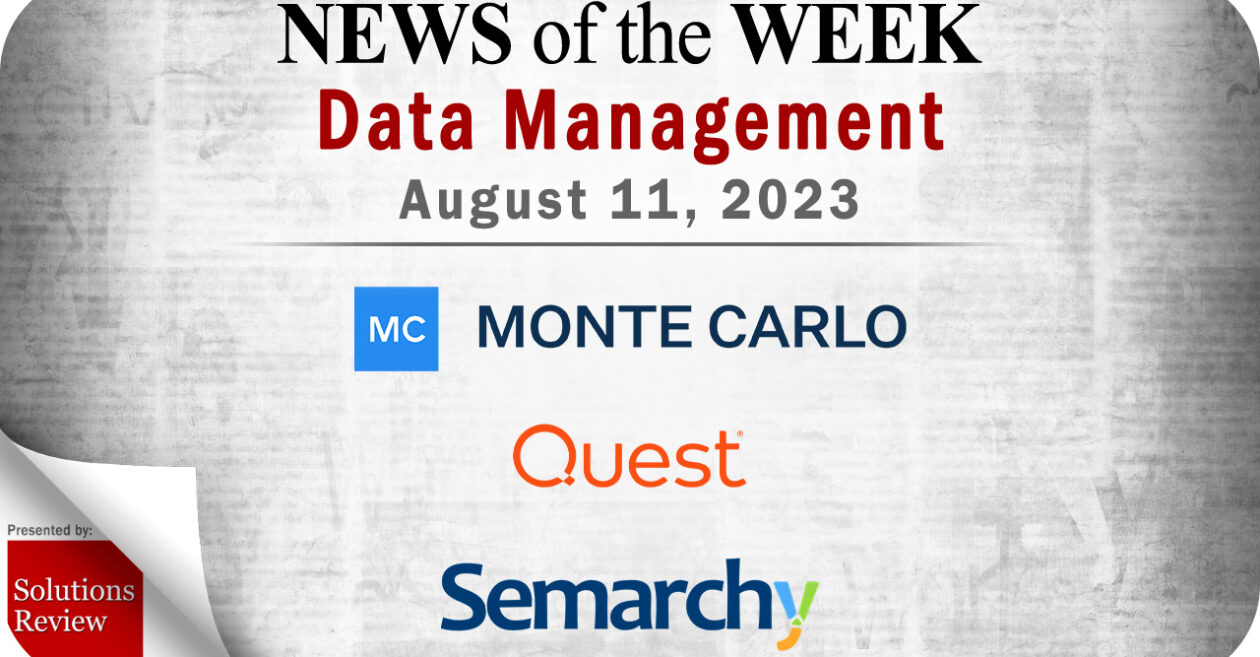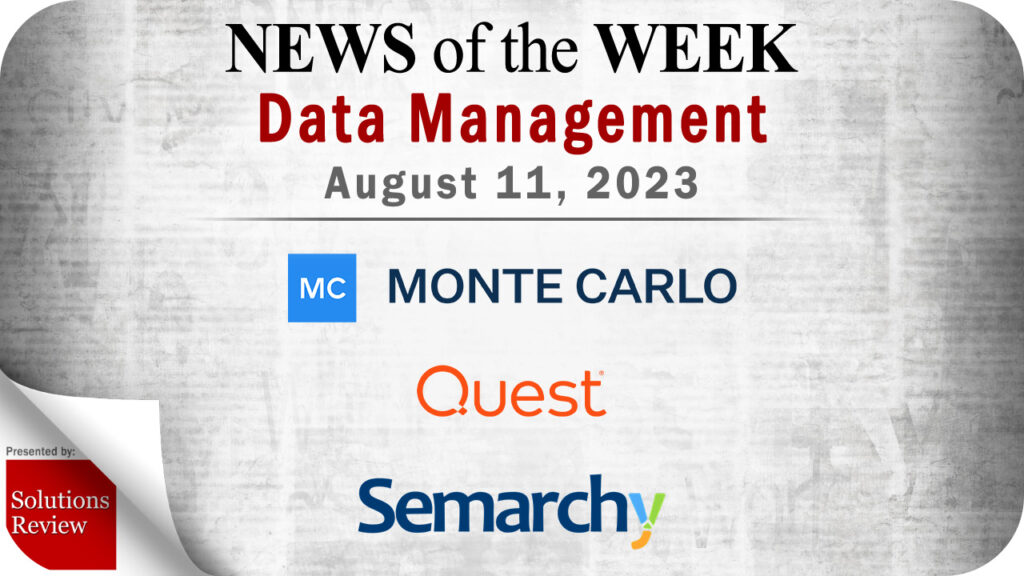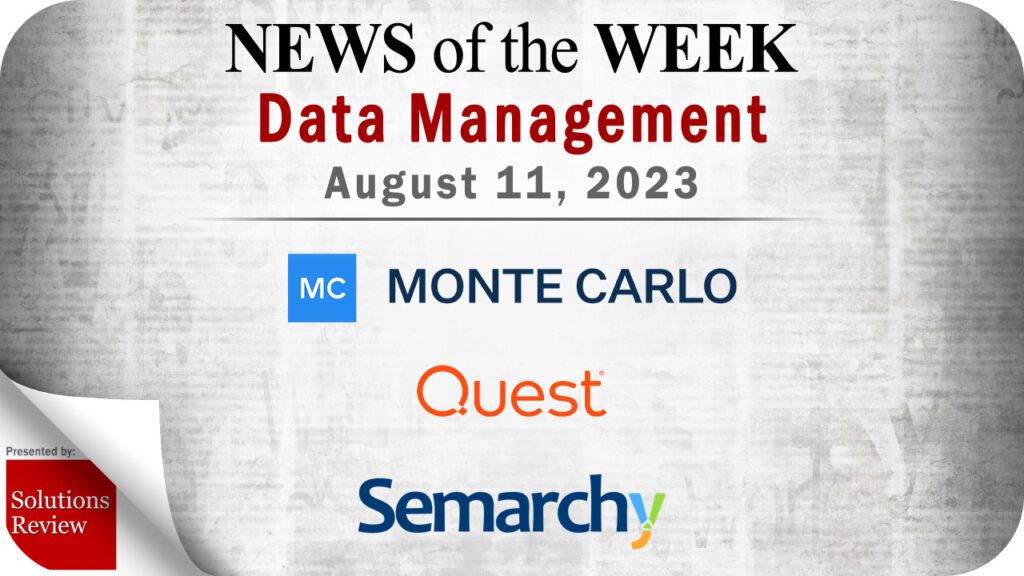 Solutions Review editors curated this list of the most noteworthy data management news items for the week of August 11, 2023.
Keeping tabs on all the most relevant big data and data management news can be a time-consuming task. As a result, our editorial team aims to provide a summary of the top headlines from the last week, in this space. Solutions Review editors will curate vendor product news, mergers and acquisitions, venture capital funding, talent acquisition, and other noteworthy big data and data management news items.
Top Data Management News for the Week Ending August 11, 2023
Airbyte Unveils New Vector Database Connectors
The vector database destination in Airbyte now enables users to configure the full ELT pipeline, starting from extracting records from a wide variety of sources to separating unstructured and structured data, preparing and embedding text contents of records, and finally loading them into vector databases – all through a single, user-friendly interface.
Alation Launches New Data Center in Japan
Located in Tokyo, Japan, Alation Cloud Service customers can now process and store data locally to meet data residency requirements. This is the fifth Alation data center, adding to existing locations in the United States, Europe, Singapore, and Australia.
DataStax Announces Vector Search for DataStax Enterprise
The availability of vector search for DSE follows the company's recent announcement of the general availability of vector search for its marquee cloud database, Astra DB. Organizations can now use DataStax's scalable, secure and enterprise-ready vector databases to build generative AI applications on any cloud, in the data center, or in a hybrid cloud environment.
Hitachi Vantara Attains AWS SAP Competency Partner Status
Certified AWS SAP Competency Partners have the experience, tooling, methods and best practices to streamline client migrations or transformations. As a premier-level partner with AWS SAP Competency, Hitachi Vantara's proven proficiency helps our clients seamlessly move to AWS Cloud.
Lightup Raises $9 Million in Series A Funding to 'Shine Light' on Data Quality
Lightup wants to put data quality in the spotlight, and the company announced a $9 million Series A investment to continue building its data quality solution. The company has now raised over $20 million, according to Crunchbase data.
Metaplane Secures Snowflake-Ready Technology Validation
Metaplane's investment into the stronger partnership has already yielded an upcoming product release, using Data Quality Metric Functions alongside Metaplane to improve data quality. This allows greater flexibility for users to host their known rules within Snowflake while using Metaplane to handle automated continuous monitoring at scale.
Quest Software Launches erwin Data Modeler by Quest 12.5
Boasting cutting-edge features that enhance data quality, governance, and stakeholder collaboration, erwin Data Modeler 12.5 drives organizations towards data democratization, facilitating strategic efforts such as AI Large Language Model (LLM) development, data intelligence and data platform modernization.
Semarchy Secures Snowflake-Ready Technology Validation
As part of the Semarchy Unified Data Platform, Semarchy xDI extracts and integrates data from and to Snowflake, allowing users to leverage Snowflake's computational power and scalability synergistically to transform their data. The Semarchy xDI templates take care of the complex technical details of the data processes, allowing integration designers to focus on their data flows using xDI's Universal Data Mappings.
Simon Data Nabs $54 Million to Launch 'the first' Connected CDP
This investment will supercharge our product development with other cloud data warehouse providers and enable us to offer a fully-connected CDP deployment to all major enterprises – regardless of cloud data infrastructure.
Spirion Unveils New Custom Reports to Enhance Sensitive Data Governance
This launch marks an important milestone for the company's customers looking to gain further visibility into their inherent sensitive data risks and take proactive action to reduce them. Spirion's intuitive and customizable reports enable security leaders to track progress of their initiatives and make smart decisions about their organizations' sensitive data.
Unravel Data Announces Cloud Data Cost Observability on BigQuery
This launch comes on the heels of the recent BigQuery pricing model change that replaced flat-rate and flex slot pricing with three new pricing tiers, and will help BigQuery customers to implement FinOps in real time to select the right new pricing plan based on their usage, and maximize workloads for greater return on cloud data investments.
Veritas Introduces New Managed Service Provider Program
The purpose-built program offers managed service providers (MSPs) a set of incentives, a wide range of training and enablement, and flexible pricing models to expand their offerings and capitalize on the growing demand for data protection and cloud-native cyber resilience solutions.
Expert Insights Section
Watch this space each week as Solutions Review editors will use it to share new Expert Insights Series articles, Contributed Shorts videos, Expert Roundtable and event replays, and other curated content to help you gain a forward-thinking analysis and remain on-trend. All to meet the demand for what its editors do best: bring industry experts together to publish the web's leading insights for enterprise technology practitioners.
What to Expect at Eckerson Group's CDO TechVent for Building Data Products on August 17
This 3-hour virtual event is designed to help data leaders evaluate and select data mesh and data fabric tools that deliver and manage discoverable, addressable, and trusted data products. The event compresses the time it takes data leaders to understand an emerging technology, create a short list of products, and hear tips from experts, practitioners, and solutions providers in the field.
Solutions Review Set to Host Monte Carlo for Exclusive Spotlight Webinar on August 21
With the next Solutions Spotlight event, the team at Solutions Review has partnered with leading reliability vendor Monte Carlo to provide viewers with a unique webinar called Architecting for Data Quality in the Lakehouse.
What to Expect at Denodo DataFest 2023 on September 12-14
This event offers opportunities to learn about best practices and tips for leveraging the Denodo Platform's logical approach for cloud modernization, self-service analytics, data science and machine learning (ML), data fabric, data mesh, and more.
For consideration in future data management news roundups, send your announcements to the editor: tking@solutionsreview.com.