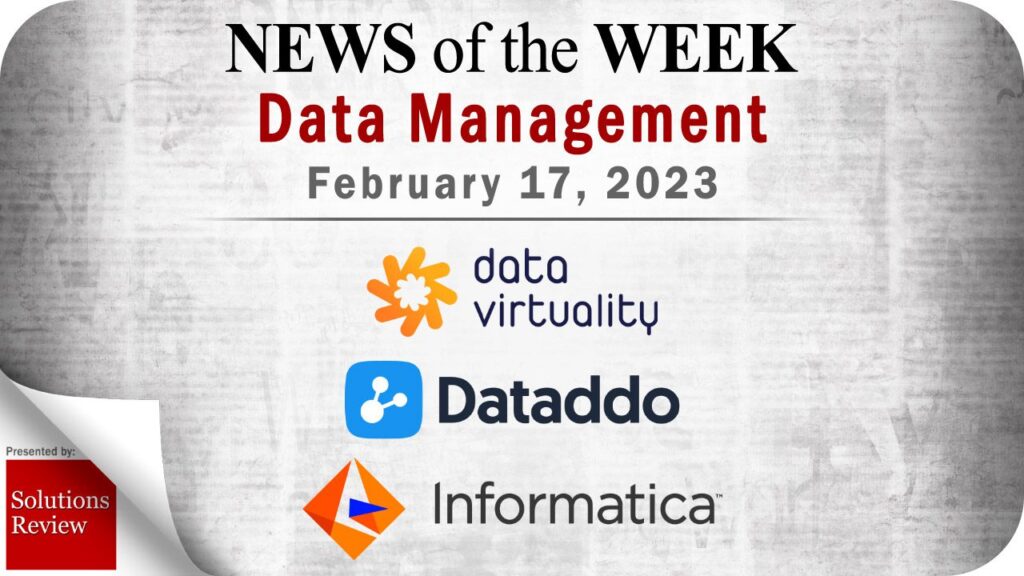 The editors at Solutions Review have curated this list of the most noteworthy data management news items for the week of February 17, 2023.
Keeping tabs on all the most relevant big data and data management news can be a time-consuming task. As a result, our editorial team aims to provide a summary of the top headlines from the last week, in this space. Solutions Review editors will curate vendor product news, mergers and acquisitions, venture capital funding, talent acquisition, and other noteworthy big data and data management news items.
Top Data Management News for the Week Ending February 17, 2023
Coalesce Announces it Joined the Snowflake Partner Connect Ecosystem
By joining the program, Coalesce data transformation capabilities will now be available to Snowflake customers directly on Snowflake's platform. In addition to joining Snowflake's Partner Connect, Coalesce has achieved both Snowflake Ready Technology Validation and Premier tier partner status.
Dataddo Announces it Joined Snowflake Partner Connect
As part of the Snowflake Partner Network, Dataddo can help mutual customers streamline centralization and distribution of data across their organizations, using fewer tools. The Dataddo platform is SOC 2 Type II certified and compliant with all major data privacy laws around the globe, including ISO 27001, GDPR for Europe, CCPA and HIPAA in the US, LGPD for Brazil, and POPIA for South Africa.
Data Virtuality Unveils SaaS Data Virtualization Solution
Designed for data teams and citizen data experts, the solution enables data users to share the data, model it, and build valuable data products. Data Virtuality Platform SaaS provides a fully managed hardware and software stack in the cloud so data architects, data developers, and analysts can concentrate on harnessing the full potential of their data environment without worrying about infrastructure, maintenance, patching, or updates.
dbt Labs is Set to Acquire Transform to Enhance its Semantic Layer
Transform's technology will expand and enhance the functionality of the dbt Semantic Layer, which enables organizations to centrally define business metrics in dbt then query them from any analytics tool. This ensures that critical definitions such as "revenue," "customer count," or "churn rate" are consistent across all applications.
Informatica Releases 2nd-Annual CDO Awards
The awards highlight data-driven leaders who have had a profound impact on their organization's data culture, digital transformation, and business outcomes. Aligned with IDC's four archetypes for data-driven leadership, the 2022 awards class honors 12 recipients across four categories: Analytics Champions, Digital Innovators, Governance Gurus, and Operational Optimizers.
HFS and Syniti Release The Case for More Effective Data Management Study
The study, Perception Isn't Always Reality: The Case for More Effective Data Management, was conducted during fourth quarter of 2022. More than 300 senior level executives at mid-to-large size enterprises across the globe were interviewed, representing a variety of industries including manufacturing, life sciences, healthcare, CPG and retail. Among the report's findings:
Expert Insights Section
Watch this space each week as Solutions Review editors will use it to share new Expert Insights Series articles, Contributed Shorts videos, Expert Roundtable and event replays, and other curated content to help you gain a forward-thinking analysis and remain on-trend. All to meet the demand for what its editors do best: bring industry experts together to publish the web's leading insights for enterprise technology practitioners.
Solutions Review Set to Host Sigma Computing, Decodable, Bigeye, and Prophecy.io for Data Demo Day on February 23
Data Demo Day for Q1 2023 is an exclusive virtual event featuring an inside look at the technologies of prominent data management and analytics solution providers. Solutions Review is hosting this online event as a way to present the latest data management and analytics tools from the comfort and safety of your own desk, and the best part? It's free to attend!
MirrorWeb's Harriet Christie Offers a Complete Overview of the Role of Website Archiving
There are many reasons an organization should archive its website, but they must ensure their archives are complete, secure and legally admissible. In this guide, Christie looks at some of the specific challenges around website archiving in three sectors – financial services, the public sector and brands.
Solutions Review's Lead Editor Tim King Offers Top-of-Funnel Guidance for Evaluating Low-Code Lakehouse Platforms
Building a data lakehouse with Apache Spark and Delta Lake requires combining technical expertise and data management skills. However, following these steps, you can implement a robust and scalable data architecture to support your organization's data-driven decision-making needs.
For consideration in future data management news roundups, send your announcements to the editor: tking@solutionsreview.com.