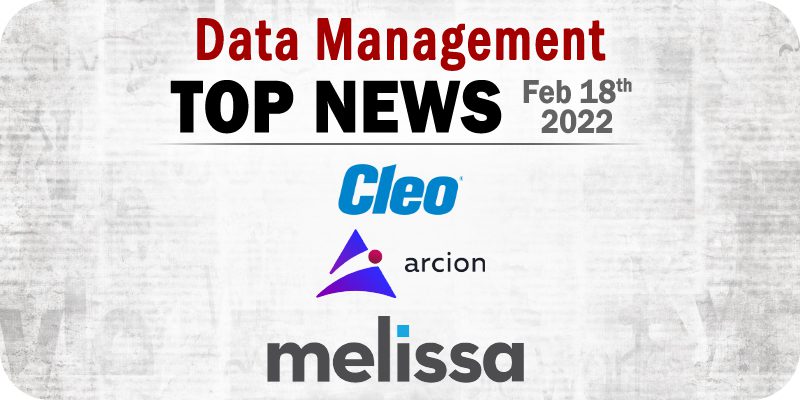 The editors at Solutions Review have curated this list of the most noteworthy data management news items for the week of February 18, 2022. In this week's roundup, product news from Cleo and Melissa, funding news from Arcion, and more.
Keeping tabs on all the most relevant big data and data management news can be a time-consuming task. As a result, our editorial team aims to provide a summary of the top headlines from the last week, in this space. Solutions Review editors will curate vendor product news, mergers and acquisitions, venture capital funding, talent acquisition, and other noteworthy big data and data management news items.
Top Data Management News for the Week Ending February 18, 2022
Cleo Unveils New Supply Chain Focus with Integration Cloud Cockput with RADAR
Built on top of CIC Cockpit, the integration industry's most comprehensive real-time operational dashboard, RADAR enables supply chain-driven businesses to mitigate compliance risk by defining, measuring, reporting, and acting immediately on time-sensitive SLA notifications. SLAs can be configured in minutes by business, operational, or technical users – instantly creating dashboards and charts to monitor these Key Performance Indicators (KPIs) in real-time.
Arcion Nabs $13 Million Series A for Cross-Platform Data Replication
Formerly Blitzz, Arcion raised its first round of funding and launched a cloud-native, zero-code data mobility platform to "interconnect the $125 billion cloud data ecosystem with transactional databases and cloud warehouses." Along with the Arcion platform's public release, the company recruited a new CEO, Gary Hagmueller, to drive its growth. Additional features include patent-pending "Read Once, Write Multiple" technology for faster, low-impact data replication, zero data loss architecture, fault tolerance, auto-scaling, and enterprise security features such as data masking and at-rest/in-flight data encryption.
Melissa Releases its 2022 Solutions Catalog
Melissa's Solutions Catalog features the data quality, enrichment, and identity verification solutions powering compliance, fraud prevention, sales, customer engagement, and analytics. Capabilities can be implemented at any point in the data chain and are designed to ensure all global 'people' data – addresses, names, phones, and emails – are validated, updated, and standardized. Deployments are flexible, available in on-premise, web service, secure FTP processing, and Software as a Service (SaaS) delivery options.
Striim Partners with Hewlett Packard Enterprise for Striim for HPE NonStop
Striim for HPE NonStop provides the ability to ingest, process, and deliver integrated data across all sources and targets in real-time for business insights. The solution also supports advanced data mesh architectures capable enough to handle high-volume, transactional data. Together, HPE and Striim offer a unique way to deploy hybrid architectures in mission-critical, always-on systems.
Quix Drops its Latest Product Release with New Community Open-Source Code Library
Data stream processing platform Quix today launched its low-code/no-code (LCNC) interface for streaming data pipelines. The latest product release from Quix makes it easier and more efficient to build pipelines and workflows for ever-evolving streaming data sets, such as those from IoT and other digital devices. As part of this release, Quix launched an open-source library of code samples, such as Confluent Kafka, Twilio, and AWS Kinesis connectors, that enable the community to benefit from a network of contributors.
ArangoDB Launches Version 3.9 Aimed at Extending Advanced Analytics
ArangoDB 3.9 is focused on extending the capabilities of advanced Analytics and especially at scaling Graph use cases even further. Key features include Hybrid SmartGraphs, new AQL functions, new ArangoSearch Analyzer, and various other performance and user experience improvements. Hybrid SmartGraphs allow the combination of these features and hence allow SatelliteCollections within the SmartGraph definition.
For consideration in future data management news roundups, send your announcements to tking@solutionsreview.com.