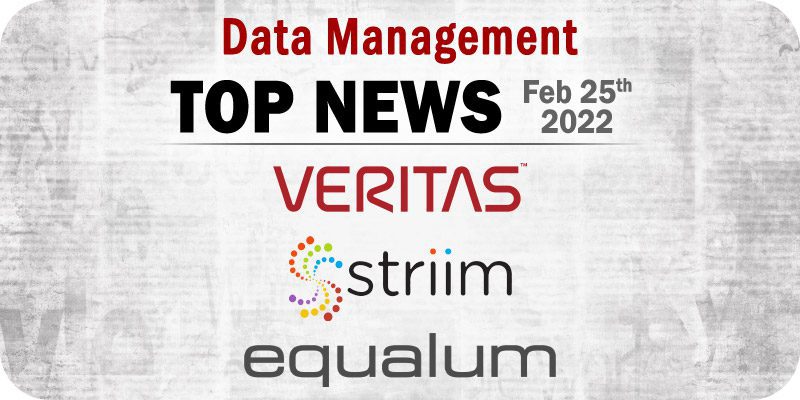 The editors at Solutions Review have curated this list of the most noteworthy data management news items for the week of February 24, 2022. In this week's roundup, product news from Veritas Technologies, Equalum, 
Keeping tabs on all the most relevant big data and data management news can be a time-consuming task. As a result, our editorial team aims to provide a summary of the top headlines from the last week, in this space. Solutions Review editors will curate vendor product news, mergers and acquisitions, venture capital funding, talent acquisition, and other noteworthy big data and data management news items.
Top Data Management News for the Week Ending February 24, 2022
Veritas Technologies Unveils New Autonomous, Multi-Cloud Optimized Data Management Solutions
Veritas' current and future focus on minimizing the cloud footprint of protection data is designed both to reduce costs and to control the environmental impact of data storage. Veritas' popular solutions for deduplicating data, as well as eliminating multi-cloud storage inefficiencies, enable businesses to manage the effects of enormous ongoing data growth while protecting against threats. Veritas dropped the news at Conquer Every Cloud 2022.
Equalum Releases Continuous Data Integration 3.0
Equalum's Continuous Data Integration Platform (CDIP) Version 3.0 supports all data integration use cases under one, unified platform with zero coding, including all required Azure, AWS, and Google Cloud Targets. Equalum supports real-time streaming use cases as well as Batch ETL, Replication, and Tier One Change Data Capture. With Version 3.0, Equalum has added dozens of new capabilities to facilitate complex transformations and data manipulations.
Striim Announces Real-Time Data Streaming and Integration SaaS
Striim Cloud is a fully-managed software-as-a-service (SaaS) platform for real-time streaming data integration and analytics. With a few clicks, customers can build real-time data pipelines to stream trillions of events every day, backed by enterprise-grade operational security and management features. Striim Cloud's zero-maintenance, highly-scalable platform enables customers to adopt new cloud models, digitize legacy systems, and modernize their application infrastructure.
Redpanda Nabs $50 Million Series B Funding for Open-Source Data Streaming Platform
Formerly named Vectorized, Redpanda is a data streaming platform, redesigned from the ground up in C++ for modern hardware and with no external system dependencies. It's also compatible with the entirety of the Apache Kafka ecosystem. Redpanda plans to use the funding to hasten its global reach while ensuring the developer community stays at the forefront.
Treasure Data Unveils Omnichannel-First Customer Journey Orchestration Tool
Treasure Data Journey Orchestration provides a central location for data and insights, brought together in AI-powered customer profiles that unite teams and systems across internal business units and between different brands. With a visual, no-code canvas, marketers can plan, monitor, and optimize journeys personalized for each customer as they progress from awareness to purchase to brand loyalty and beyond.
Satori Releases New Data Access Controller Manager for Virtual Private Cloud
Satori DAC Manager enables companies to secure access to sensitive data stored in customer-hosted Virtual Private Clouds (VPC) and automatically apply updates and upgrades with no downtime. Satori's Universal Data Access platform streamlines and secures data access across any and all types of environments to meet compliance needs without inhibiting accessibility that drives business decisions.
AI Startup nRoad Drops New Convus Platform for "War on Documents"
nRoad Convus currently allows financial institutions to extract, normalize, and incorporate business information buried in unstructured documents. It offers a purpose-built enterprise-grade platform that delivers scale, accuracy, and efficiency with minimal training burden. nRoad is also built on a microservices-based architecture that can integrate with existing IT infrastructure in a non-intrusive way while maintaining required data security.
Constellation Research Releases Constellation ShortList for Master Data Management, Hybrid-Cloud and Multicloud Analytical Relational Database Management Systems
Strategic advisory and analyst firm Constellation Research recently released findings from its Constellation ShortList for Master Data Management and for Hybrid-Cloud and Multicloud Analytical Relational Database Management Systems. The report, which was authored by Doug Henschen, highlights various solutions to know, presenting vendors in different categories of the market relevant to early adopters. Constellation compiled the list through conversations with early adopters, independent analysts, and briefings with solution providers.
For consideration in future data management news roundups, send your announcements to tking@solutionsreview.com.

Latest posts by Timothy King
(see all)