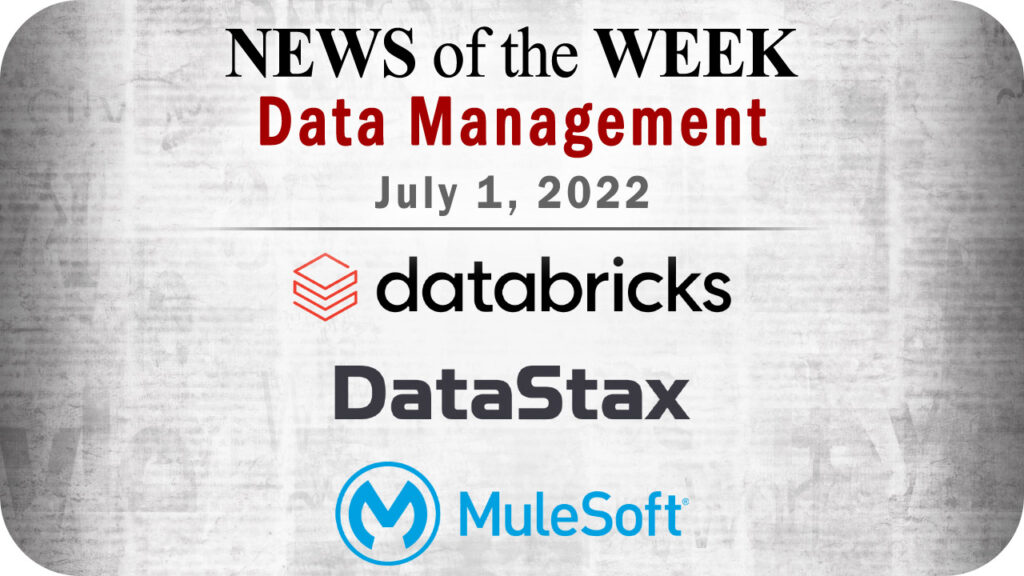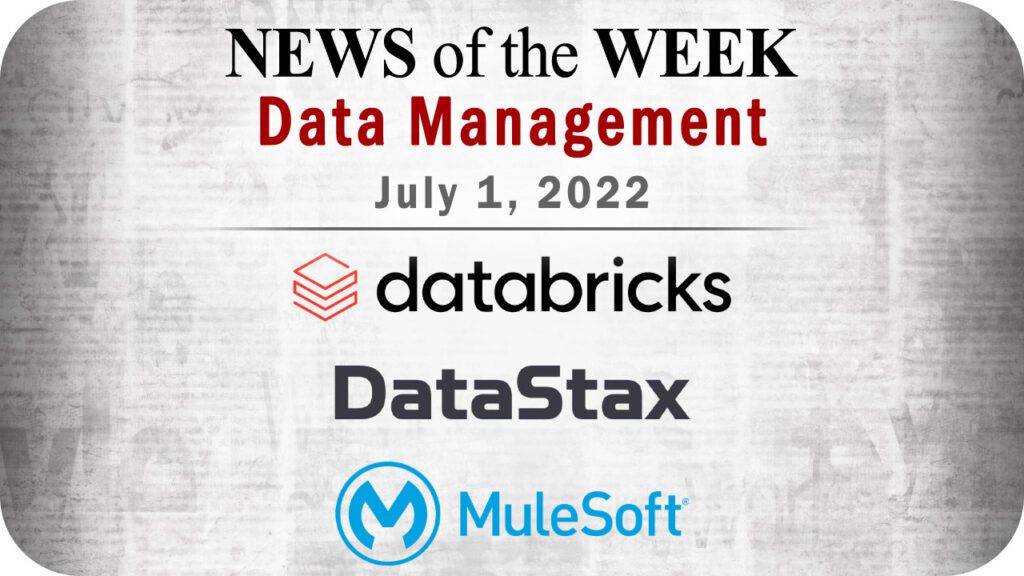 The editors at Solutions Review have curated this list of the most noteworthy data management news items for the week of July 1, 2022.
Keeping tabs on all the most relevant big data and data management news can be a time-consuming task. As a result, our editorial team aims to provide a summary of the top headlines from the last week, in this space. Solutions Review editors will curate vendor product news, mergers and acquisitions, venture capital funding, talent acquisition, and other noteworthy big data and data management news items.
Top Data Management News for the Week Ending July 1, 2022
Databricks Releases New Data Lakehouse Features at Data + AI Summit
New capabilities include data warehousing performance and functionality, expanded data governance, new data sharing innovations to include an analytics marketplace and data clean rooms for secure data collaboration, automatic cost optimization for ETL operations, and machine learning (ML) lifecycle improvements.
DataStax Unveils Apache Pulsar-Powered Astra Streaming Service
Astra Streaming is built on Pulsar, a streaming technology built for the requirements of real-time applications. Featuring streaming, queueing and pub/sub capabilities, Pulsar is also the only streaming technology with the event semantics to address all types of streaming data. Astra Streaming is a core component of DataStax's open data stack for real-time applications.
Immuta Partners with Databricks to Bring Policy Enforcement to Delta Lake
Now, Databricks customers can easily and consistently enforce data access policy across workspaces without allowing Databricks workspace admins to bypass or change permissions on said policies. Immuta is one of the first Databricks partners to integrate its policy engine into Unity Catalog, building a deeper level of customer trust through enhanced and consistent policy management and enforcement.
Monte Carlo Partners with Databricks to Bring Data Observability to Delta Lake
To help organizations realize the full potential of their data lake and lakehouse investments, Monte Carlo announced integrations with Delta Lake and Databricks' Unity Catalog for full data observability coverage. As part of this release, Monte Carlo also supports all three Databricks metastores: central Apache Hive, external Apache Hive, and AWS Glue.
Salesforce Updates MuleSoft with new Automated RPA and Composer Tools
The solution now includes no-code capabilities to automate repetitive manual tasks using bots with MuleSoft RPA and to quickly connect data from any system, with MuleSoft Composer. The new capabilities are fully integrated into Salesforce Flow as well. MuleSoft RPA is expected to be generally available in early August 2022, while Composer is available now.
Snowplow Raises $40 Million Series B Funding for BI Data Creation
The round was led by NEA whose prior investments include Databricks, Cloudflare, and DataRobot, and continued support from existing Snowplow investors, Atlantic Bridge, and MMC. The new infusion of capital will allow Snowplow to grow its team, accelerate support for an ever-increasing set of data types, and scale internationally. To date, Snowplow has raised a total of $55 million.
For consideration in future data management news roundups, send your announcements to the editor: tking@solutionsreview.com.

Latest posts by Timothy King
(see all)