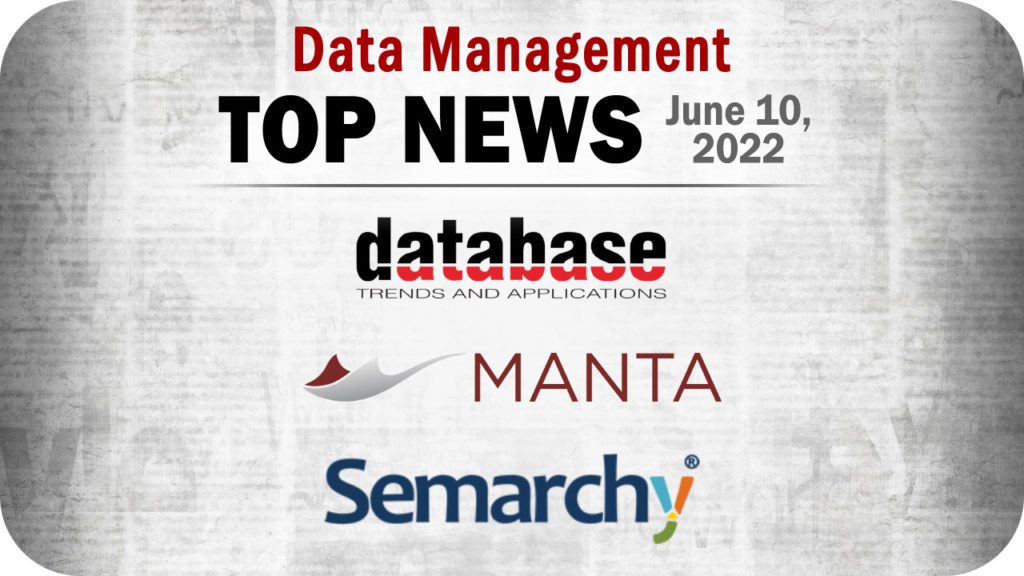 The editors at Solutions Review have curated this list of the most noteworthy data management news items for the week of June 10, 2022.
Keeping tabs on all the most relevant big data and data management news can be a time-consuming task. As a result, our editorial team aims to provide a summary of the top headlines from the last week, in this space. Solutions Review editors will curate vendor product news, mergers and acquisitions, venture capital funding, talent acquisition, and other noteworthy big data and data management news items.
Top Data Management News for the Week Ending June 10, 2022
Database Trends and Applications Drops its 2022 DBTA 100
This annual listing of data, information management, big data, and data science companies that are preparing for the future. The list spans the spectrum of both "well-established and cutting edge" solution providers offering data platforms, tools, and technologies to organizations around the globe. Some of the vendor entries are published alongside View From the Top articles which are penned by executives from the companies themselves.
DataIQ Releases its 100 Most Influential People in Data 2022 List
The first and only fully-curated power list of the most influential data and analytics practitioners. Since 2014, DataIQ has been tracking the rise of chief data officers, chief analytics officers, data scientists, data governance experts and the leaders of key vendors and service providers. Inclusion in the DataIQ 100 is a notable badge of honour that is widely referenced by the individuals who make the cut.
Immuta Secures $100 Million in Series E Funding
With this investment, Immuta will meet growing data security and privacy demands by accelerating secure data access across all cloud platforms. Immuta will use the investment to accelerate product innovation, expand sales, marketing, and customer success teams to meet growing global demand, and deepen strategic partnerships within the cloud data ecosystem.
MANTA Publishes New Data Quality Resource and Companion Blog
Data quality is an age-old problem for medium and large enterprises. With enormous swaths of data flowing between numerous complex systems, it is easy for quality issues to go unnoticed. Automated data lineage maps out organizations' complete data flows from start to finish, eliminating the negative consequences of using poor-quality data to drive business decisions.
Meltano Releases Open-Source DataOps Platform Infrastructure 2.0
Meltano 2.0 DataOps Platform Infrastructure offers an alternative to traditional ELT and other data tools, providing a DevOps-like workflow and a wide array of integrations while embracing software development best practices. It is the "missing layer" that pulls together disparate parts, streamlining operations for building, connecting and managing various data services.
Semarchy Announces New Snowflake Connector
Available now, this connector extends the integration capabilities in the Semarchy xDI component with Snowflake-specific capabilities, enabling users to focus on their functional and business rules, while the connector automates Snowflake's optimizations, capabilities, and specificities. The Semarchy xDI connector is an agile and flexible toolbox that allows connecting, managing, and producing fully customized data flows, from the reverse-engineering of the data structures to the data loading and integrations.
SIIA Unveils its 2022 CODiE Award Finalists in big data technologies
Over the past 37 years, the SIIA CODiE Awards have recognized thousands of education and business technology companies, products, and services as leaders in innovation and excellence. The peer-recognized program has continued to evolve with the technology it honors, showcasing the most leading-edge products and innovative business technology of the time.
Striim Launches Version 4.1 of its Data Integration Platform
This new release builds on Striim's industry-leading capabilities by increasing the number of sources and targets that customers can read from and write to using Striim's built-in adapters, with over 125 sources and targets now supported, including data ingestion using change streams from Azure Cosmos DB and delivery into Databricks Delta Lake.
For consideration in future data analytics news roundups, send your announcements to tking@solutionsreview.com.

Latest posts by Timothy King
(see all)