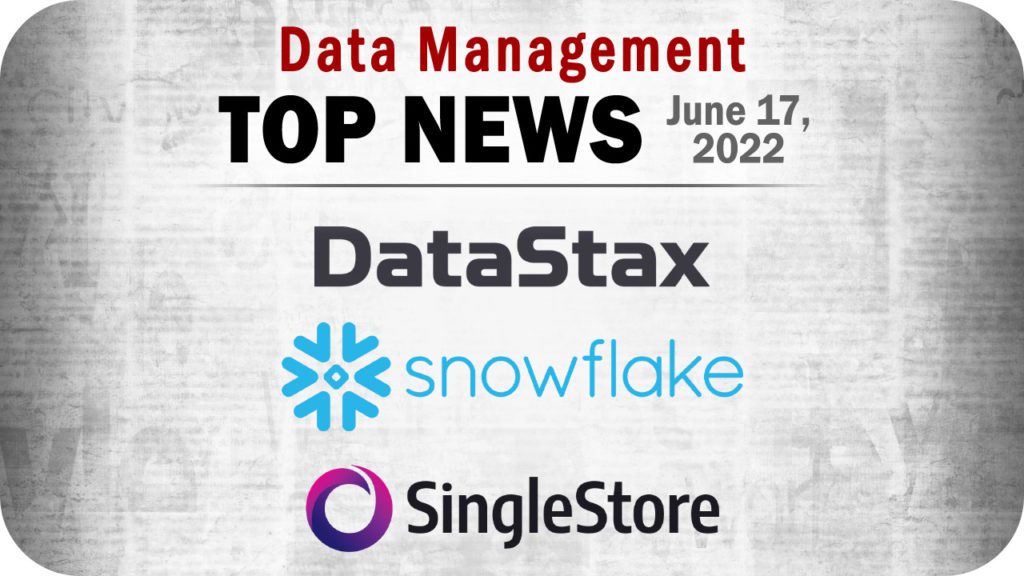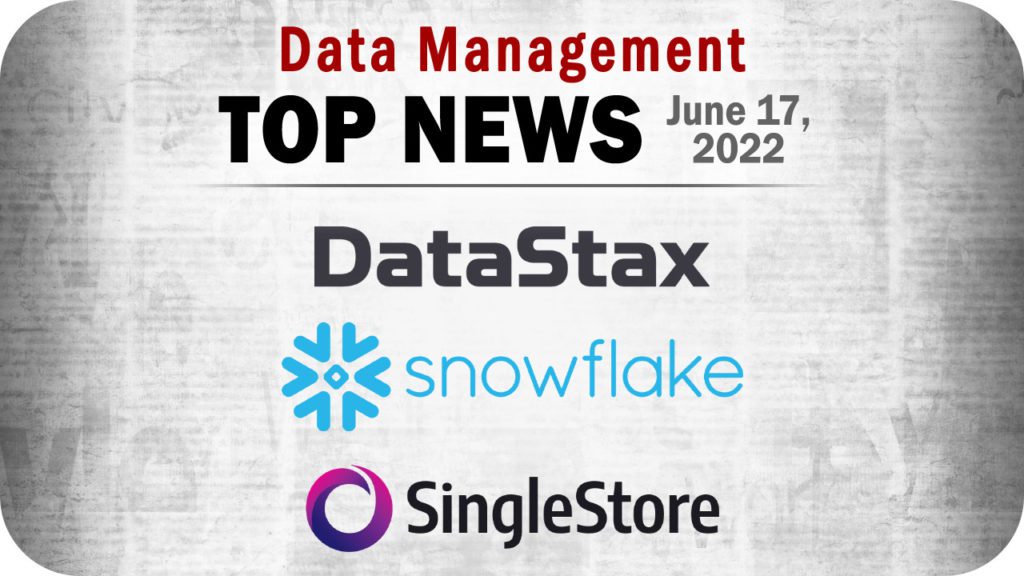 The editors at Solutions Review have curated this list of the most noteworthy data management news items for the week of June 17, 2022.
Keeping tabs on all the most relevant big data and data management news can be a time-consuming task. As a result, our editorial team aims to provide a summary of the top headlines from the last week, in this space. Solutions Review editors will curate vendor product news, mergers and acquisitions, venture capital funding, talent acquisition, and other noteworthy big data and data management news items.
Top Data Management News for the Week Ending June 17, 2022
Aerospike Unveils Aerospike SQL Powered by Starburst
A hardened solution built on top of the popular and low-cost open-source Trino platform, the Aerospike SQL Powered by Starburst solution gives data analysts and data scientists a single point of access to federated data using existing SQL analytic tools such as Tableau, Qlik, Power BI and others.
ALTR Drops New Policy Automation Engine with Native Data Governance for Snowflake
This new solution from ALTR allows data engineers and architects to set up data access policies in minutes, manage ongoing updates to data permissions, and handle data access requests through the company's own no-code platform for data policy management.
Ascend.io Adds Data Automation Features and Support for Snowflake in New Release
The Snowpark developer framework continues to help data scientists, data engineers, and application developers streamline their data architectures on a single platform. Snowflake users can now further enhance these benefits with end-to-end automation provided by the Ascend Data Automation Cloud.
Collibra Unveils Collibra Protect for Snowflake Data Cloud
The new Collibra Protect offering marks the first product innovation from the investment. Collibra has also achieved the highest standing in the Snowflake Partner Network as a Snowflake Elite Partner and is part of the Snowflake Governance Accelerated Program.
DataStax Raises $115 Million from Goldman Sachs for its Multi-Cloud Serverless Database
DataStax will use the funding to accelerate the global expansion and development of its Astra DB multi-cloud database and its Astra Streaming streaming service. DataStax will double down on the development of Astra DB, with new capabilities including additional integration with Astra Streaming to enable businesses to easily activate all their real-time data — both data "at rest" in a database and streaming data "in motion."
Dresner Advisory Services Publishes 2022 Data Catalog Market Study
The 6th edition report examines user segment requirements and priorities with a focus on simplified data navigation/access, governance, and content collaboration capabilities. The report concentrates on analytic content (data, models, and metadata), use cases, and users. In 2022, data catalog ranks 15th among the 51 technologies and initiatives under study.
Fivetran Adds New Product Capabilities for Oracle and Snowflake
New product functionalities include the release of a new Oracle connector that can handle the highest volumes of data to Snowflake Data Cloud, as well as access to Fivetran's Metadata API for joint Snowflake customers to improve data visibility and promote greater data democratization. Fivetran allows companies to quickly centralize and transform data from both SaaS and on-prem data sources into high-performance cloud destinations, such as Snowflake's Data Cloud.
Grafana Labs Unveils Grafana 9.0 with New Visualizations and Alerting
Grafana 9.0 is now available to both open-source and Grafana Enterprise users, and Grafana Cloud users are getting automatically upgraded. The announcement takes place during GrafanaCONline, the virtual community event happening now through June 17, 2022, where over 15,000+ registered attendees will hear from Grafana users at Dish Network, Cisco, KCB Bank of Uganda, Optum, and more.
Immuta Integrates with Snowflake Data Lineage and Expands Partnership with WIPRO
The partnership enables Immuta customers to utilize Snowflake's' data lineage feature to automatically propagate data classification tags across the data lifecycle, eliminating manual tagging and making it easier and simpler for customers to enforce data policies. Through this partnership, Wipro customers get access to its expertise on Immuta through Wipro's "Secure Data Analytics" solution, receiving heightened data security when moving their data to the cloud.
InfluxData Drops InfluxDB Edge Data Replication
Edge Data Replication enables developers to collect, store and analyze high-precision time-series data in InfluxDB at the edge while replicating all or subsets of this data into InfluxDB Cloud. With Edge Data Replication, InfluxData delivers on both platform breadth and simplicity, scaling time-series data processing in a new way that embraces the precision of the edge and the power of the cloud.
Qlik Enhances Real-Time Data Integration and Cloud Analytics Services for Snowflake
Qlik enhanced its Cloud Analytics Services for Snowflake with two new features that help customers drive more value from near real-time data when deploying Qlik's cloud platform with Snowflake. Qlik also released new and enhanced Qlik Cloud Data Services capabilities for Snowflake. These services expand the ability to both seamlessly feed Snowflake with near real-time data and more easily access data in real-time and action it for decision making across the enterprise.
Matillion Announces Investment from Snowflake Ventures for Cloud-Native Data Integration
This investment from Snowflake underscores Matillion's commitment to enabling customers to transform and enrich data directly within the Snowflake Data Cloud. As a continuation and expansion of the companies' partnership, Matillion will become among the first Snowflake data integration partners to adopt and leverage the recently announced Snowflake Native Application Framework, in private preview, making their connectors available directly within Snowflake's platform.
SingleStore Shines in New GigaOm Database TCO Survey
The study revealed that SingleStoreDB delivers a 50 percent lower TCO against the combination of MySQL and Snowflake and a 60 percent lower TCO compared to the combination of PostgreSQL and Redshift, leading OLTP and OLAP database combinations that customers stitch together in an attempt to power SaaS, APIs and data-intensive applications. GigaOm also measured SingleStoreDB performance across three industry-standard benchmarks: TPC-C (operational), TPC-H (analytical) and TPC-DS (analytical).
Snowflake Expands Native Python Support, Launches Native Application Framework, and Drops New Unistore Workload at Annual User Conference
The new enhancements improve programmability for data scientists, data engineers, and application developers. Snowflake's latest innovations bring Python to the forefront, with the launch of Snowpark for Python, now in public preview, and a native integration with Streamlit for rapid application development and iteration, currently in development.
Spectra Logic Updates its Vail Data Management Platform
Spectra Vail centralizes data management across on-premises and multi-cloud architectures, simplifying the access, sharing, usage, and protection of data. Delivering policy-based data orchestration, Vail streamlines workflows and reduces overall costs and complexities for organizations that want to leverage the power of the cloud. With Vail and Vail-enabled BlackPearl S3, organizations can take full advantage of cloud services — no matter where data is created or located, whether in the cloud or on-premises.
Syniti and IBM Partner Up on IBM Data Readiness Assessment with Syniti Knowledge Platform
The partnership aims to help accelerate digital transformation for joint customers preparing to transition to SAP S/4HANA. A key part of the BREAKTHROUGH with IBM for RISE with SAP offering is designed to help accelerate the move to SAP S/4HANA with an improved data quality assessment, as well as conversion, process optimization, and code/infrastructure modernization.
For consideration in future data analytics news roundups, send your announcements to tking@solutionsreview.com.

Latest posts by Timothy King
(see all)