Data Management News for the Week of June 2; Updates from Monte Carlo, Satori, Snowflake & More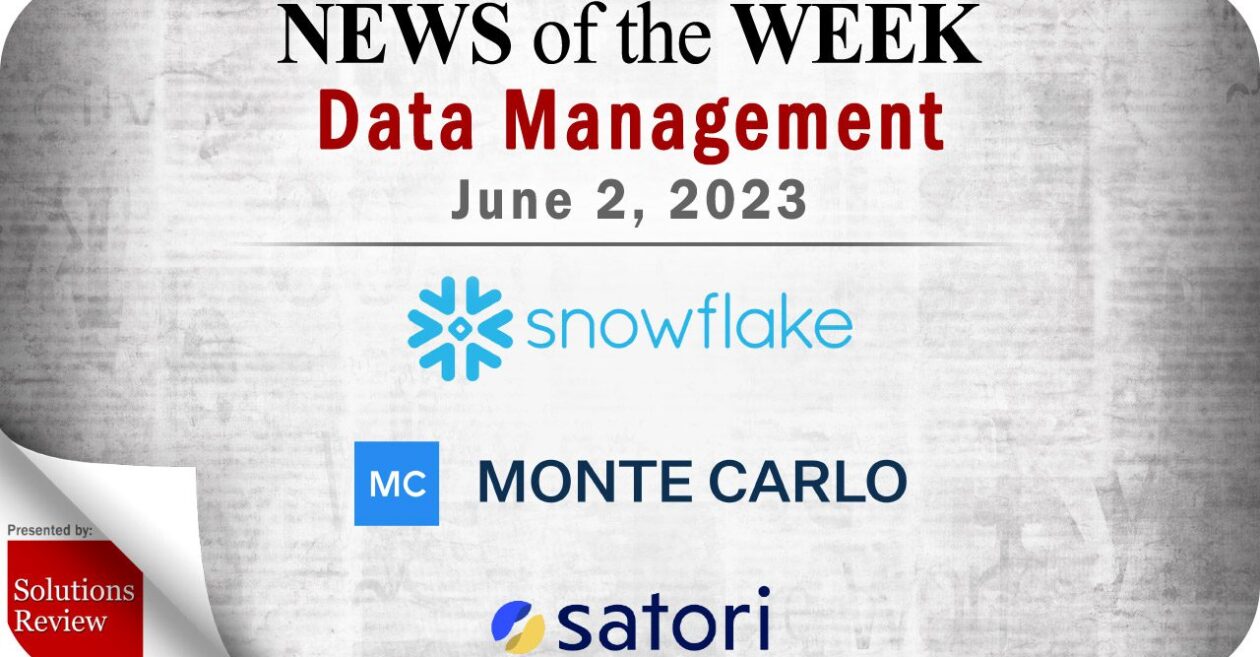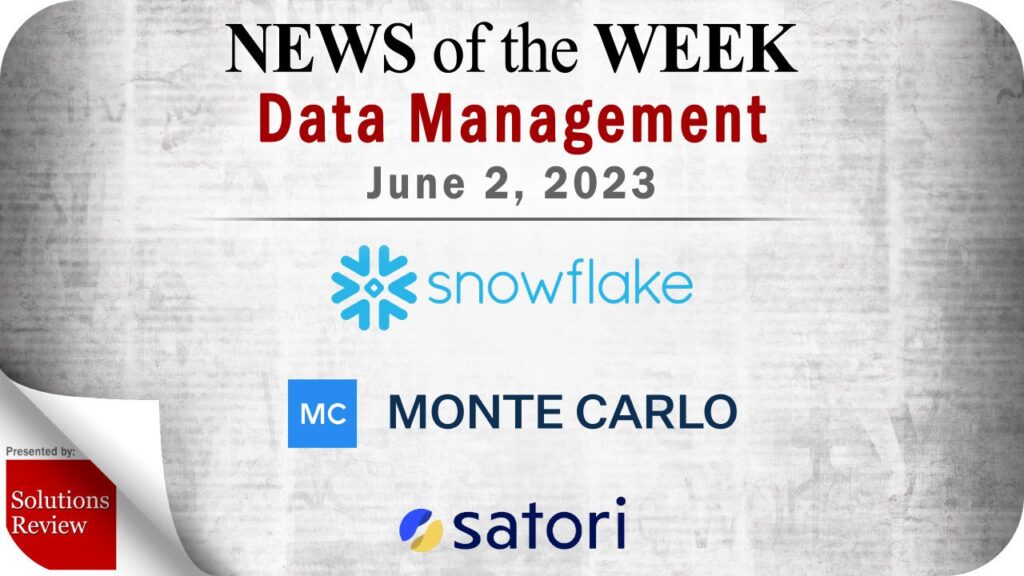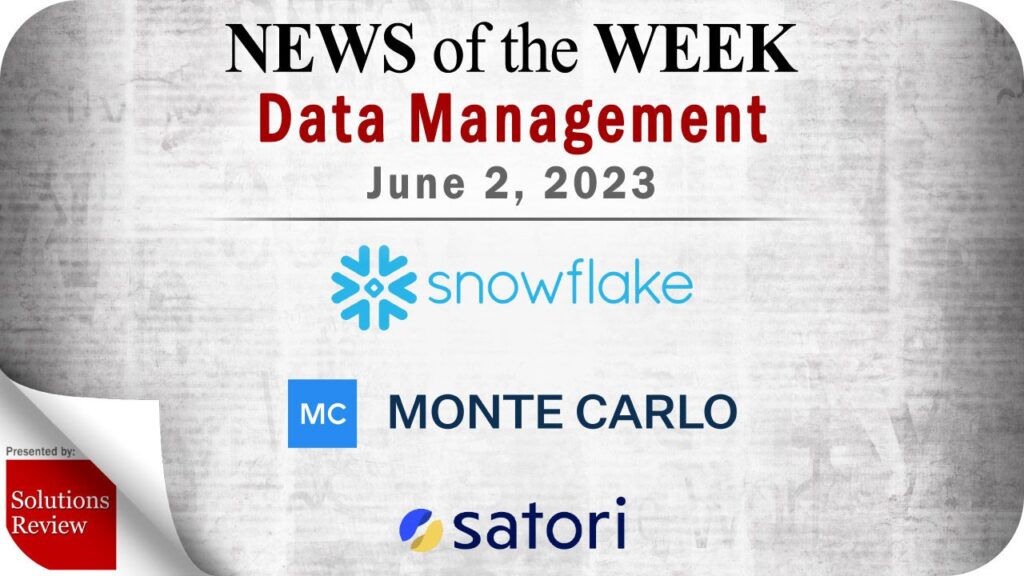 Solutions Review editors curated this list of the most noteworthy data management news items for the week of June 2, 2023.
Keeping tabs on all the most relevant big data and data management news can be a time-consuming task. As a result, our editorial team aims to provide a summary of the top headlines from the last week, in this space. Solutions Review editors will curate vendor product news, mergers and acquisitions, venture capital funding, talent acquisition, and other noteworthy big data and data management news items.
Top Data Management News for the Week Ending June 2, 2023
Airbyte Releases Data Infrastructure Content Hub for Engineers
By offering a comprehensive collection of resources, Airbyte's content hub provides an online hangout for data engineers looking to stay up-to-date with the latest developments and best practices in the industry – as well as to contribute to the discussion.
AWS Unveils Serverless Database Migration, AWS DMS Serverless
AWS DMS Serverless removes the guesswork of figuring out required compute resources and handling the operational burden needed to ensure a high-performance, uninterrupted migration. It performs automatic capacity provisioning, scaling, and capacity optimization of migrations, allowing you to quickly begin migrations with minimal oversight.
Datometry is Partnering with Databricks on Faster Lakehouse Migrations
Datometry has joined the Databricks Technology Partner Program to offer customers a validated integration with Databricks that overcomes the challenges of conventional migrations. With Datometry, enterprises can move their business as-is without having to rewrite or redefine application code.
Hitachi Vantara Drops New Data Reliability Engineering Services
Combining cutting-edge tools and proven DataOps processes, Hitachi DRE employs metadata engineering, data lineage, data cost optimization, self-healing mechanisms and AI-driven automation to provide visibility, reliability and resilience throughout the data lifecycle.
Microsoft Announces Unified Pricing on New Fabric Data Workload Suite
The pricing is based on how much total compute and storage a customer uses, VentureBeat has confirmed. It will not require customers to pay for separate buckets of compute and storage for each of Microsoft's multiple services. An example of the pricing for U.S. west 2, which covers part of the West Coast, was obtained early Wednesday by VentureBeat and is embedded at the bottom of the below linked story.
Precisely Launches Enhancements to Data Quality Tools Portfolio
With the latest product updates, Precisely has further enhanced capabilities in its well-known solutions, building upon decades of leadership in the data quality market. Thousands of customers around the world rely on data quality solutions from Precisely for their address validation and enrichment, sophisticated entity matching, financial reconciliation, and enforcement of data quality rules for their business.
StreamSets Gets Data Integration Tools Added to Software AG's FedRAMP
This authorization assures customers that their sensitive data is protected, further mitigating risk around data breaches and other security incidents. It also enables StreamSets to provide its services to federal agencies, which makes it an attractive option for customers who work with the government.
New Tamr Study Reveals Customer Data the Top Focus of Data Strategy
Tamr research participants were primarily from data and analytics teams and business departments, such as marketing, procurement, and customer experience. The high survey participation rate (64 percent) from business departments demonstrates that data is becoming a part of everyone's job in the enterprise.
Expert Insights Section
Watch this space each week as Solutions Review editors will use it to share new Expert Insights Series articles, Contributed Shorts videos, Expert Roundtable and event replays, and other curated content to help you gain a forward-thinking analysis and remain on-trend. All to meet the demand for what its editors do best: bring industry experts together to publish the web's leading insights for enterprise technology practitioners.
Solutions Review Set to Host Snowflake, Satori, and Monte Carlo for Expert Roundtable on June 8
In this expert roundtable discussion, our panelists will share their experiences, discuss best practices for integrating technology solutions, and offer guidance for establishing a sustainable information risk program for ensuring the governed accessibility to sensitive corporate data. The 60-minute virtual event is moderated by an independent industry analyst, with a topic introduction hosted by Solutions Review – all broadcast live to an audience of registered attendees.
Data Governance Coach Set to Host Masterclass on Principles for Data Governance Success on June 9
You'll learn what to do from the start so you can avoid mistakes that take time and money to resolve. You'll see the opportunities data governance will bring to your organization so know why you are doing this and what the wins will be. It's taught live, so you can ask Nicola Askham questions during the Q&A at the end.
For consideration in future data management news roundups, send your announcements to the editor: tking@solutionsreview.com.