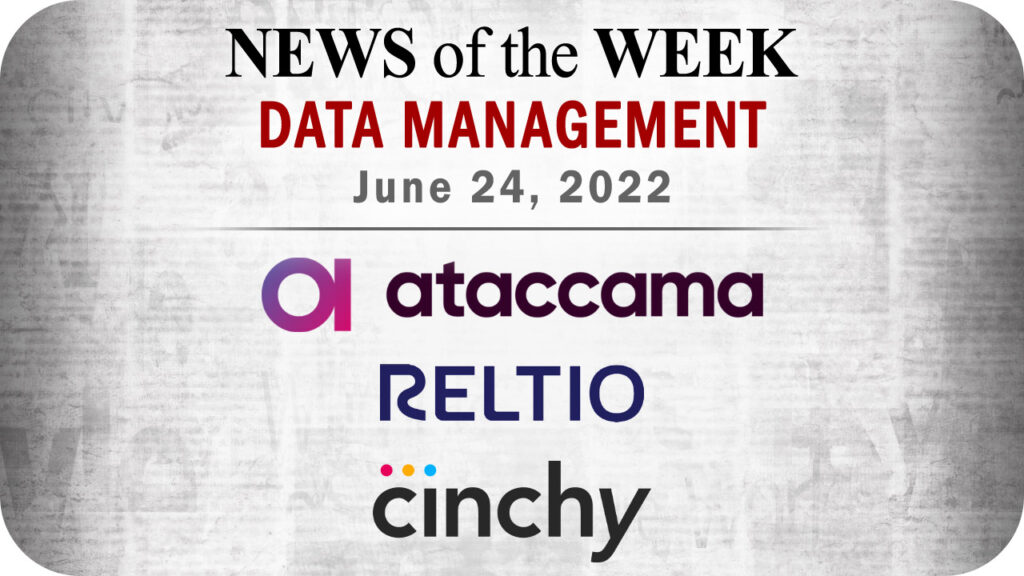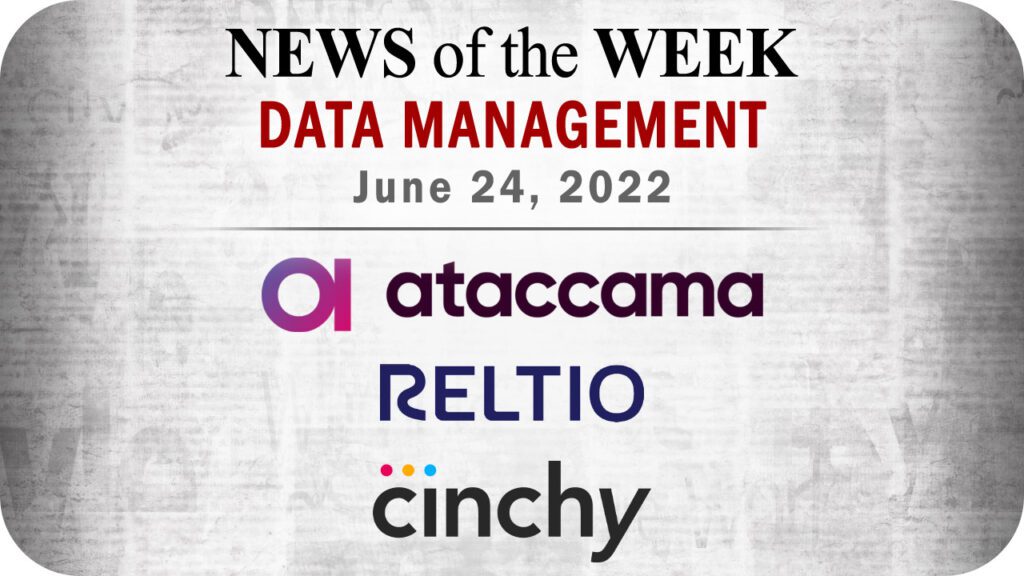 The editors at Solutions Review have curated this list of the most noteworthy data management news items for the week of June 24, 2022.
Keeping tabs on all the most relevant big data and data management news can be a time-consuming task. As a result, our editorial team aims to provide a summary of the top headlines from the last week, in this space. Solutions Review editors will curate vendor product news, mergers and acquisitions, venture capital funding, talent acquisition, and other noteworthy big data and data management news items.
Top Data Management News for the Week Ending June 24, 2022
Ataccama Raises $150 Million in Growth Capital from Bain Capital
The funds will be used to strengthen its go-to-market engine, further invest in new product innovation and expand its global reach. These efforts will allow Ataccama to build on its significant growth and cement its position at the forefront of the data management and governance sectors. Ataccama has more than 450 employees and 10 offices globally.
Cinchy Releases Cinchy Dataware Platform v5.0
The latest version features expanded scalability with the addition of open-source Kubernetes and a PostgreSQL database option. Version 5.0 features numerous enhancements to the technology's core capabilities, including an operational data fabric, a user-friendly data browser, data Persistence-as-a-Service, universal data access controls, domain-centric data governance (data mesh), and active metadata.
Datafold Launches Open-Source data-diff to Compare Database Tables
This new product is an open-source extension to Datafold's original Data Diff tool for comparing data sets. Open-source data-diff validates the consistency of data across databases using high-performance algorithms. Datafold has released data-diff under the MIT license. Currently, the software includes connectors for Postgres, MySQL, Snowflake, BigQuery, Redshift, Presto, and Oracle. Datafold plans to invite contributors to build connectors for additional data sources and for specific business applications.
lakeFS Announces the Release of lakeFS Cloud
The new hosted version directly results from users who prefer a fully managed service instead of managing the lakeFS infrastructure themselves on their data lakes. The new SaaS model relieves data engineering teams of maintaining open-source software to increase productivity and efficiency. Created in 2020 as an open-source platform, lakeFS provides a git-like version control interface for data lakes, with integrations to popular data tools and frameworks.
Reltio Adds Capabilities to the Reltio Connected Data Platform
As part of its core capabilities, and at no extra cost, Reltio now offers comprehensive real-time data quality capabilities enabling a proactive approach to working with timely trusted data. Newly released features include a new interactive dashboard for real-time insights, including data characteristics, patterns and trends for entities and relationships. Reltio enables businesses to confidently use high-quality data, including reference data, on an ongoing basis by continuously validating data quality, standardizing and matching using machine learning.
SingleStore Adds Features for Real-Time Use Cases
The new capabilities extend its position as one of the industry's leading database for unified transactions and analytics by empowering customers to build and scale real-time applications and analytical workloads with simplicity and efficiency. With its pioneering technology, SingleStoreDB has been helping customers create fast, interactive modern SaaS applications while lowering the costs and complexity of data infrastructure.
Precisely Launches Precisely Data Integrity Suite
Announced at the company's Trust '22 event, the Data Integrity Suite is composed of seven interoperable SaaS modules that can be deployed individually, or combined. Its unique Data Integrity Foundation includes a common data catalog that enables each module to build on metadata previously gathered by other modules. The Suite's Data Integration, Data Observability, and Data Governance modules are available for early access now.
For consideration in future data management news roundups, send your announcements to the editor: tking@solutionsreview.com.

Latest posts by Timothy King
(see all)