Data Management News for the Week of June 30; Updates from Alation, Qlik, Snowflake & More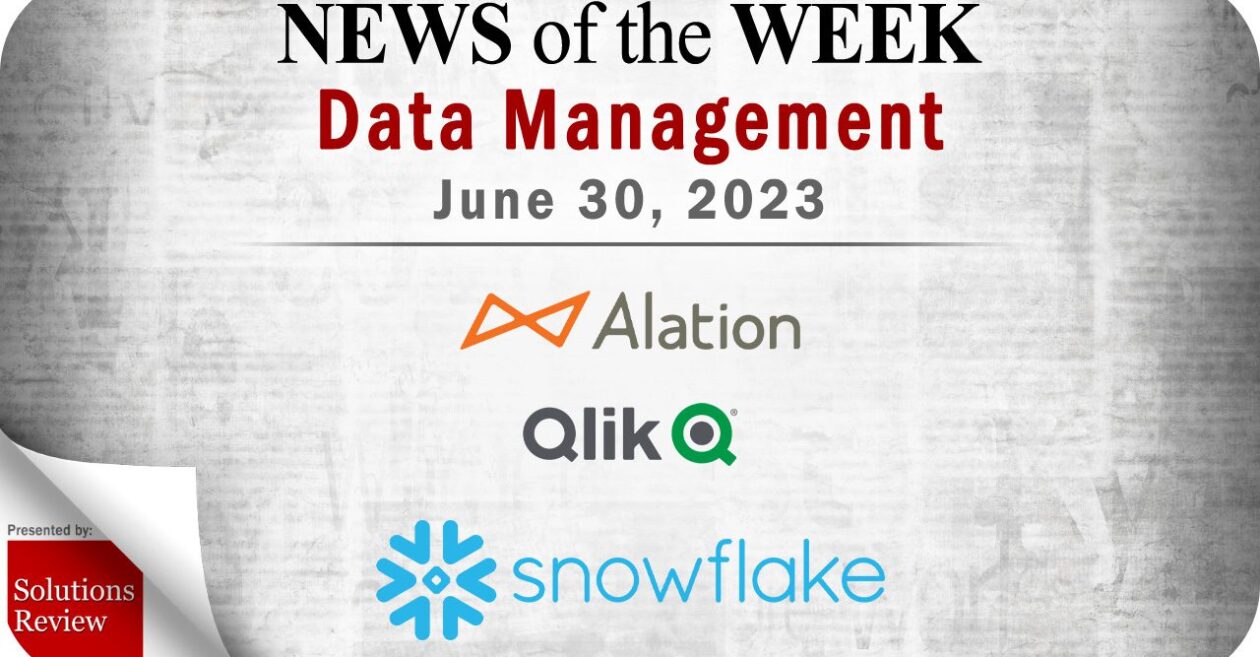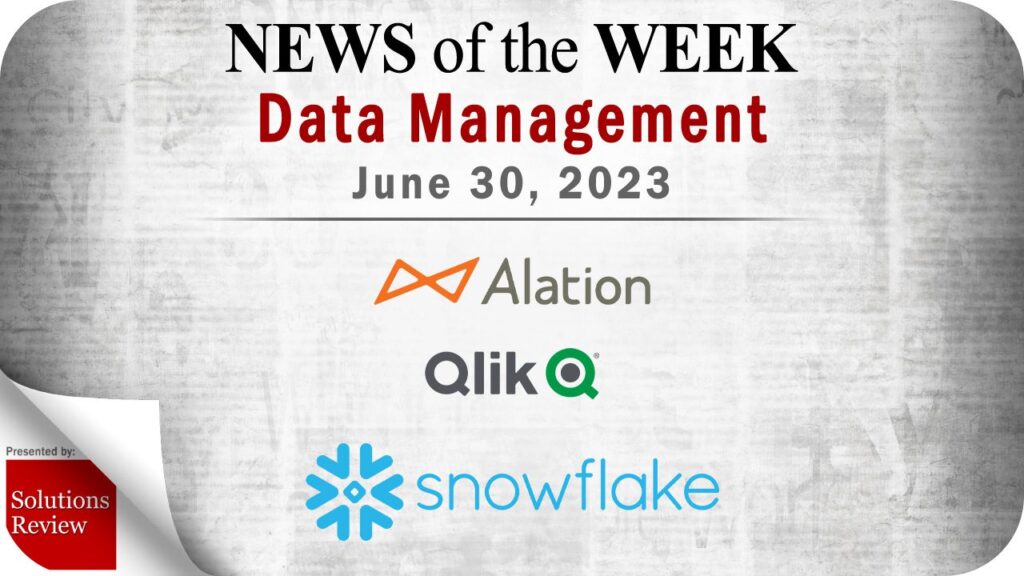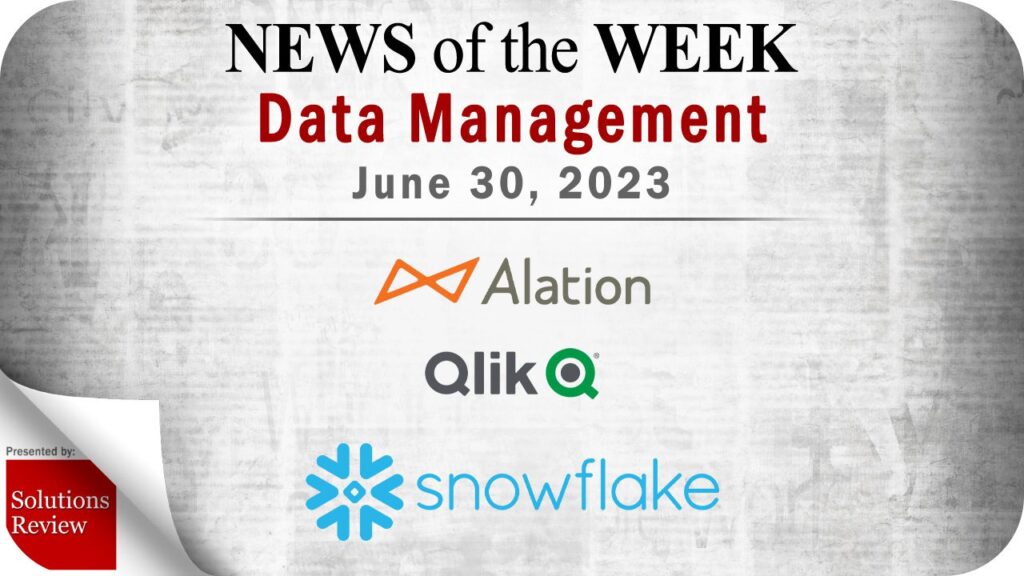 Solutions Review editors curated this list of the most noteworthy data management news items for the week of June 30, 2023, including a number of features from the Snowflake Summit.
Keeping tabs on all the most relevant big data and data management news can be a time-consuming task. As a result, our editorial team aims to provide a summary of the top headlines from the last week, in this space. Solutions Review editors will curate vendor product news, mergers and acquisitions, venture capital funding, talent acquisition, and other noteworthy big data and data management news items.
Top Data Management News for the Week Ending June 30, 2023
Alation Drops Open Data Quality Framework for Snowflake, New Connected Sheets
With the Open Data Quality Framework, Alation customers can strengthen data governance for Snowflake by making data quality information visible. Launch partners include Acceldata, Anomalo, Bigeye, Datactics, Experian, FirstEigen, Lightup, and Soda. This product enables users to access governed, trusted, and up-to-date data in Snowflake directly from Microsoft Excel and Google Sheets.
ALTR Expands Data Access Control Solution with Snowflake
The solution has an industry-first, format-preserving data protection module running natively on Snowpark, Snowflake's development framework, providing better security, up to 1000x faster results on queries that need detokenization, cost efficiencies, and additional use cases for data sharing through easy tokenization of sensitive data.
Anomalo Now Includes Metadata-Based Observability
Enterprises can now do basic monitoring of the entire data warehouse in minutes and at low cost and use that as a pathway into deep data quality monitoring to identify issues with the contents of their data. Anomalo will be showcasing this new capability this week at the Data + AI Summit by Databricks and Snowflake Summit.
Ascend.io Joins Snowflake Partner Ecosystem
Ascend's Data Pipeline Automation Platform is a single platform with intelligence to detect and propagate change across a company's ecosystem—ensuring data accuracy and eliminating wasteful spend on data reprocessing. Pipelines powered by Ascend seamlessly ingest, transform, orchestrate, and share data for the business, across the entire end-to-end journey.
New BMC AMI Cloud Sets Site on Mainframe Data Management
The BMC AMI Cloud portfolio allows customers to leverage hybrid cloud technologies with all the advantages of on-premises mainframe computing for large-scale, business-critical transactions while gaining the benefits of the cloud. By unlocking their mission-critical data, organizations gain increased business intelligence to make better decisions with greater security, flexibility, scalability, and efficiency.
Boomi's Intelligent Automation Toolset Now Available on Amazon Web Services
AWS customers can accelerate their automation initiatives by seamlessly connecting and integrating enterprise-wide data sources, applications, and systems – such as enterprise resource planning (ERP), customer relationship management (CRM), and ecommerce platforms, among others – both on-premises and on the cloud with Boomi's low-code platform.
Cloud Software Group Secures Strategic Partnership with Midis Group
The partnership provides Cloud Software Group with the local resources customers need to support their transformative technology journey and the scale required to expand its reach in these regions. A leading technology partner providing managed IT services and consultancy, system integration, cloud and data center capabilities, infrastructure, software, and hardware solutions, the Midis Group serves customers through a network of 170 companies across 70 countries.
Cloudera Enhances Open Data Lakehouse Offerings
Cloudera Data Platform (CDP) provides a safe, fast path to trusted Enterprise AI based on an advanced open data lakehouse that enables deployment of the latest AI models with data anywhere. Cloudera makes emerging technologies like large language models (LLM) and real-time self-service analytics at scale easily accessible to all its customers.
Coalesce Unveils New Collaborative Data Transformation Features
The latest platform upgrades include a new feature called "Projects," which organizes data transformation pipelines into distinct workspaces within Coalesce. Over the next few months, customers will be able to share transformed data and track its evolution across projects.
data.world Announces Governance & Data Catalog Integrations with Snowflake Snowpark
Through the integration, data.world provides data catalog, data governance, and DataOps applications that help Snowflake customers accelerate Snowpark migrations and govern Snowpark metadata. The integration follows data.world's recent achievements of Powered by Snowflake, Data Governance Accelerated, and Snowflake Premier Partner status.
Dataiku Now Runs in New Snowpark Container Services
Snowflake, the Data Cloud company, announced the launch of Snowpark Container Services to expand the scope of Snowpark to help organizations run third-party software and full-stack applications — all within their account. By being able to access and run commercial software and apps like Dataiku directly in their Snowflake account, joint customers can seamlessly enhance the value of their data using cutting-edge tools without moving or compromising its security.
Datometry Announces Airlife for Oracle to PostgreSQL Migrations
Datometry Airlift is Datometry's new product line for the direct-to-customer market. Airlift makes applications written for Oracle instantly run on PostgreSQL without the need for code changes. Based on a decade of research and development, Airlift makes the fidelity and accuracy of Datometry's enterprise products available to marketplace customers.
DQLabs Drops its Data Quality Platform on Snowflake Cloud
Joint customers will be able to leverage out-of-the-box automation of business quality checks using DQLabs' Modern Data Quality Platform, Powered by Snowflake. This automation has helped customers drastically reduce inefficiencies across business processes, decreased 85% of the hours spent on manual upkeep of their data quality checks and gain 10x improvement in operational efficiency.
Dremio Unveils Platform Performance & Versatility Updates
These new capabilities empower organizations to accelerate their data analytics and enable faster, more efficient decision-making. Dremio is ensuring easy self-service analytics—with data warehouse functionality and data lake flexibility—across customer data.
Edge Delta Announces New Visual Observability Pipeline Flows
Visual Pipeline was designed and architected with large enterprise organizations in mind. It gives these organizations the ability to support and scale pipelines spanning hundreds of teams across thousands of data sources, thereby unlocking open observability.
Immuta Drops Platform Update for Simplifying Data Security & Monitoring on Snowflake
The partnership between Immuta and Snowflake continues to have strong momentum, fueled by the growing adoption of their solutions at organizations across industries, including JB Hunt, Roche, and Thomson Reuters. In the last year, Snowflake has awarded Immuta with competency recognitions in the Healthcare & Life Sciences and Financial Services sectors.
Informatica Announces SuperPipe for Snowflake for Faster Integration & Replication
Informatica announced the launch of four new product capabilities to bring greater simplicity, speed, and performance to data integration and replication for customers in the Snowflake ecosystem: Informatica Superpipe for Snowflake, Enterprise Data Integrator Snowflake native application, Cloud Data Integration-Free for Snowflake, and support for Apache Iceberg on Snowflake.
Kensu Drops the First Data Observability Solution For Matillion
By integrating with Matillion, Kensu retrieves valuable context regarding data runs as well as information about the data sources used in the run. In parallel, Kensu connects to tables to retrieve schemas and metrics, feeding this information back to data practitioners.
Matillion Announces New Productivity Platform for Teams
It empowers all practitioners, from low-code users to dbt developers, to engineer their data's movement, transformation, and orchestration at an unprecedented scale. The platform provides a best-in-class experience for data teams to collaborate via low-code and high-code frameworks that unify every workload across a cloud data infrastructure.
Parabola Secures $24 Million in Series B Funding
Parabola provides a solution for businesses beyond hiring more people for every new problem. Instead, non-technical teams can stop doing things manually, and start creating, documenting and sharing reusable workflows. Combining the power of AI with familiar spreadsheet functionality, Parabola enables users to extract, analyze, categorize and experiment with data to solve real use cases.
Qlik and Talend Extend Transformation, Quality & Analytics Tools on Snowflake
The combination of Qlik's data integration and analytics solutions, alongside Talend's hybrid-cloud approach to data connectivity and data quality, is a unique end-to-end portfolio of solutions that help Snowflake customers find, transform, trust, and analyze their data at scale.
Redpanda Raises Cool $100 Million Dollars in Series C Funding Round
Redpanda continues to cement its position as the streaming data platform of choice for both transactional and analytical applications. With the ongoing cross-industry transformation of applications from batch to real-time and the rapid adoption of AI and ML, Redpanda has experienced a bumper fiscal year including 5X revenue growth and a workforce that has more than doubled.
Reltio Adds AI-Driven Real-time Capabilities to MDM Platform
Reltio has leveraged AI/ML so that customers can quickly and accurately achieve value from their Customer, Product, Supplier, and other Core business data domains. Unlike other solutions that require weeks of manual effort before the ML recommendations can be effective, Reltio's entity resolution capability delivers instant value.
Safe Software Expands Snowflake Partnership That Began in 2019
Safe Software's consumption-based pricing model option, similar to Snowflake's, allows customers to deploy FME in their preferred environment (on-premises, cloud, hybrid) and only pay for what they use. This partnership provides a new level of flexibility and convenience for customers to leverage Snowflake's single, integrated platform and data for their unique data integration needs.
SAS Enables Provisioning of Viya AI on Snowflake Data Cloud
The integration supports the complete AI and analytics life cycle, from data discovery and modeling development to decisioning. The SAS and Snowflake partnership empowers organizations with interactive, real-time insights across industries – including banking, government, health care and financial services – in a single, secure environment.
Snowflake Makes Slew of Product Enhancements at Snowflake Summit 2023
With new innovations like Document AI (private preview), Snowflake is launching a new large language model (LLM) built from Applica's pioneering generative AI technology to help customers understand documents and put their unstructured data to work. Snowflake is also unveiling updates to Iceberg Tables (private preview soon) to further eliminate data silos and allow organizations to use open table formats with fast performance and enterprise-grade governance for both data in Snowflake's catalog and data managed by another catalog.
Soda Merges Generative AI and Data Quality into SodaGPT
SodaGPT combines the domain-specific language capabilities of SodaCL with the Natural Language Processing (NLP) power of gen-AI, to provide a platform for data consumers and data engineers to work together to produce data that can be trusted.
Tamr Unveils New 'Smart Curation' Functionality on Snowflake
Tamr's integrated turn-key solutions combine data quality capabilities, machine learning-based matching models, referential data, and third-party enrichment to help data teams deliver more impact. With Tamr Smart Curation, a Snowflake Native App, customers can expect a myriad of benefits.
Expert Insights Section
Watch this space each week as Solutions Review editors will use it to share new Expert Insights Series articles, Contributed Shorts videos, Expert Roundtable and event replays, and other curated content to help you gain a forward-thinking analysis and remain on-trend. All to meet the demand for what its editors do best: bring industry experts together to publish the web's leading insights for enterprise technology practitioners.
Solutions Review Set to Host Alteryx for Exclusive Spotlight Webinar on July 27
With the next Solutions Spotlight event, the team at Solutions Review has partnered with leading analytics, data science, and automation vendor Alteryx. Through case studies and practical examples, Alteryx's Field Chief Data & Analytics Officer, Heather Harris, will help you learn the keys to capturing the business impact or your analytic solutions.
'Data Governance Coach' Nicola Askham Set to Host Free Online Masterclass entitled Building the Business Case for Data Governance on July 6
Making the case for Data Governance can be extremely hard. For many reasons, the most important of which we'll explain in this masterclass. Join Alex and Nicola for this free masterclass as they explore how to build a successful Data Governance business case.
For consideration in future data management news roundups, send your announcements to the editor: tking@solutionsreview.com.