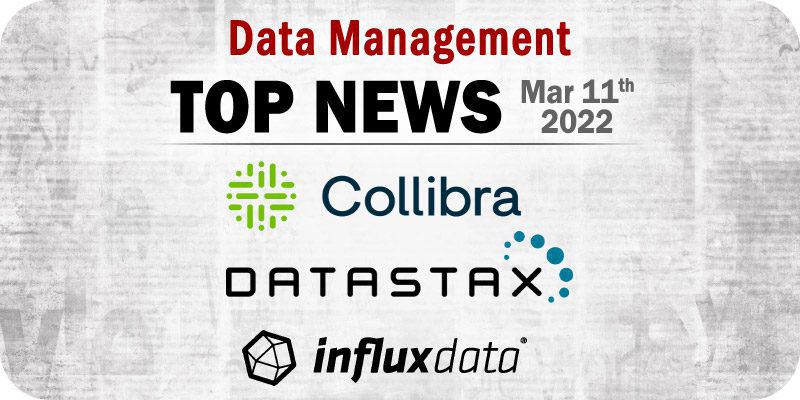 The editors at Solutions Review have curated this list of the most noteworthy data management news items for the week of March 11, 2022. In this week's roundup, product news from Alation, Dremio, and Unravel Data.
Keeping tabs on all the most relevant big data and data management news can be a time-consuming task. As a result, our editorial team aims to provide a summary of the top headlines from the last week, in this space. Solutions Review editors will curate vendor product news, mergers and acquisitions, venture capital funding, talent acquisition, and other noteworthy big data and data management news items.
Top Data Management News for the Week Ending March 11, 2022
Collibra Updates its Platform with New Integrations, Browser Extension, and Automation
Collibra is expanding support for Tableau and adding support for Matillion, ensuring customers can get deep visibility and insights into metadata and lineage from these tools in one central location. The company also launched new learning paths and services to help customers plan, design, and execute on their data intelligence strategy efficiently. The Collibra Test Drive for Data Quality and Observability is freely available now as well.
DataStax Unveils New Multi-Cluster Support for Apache Cassandra on Kubernetes
DataStax's K8ssandra Operator supports multiple Kubernetes clusters, enabling organizations to easily deploy real-time applications that require high availability on Kubernetes, across multiple regions. The company's Vice President of Developer Relations added: "With the new K8ssandra Operator, the barriers and expertise needed to easily deploy and manage Cassandra in the most demanding environments with the flexibility of Kubernetes are eliminated."
InfluxDB Launches InfluxDB U Online Education Platform for Developers
Delivered through an intuitive learning platform, InfluxDB University courses offer technical resources and teach best practices to reduce the time and effort to build real-time applications. Participants can choose weekly trainings and workshops, led by qualified instructors who answer questions live during sessions. Alternatively, participants can select on-demand, self-paced courses if they prefer an independent learning experience.
Solutions Review is Set to Host Data Demo Day Q1 2022 on March 17
Data Demo Day Q1 2022 will feature live product demonstrations from leading data management and analytics vendors Syncfusion, Qlik, and Tamr. Data Demo Day for Q1 2022 is an exclusive virtual trade show featuring an inside look at the technologies of three prominent data management and analytics solution providers. Solutions Review is hosting this online event as a way to present the latest data management and analytics tools from the comfort and safety of your own desk, and the best part? It's free to attend!
For consideration in future data analytics news roundups, send your announcements to tking@solutionsreview.com.