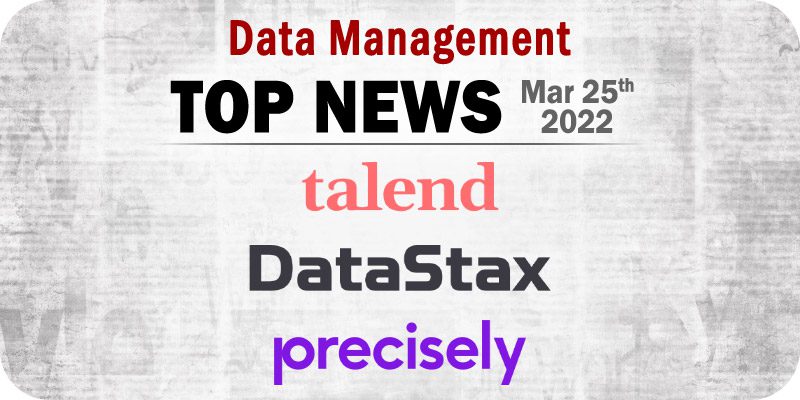 The editors at Solutions Review have curated this list of the most noteworthy data management news items for the week of March 25, 2022. In this week's roundup, news from Talend, DataStax, Precisely, and more.
Keeping tabs on all the most relevant big data and data management news can be a time-consuming task. As a result, our editorial team aims to provide a summary of the top headlines from the last week, in this space. Solutions Review editors will curate vendor product news, mergers and acquisitions, venture capital funding, talent acquisition, and other noteworthy big data and data management news items.
Top Data Management News for the Week Ending March 25, 2022
Talend Launches Talend Data Catalog 8
Talend Data Catalog 8 is an automated data catalog offering proactive data governance capabilities that enable organizations to discover, organize, and share trusted data with a single, secure point of control. The release includes new capabilities including tailored business modelling and machine learning-powered data classification and documentation. The latest release enables organizations of any size to persistently govern data at scale and ensure the health of the data being used to drive business outcomes.
Precisely Expands Partnership with Snowflake for Data Integration Solution
Precisely announced that it achieved Snowflake Ready Technology status for its Precisely Connect data integration solution. The Snowflake Ready validation recognizes Precisely Connect for aligning with Snowflake's highest standards of best practice. The move further reinforces the long-standing partnership of the companies, with Precisely's datasets already established on the Snowflake Data Marketplace.
DataStax Unveils Change Data Capture for Astra DB
DataStax CDC for Astra DB is powered by advanced streaming technology built on Apache Pulsar. It processes and delivers database changes in real-time via event streams, making real-time data available for use across data lakes, data warehouses, search, artificial intelligence, and machine learning. The feature will enable organizations to create smarter and more reactive applications fueled by connected, real-time data.
Alluxio Announces New Integration with StorageGRID
Alluxio announced the integration of NetApp StorageGRID, software-defined scalable object storage for distributed data with security and disaster recovery, with Alluxio's Data Orchestration Platform that simplifies the delivery of data to a wide variety of data-driven applications. The combined solution helps enterprises accelerate the adoption of the cloud and optimize their resource spend for a modern data platform ready for enormous scale.
Progress Releases 35+ New DataDirect Connectors
Adding to an industry-leading portfolio of pre-built connectors, the new series provides fast and direct access to a variety of popular data sources, including Foursquare, Google Calendar, Twitter, WordPress, YouTube, Zoom and more. Long used by thousands of enterprises and the leading vendors in analytics, BI and data management, Progress DataDirect connectors provide easy integration to all leading platforms, so data that is generated within organizations can be reported and analyzed to drive better decisions.
Explorium Updated its User Interface and Drops New Salesforce Integration
Explorium has released new Salesforce integration capabilities, updates to its user interface, and added company workforce data to its data offering. As the need for external data grows and businesses look for shorter time to insights, new enhancements address user requests to make analytics and machine learning more efficient.
For consideration in future data analytics news roundups, send your announcements to tking@solutionsreview.com.

Latest posts by Timothy King
(see all)