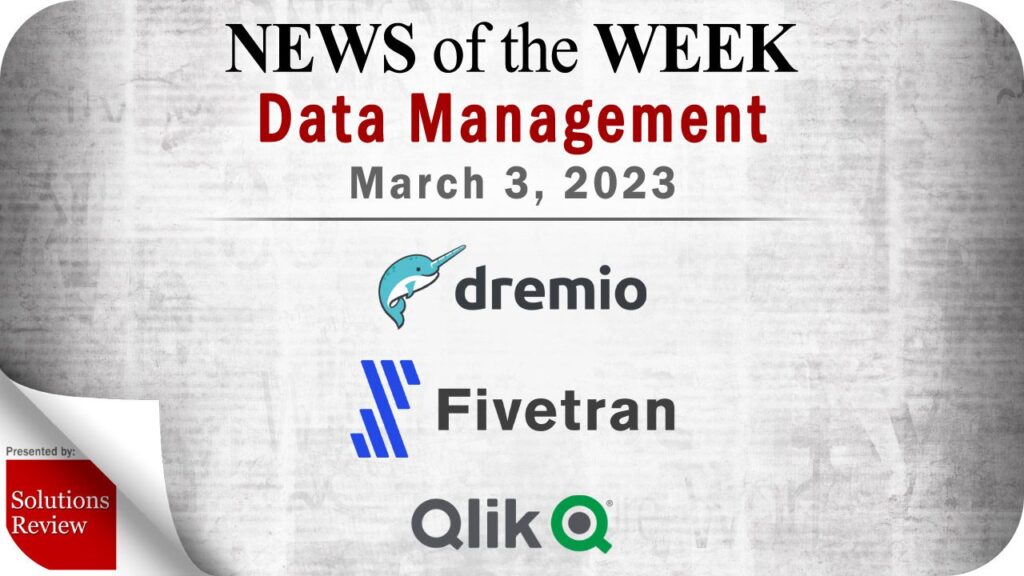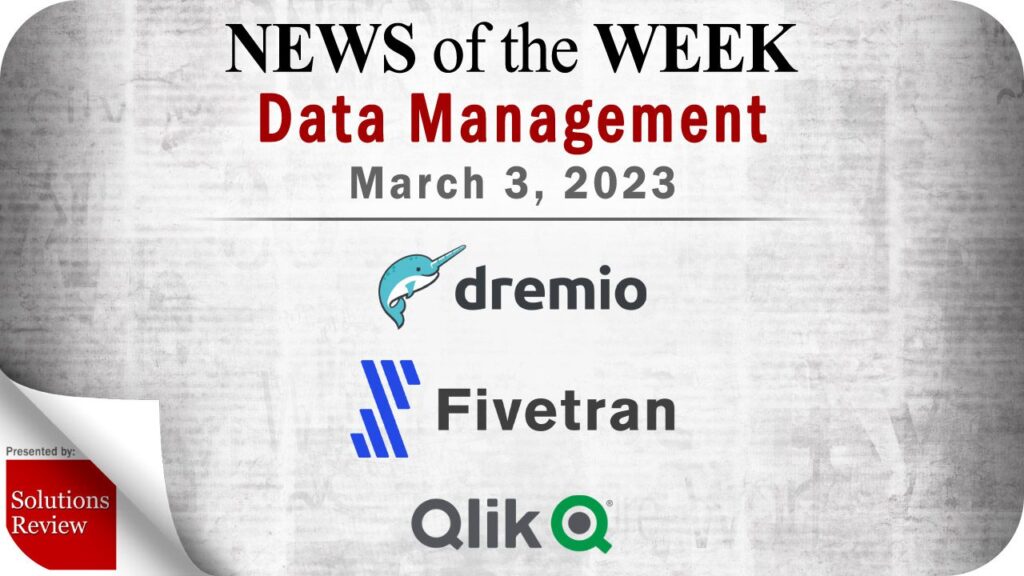 The editors at Solutions Review have curated this list of the most noteworthy data management news items for the week of March 3, 2023.
Keeping tabs on all the most relevant big data and data management news can be a time-consuming task. As a result, our editorial team aims to provide a summary of the top headlines from the last week, in this space. Solutions Review editors will curate vendor product news, mergers and acquisitions, venture capital funding, talent acquisition, and other noteworthy big data and data management news items.
Top Data Management News for the Week Ending March 3, 2023
DiffusionData Releases Gateway Framework 1.0
The Gateway Framework, which was previously released as a beta, with a dependency on Diffusion 6.8 is now to be released as a general release version 1.0.0 with a dependency upon Diffusion 6.9. The Kafka adapter, CDC adapter, and REST adapter (using the Gateway Framework) are released with Gateway Framework 1.0.
Digibee Partners with Orasi on Digital Transformation and Contro
Digibee will provide, through the Digibee Enterprise Integration Platform (eiPaaS), the ability to connect and integrate disparate legacy and cloud-based systems as part of Orasi's expert guidance, services and tools that accelerate the maturation of secure, high-quality applications.
Dremio Announces Key New Features at Subsurface LIVE 2023
These features enable customers to more easily create their data lakehouses by performantly loading data into Apache Iceberg tables, query and federate across more data sources with Dremio Sonar, automatically format SQL queries in the Dremio SQL Runner, and securely connect Microsoft PowerBI using single sign-on (SSO).
Egnyte February Product Roadmap Includes New Search Queries and Smart Upload
Users can now save search queries that are run frequently in the Egnyte Web UI. Saved search queries include all search keywords and associated search filters. Egnyte Secure & Govern users can now change the issue status to 'Dismiss' for issues associated with Unusual access & Suspicious logins.
Fivetran Adds New Enterprise Features to Automated Data Movement Platform
Fivetran completely automates the ELT process, providing prebuilt pipelines that deploy in minutes and automatically adapt to changes in source APIs and schemas. Data is moved and centralized in and across cloud and on-premises environments.
Informatica Launches Cloud Data Integration-Free and PayGO Options
The new offering targets data practitioners and non-technical users such as in marketing, sales, and revenue operations teams to build data pipelines within minutes. For example, it provides operations teams with a fast, free, and frictionless way to load, integrate and analyze high-quality campaign, pipeline, forecast, and revenue data. In addition, data analysts and data engineers benefit from increased productivity and rapid development.
Qlik Releases Connector Factory with 100 New Connectors
With Connector Factory, Qlik aims to provide universal connectivity to the expanding range of enterprise SaaS data applications and sources, creating additional value from real-time data delivery to cloud repositories, direct access for analytics, and taking direct action by linking to other applications.
Rockset Unveils Compute-Compute Separation for Real-Time Analytics
Just like compute-storage separation was a game-changer for cloud data warehouses, compute-compute separation for real-time analytics unlocks new efficiencies in the cloud. It eliminates compute over-provisioning by allowing either streaming ingest or query serving to be scaled up and down independently. It also enables multiple isolated applications on shared real-time data, without the need for multiple replicas.
Snowflake and AWS Announce a Multi-Year Partnership Extension
The expansion of the collaboration will take a deep, multi-faceted approach to fuel growth and drive customer-focused innovation across sales and marketing, industry solutions, product integrations, and more. Through joining forces to serve customer data needs, Snowflake and AWS are now helping over 6,000 joint customers, including Fortune 500 organizations like Goldman Sachs.
Talend Unveils Major Update to Data Fabric Platform
In the Winter '23 release, this tradition continues with the introduction of advanced capabilities and enhancements to simplify and automate cloud migrations and data management, expand data connectivity, and improve data visibility, quality, control, and access.
Expert Insights Section
Watch this space each week as Solutions Review editors will use it to share new Expert Insights Series articles, Contributed Shorts videos, Expert Roundtable and event replays, and other curated content to help you gain a forward-thinking analysis and remain on-trend. All to meet the demand for what its editors do best: bring industry experts together to publish the web's leading insights for enterprise technology practitioners.
New Denodo Resource Outlines the Roles of ETL, ESB & Data Virtualization
The problem with data siloes is that no one can run a query across them; they must be queried separately, and the separate results need to be added together manually, which is costly, time-consuming, and inefficient. This e-book compares the roles of ETL, ESB and data virtualization in turn when applied in different scenarios, highlighting the pros and cons of each process as well as featured case studies from Logitech and Digital Realty.
Prophecy.io Offers New EBook for Low-Code Apache Spark and Delta Lake
Even though Spark and Delta are the perfect basis for your future data pipeline, and the Data Lakehouse architecture allows us to enable a tremendous amount of new use cases, usability and productivity still remain a challenge. In this eBook, you'll learn how low-code for lakehouse can enable data engineers.
Inrupt VP of Engineering Emmet Townsend Offers a Primer on Data Warehouse Management
Business decision-makers and analysts who need access to data are frequently left waiting on IT to make updates to the integration, which delays the availability of insights and decreases the value they derive from the data stored in the warehouse. The result: a simplified view of authoritative data that organizations can count on to deliver timely insights.
For consideration in future data management news roundups, send your announcements to the editor: tking@solutionsreview.com.