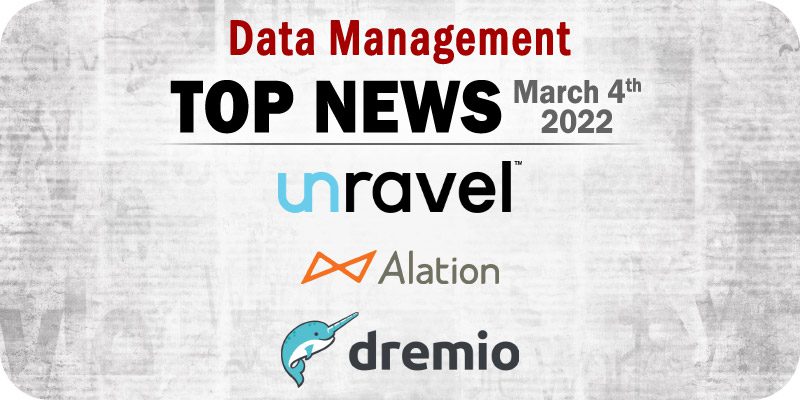 The editors at Solutions Review have curated this list of the most noteworthy data management news items for the week of March 4, 2022. In this week's roundup, product news from Alation, Dremio, and Unravel Data.
Keeping tabs on all the most relevant big data and data management news can be a time-consuming task. As a result, our editorial team aims to provide a summary of the top headlines from the last week, in this space. Solutions Review editors will curate vendor product news, mergers and acquisitions, venture capital funding, talent acquisition, and other noteworthy big data and data management news items.
Top Data Management News for the Week Ending March 4, 2022
Alation Adds Customization Features to Alation Version 2022.1
In the latest release of Alation, 2022.1 generally available on February 25th, there are a set of key features that enable organizations to build intelligence around data, in their own customized way. The company highlights the top new additions: Manual Lineage and Automated Column Level Lineage, Alation homepage customization, and the ability to build your own connectors and integrations, and sync Snowflake tags.
Dremio Announces the General Availability of Dremio Cloud
Dremio Cloud is what the vendor is referring to as "the first free" data lakehouse platform. The company also announced the addition of two new services: Dremio Sonar, a lakehouse engine built for SQL, and Dremio Arctic, a metadata and data management service for Apache Iceberg that provides a Git-like experience for the lakehouse. The news comes on the heels of Dremio's January funding raise.
Unravel Data Releases the 2022 Winter Version of its Unravel DataOps Observability Platform
With this new release, users of Unravel will be able to utilize AI-driven tools that reduce the complexity of their data pipelines and control cloud utilization costs for data applications. Key enhancements of the new release include improved cost optimization and utilization for Databricks, deep observability for Google Cloud, broader coverage for modern data stacks, and simplified cloud migrations.
Anomalo Unveils New Dashboard for Capturing Enterprise Data Quality Health
The Anomalo Pulse platform provides a comprehensive view of data quality in an organization and aggregates all the data quality vitals in one place. Pulse also provides a deep dive into each of these statistics making it clear exactly what next steps should be prioritized to improve data quality in an organization. Key features of the tool include data quality coverage, data arrival times, data quality trends, and problem areas.
Imply Launches Cloud Database Service for Analytics, Featuring Instant Access
Imply Polaris is a cloud database service aimed at simplifying the developer experience for analytics applications. In addition to bringing Apache Druid to the cloud, Polaris drives automation and intelligence that delivers the performance of Druid without needing expertise, and it provides a complete, integrated experience that simplifies everything from streaming to visualization.
For consideration in future data analytics news roundups, send your announcements to tking@solutionsreview.com.

Latest posts by Timothy King
(see all)