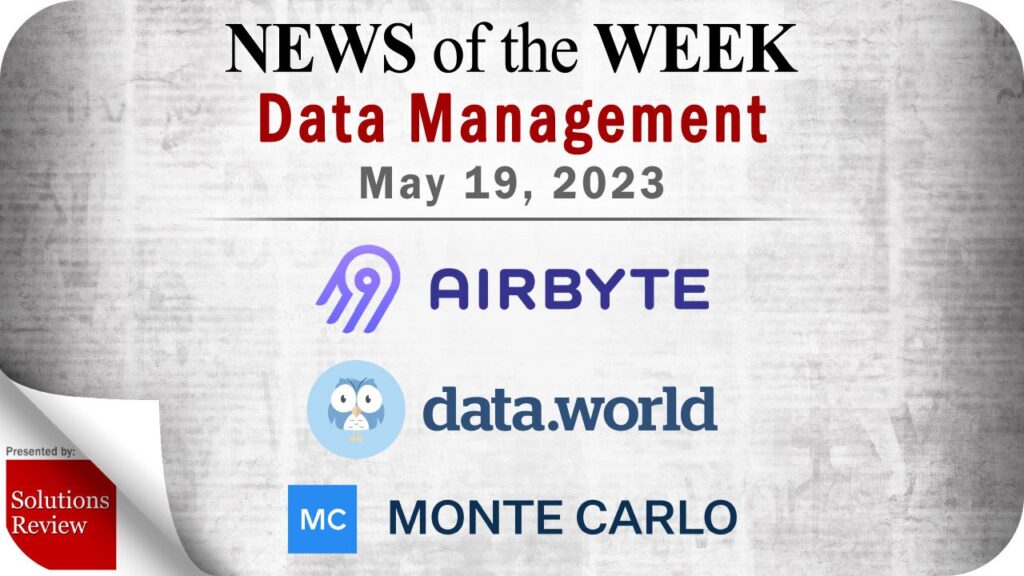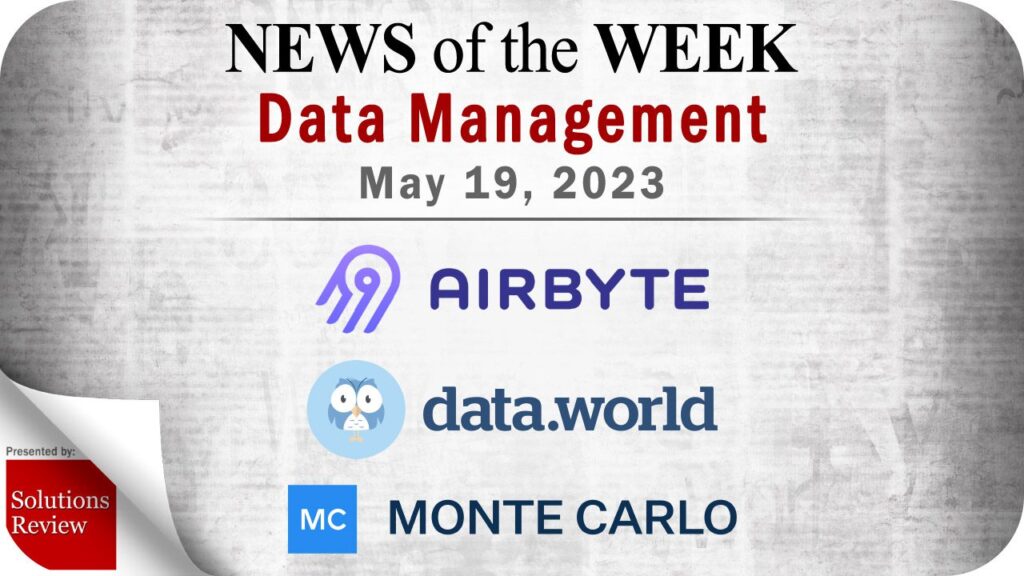 Solutions Review editors curated this list of the most noteworthy data management news items for the week of May 19, 2023.
Keeping tabs on all the most relevant big data and data management news can be a time-consuming task. As a result, our editorial team aims to provide a summary of the top headlines from the last week, in this space. Solutions Review editors will curate vendor product news, mergers and acquisitions, venture capital funding, talent acquisition, and other noteworthy big data and data management news items.
Top Data Management News for the Week Ending May 19, 2023
Airbyte's New No-Code Builder Enables Custom Connector Creation
This announcement comes as an expansion of Airbyte's efforts to democratize data integration. Last year, Airbyte released a low-code, YAML-based Connector Development Kit, which facilitated faster and easier connector development. Now, with the no-code connector builder, Airbyte is reshaping the paradigm of data pipeline development.
CData Sync is Now Available on the SAP Store
Now available for download on SAP Store, CData Sync enables users to easily build and deploy high-performance data pipelines from SAP applications both on-premises or in the cloud. CData Sync customers can securely move data to and from any location, automate data replication with Change Data Capture (CDC) and near real-time incremental updates, and execute ETL and ELT processes using dbt Core, dbt Cloud, or custom SQL transformations.
Cleo Partners with Cognizant on Global Cloud Integration
This new B2B platform-as-a-service solution, which comprises elements from Cleo's flagship offering, the Cleo Integration Cloud, will be named "CCIB, powered by Cleo," and provides B2B managed services with built-in, scalable infrastructure on the cloud. Cognizant professionals have been trained in the deployment and management of Cleo's enterprise integration technology, enabling end-user customers to immediately benefit from the combined solution directly and expeditiously.
Crux Unveils 'Industry First' External Data Platform
External data from governments, non-profits, and commercial data vendors is a critical business resource in many sectors such as finance, supply chain, retail, healthcare, and insurance. Crux has partnerships with over 265 leading data providers including MSCI, Moody's, S&P, SIX, FactSet, and Morningstar.
data.world Launches Data Catalog Platform with Generative AI Bots
This is the first time that data.world has introduced Generative AI capabilities into its Data Catalog Platform. Archie Bots integrate the power and flexibility of data.world's knowledge graph-architecture with LLMs, including, but not limited to, OpenAI's GPT.
IBM Acquires Popular PrestoDB Analytics Vendor Ahana
IBM said that its acquisition of Ahana is in line with its strategy to invest in open-source projects and foundations. The company acquired Red Hat in 2018, cementing its open-source strategy. Explaining the rationale behind Ahana, IBM cited the company's contributions to the Presto open-source project. Ahana is involved in has four project committes and has two technical steering committee members, IBM added.
Komprise Unveils Directory Explorer and Share-Based Access Controls
New governance and self-service capabilities simplify departmental use of Deep Analytics, a query-based way to find and tag file and object data across hybrid cloud storage silos. IT organizations need to maintain data governance and data security while also making it easier for users to find, use and manage data. Often, these goals are in conflict and require significant IT overhead.
MirrorWeb Unveils New Insight Platform for Communication Archiving
MirrorWeb works with a broad spectrum of financial services firms, from those just registering with the SEC to large, established investment advisers. They are also contracted with some major clients in the public sector, including the Library of Congress.
Monte Carlo Drops New GitHub Integration for Data Teams
The integration allows customers to easily investigate breaking changes and understand the downstream impact of new pull requests. Monte Carlo's latest integration extends data quality coverage further upstream into your PRs on GitHub, expediting incident resolution and helping teams understand the downstream impact of PRs.
Ontotext Announces New AI-Powered Target Discovery Platform
Already in place at leading top 10 pharmaceutical companies, biotech startups, and healthcare enterprises, Target Discovery empowers life science organizations to combine knowledge from all relevant sources, including public and proprietary data with AI-derived data from scientific publications, patents, and clinical trials.
Precisely Announces SaaS-Based EngageOne RapidCX Solution
RapidCX empowers organizations to provide a better, more effective customer experience through data-driven, personalized, communications. This is particularly important for highly regulated industries such as financial services, insurance, and telecommunications, where the pressure is on to deliver more personalized and dynamic customer experiences to stay competitive, while also navigating increasingly complicated regulatory requirements.
Qlik Finalizes Acquisition of Talend
The combined entity is led by CEO Mike Capone, completing the latest chapter in the company's strategic vision to deliver best-in-class data integration, data quality, and analytics solutions. With Talend, Qlik brings a new approach, offering a full range of best-in-class capabilities, helping customers eliminate technical debt and cost while increasing enterprise confidence that trusted data is available for decision-making when it matters most.
SAP and Google Cloud Expand Partnership for Data & Analytics Technology
The offering enables customers to build an end-to-end data cloud that brings data from across the enterprise landscape using the SAP Datasphere solution together with Google's data cloud, so businesses can view their entire data estates in real-time and maximize value from their Google Cloud and SAP software investments.
SingleStore Unveils MongoDB API for AI & Real-Time JSON Analytics
SingleStore is architected to power real-time analytics on transactional data, enabling users to drive ultra-fast analytics on both structured and semi-structured (JSON) datasets. The new API is MongoDB wire protocol compatible, and enables developers to power interactive applications with analytics with SingleStoreDB using the same MongoDB commands.
SnapLogic Debuts SnapLabs for Exclusive Integration Insights
Announced earlier this year, this groundbreaking addition to the SnapLogic platform leverages AI to quickly integrate and automate business processes using natural language prompts, enabling users to streamline data integration, application integration, and API Management. Built on six years of AI and ML research, SnapGPT empowers users to create integration processes more efficiently and effectively than ever before.
Snowflake Partners with Securiti on 'Data Innovation'
Working together, Securiti and Snowflake help customers get the full value of the Snowflake Data Cloud, while avoiding siloed data governance across large multi-region, multi-account Snowflake implementations. By integrating Securiti's DataControls CloudT with Snowflake, organizations extend the benefits of Snowflake's data management across their data ecosystem to gain sensitive data intelligence and unify data controls.
Teradata and FICO Partner on Advanced Analytics for Financial Services & More
The resulting solutions are part of a new global relationship between the two companies, and are expected to deliver reduced costs, improved profits, increased risk mitigation and greater customer satisfaction for Teradata/FICO customers.
Expert Insights Section
Watch this space each week as Solutions Review editors will use it to share new Expert Insights Series articles, Contributed Shorts videos, Expert Roundtable and event replays, and other curated content to help you gain a forward-thinking analysis and remain on-trend. All to meet the demand for what its editors do best: bring industry experts together to publish the web's leading insights for enterprise technology practitioners.
Solutions Review Set to Host Snowflake, Satori, and Monte Carlo for Expert Roundtable on June 8
In this expert roundtable discussion, our panelists will share their experiences, discuss best practices for integrating technology solutions, and offer guidance for establishing a sustainable information risk program for ensuring the governed accessibility to sensitive corporate data. The 60-minute virtual event is moderated by an independent industry analyst, with a topic introduction hosted by Solutions Review – all broadcast live to an audience of registered attendees.
Robert Seiner's "Non-Invasive Data Governance Strikes Again" Title Now Available
Non-Invasive Data Governance Strikes Again provides a blend of 50 applicable lessons learned and perspectives gained from years of assisting organizations worldwide to follow the popular non-invasive approach from the bestseller, Non-Invasive Data Governance.
For consideration in future data management news roundups, send your announcements to the editor: tking@solutionsreview.com.