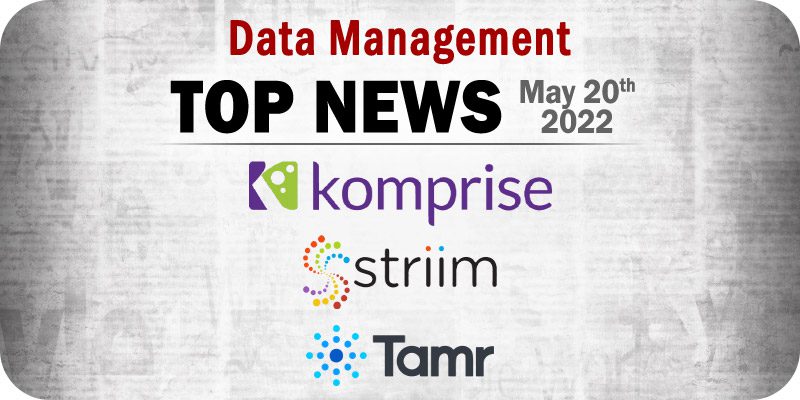 The editors at Solutions Review have curated this list of the most noteworthy data management news items for the week of May 20, 2022.
Keeping tabs on all the most relevant big data and data management news can be a time-consuming task. As a result, our editorial team aims to provide a summary of the top headlines from the last week, in this space. Solutions Review editors will curate vendor product news, mergers and acquisitions, venture capital funding, talent acquisition, and other noteworthy big data and data management news items.
Top Data Management News for the Week Ending May 20, 2022
Komprise Releases New Unstructured Data Discovery Features
Komprise Smart Data Workflows allow you to define and execute a process with as many of these steps needed in any sequence, including external functions at the edge, data center or cloud. Komprise Global File Index and Smart Data Workflows together reduce the time it takes to find, enrich and move the right unstructured data by up to 80 percent.
mParticle Drops New Free Trial and Growth Tier Deployments
The new programs are aimed at helping teams maintain data trust, and efficiently scale their first-party data assets amidst ever-changing internal and external demands across business, economic, and regulatory realms. Both onboarding options are available starting today.
Striim Launches Striim Cloud on Google Cloud
Striim Cloud's zero-maintenance, infinitely scalable platform enables customers to transform their businesses by adopting new cloud models, digitizing legacy systems, and modernizing their application infrastructure. Combined with Google Cloud's unified data and AI models, enterprises will have the abilities and technologies needed to leverage their data to improve their business.
Tamr Unveils New Tool to Improve the Data Mastering Process
Tamr Enrich is set of enrichment services built natively into the data mastering process. Using Tamr's patented human-guided machine learning, Tamr Enrich curates and actively manages external datasets and services, enabling customers to seamlessly embed trusted, high-quality external data insights to their data mastering pipelines for richer business.
For consideration in future data analytics news roundups, send your announcements to tking@solutionsreview.com.

Latest posts by Timothy King
(see all)