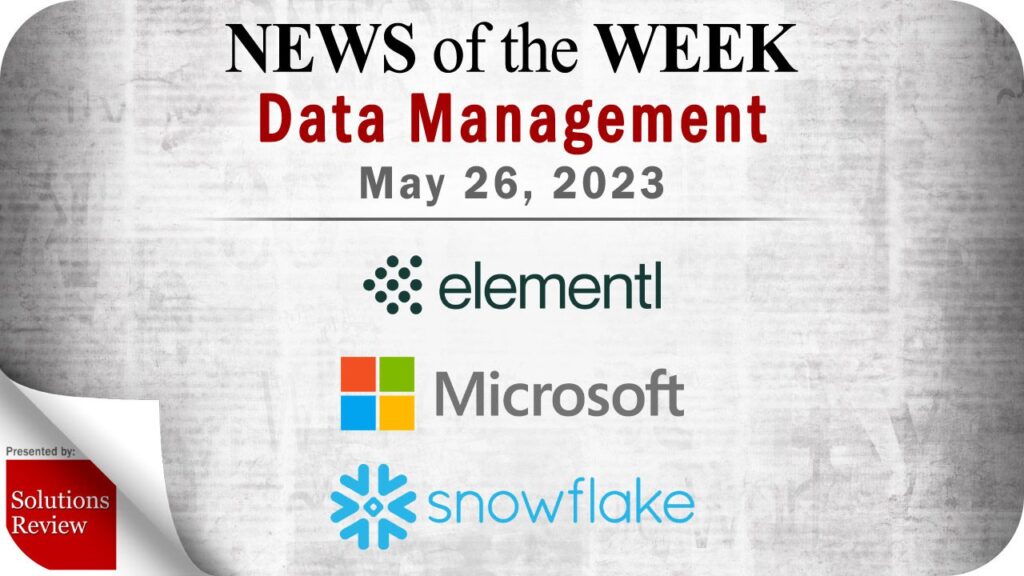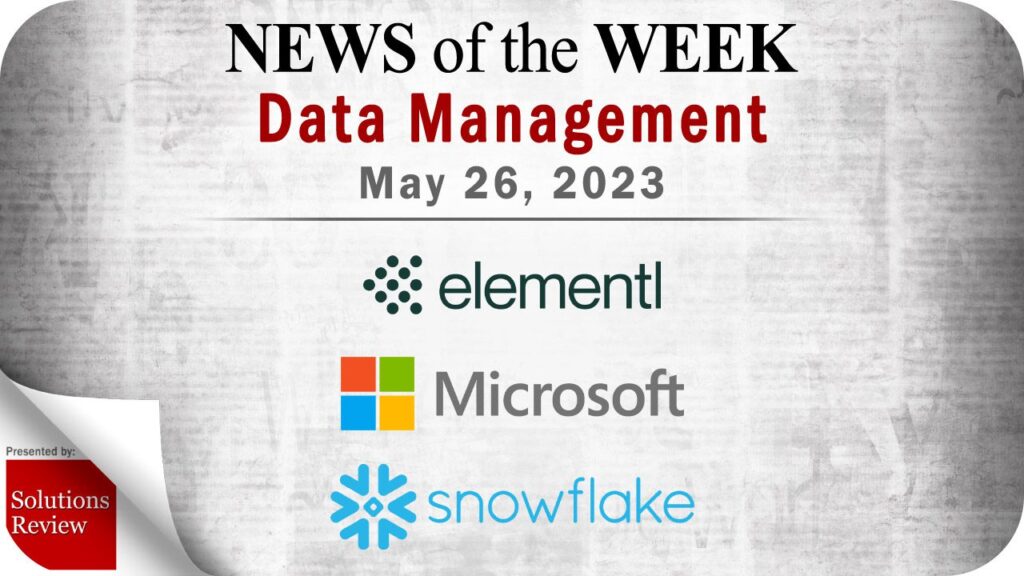 Solutions Review editors curated this list of the most noteworthy data management news items for the week of May 26, 2023.
Keeping tabs on all the most relevant big data and data management news can be a time-consuming task. As a result, our editorial team aims to provide a summary of the top headlines from the last week, in this space. Solutions Review editors will curate vendor product news, mergers and acquisitions, venture capital funding, talent acquisition, and other noteworthy big data and data management news items.
Top Data Management News for the Week Ending May 26, 2023
DataStax Partners with ThirdAI for Accelerating AI Adoption
DataStax delivers on-premises and cloud databases built on the massively scalable Apache Cassandra® database. Together, DataStax and ThirdAI enable organizations to bring AI and ML directly to their data, even within the data center, ensuring better performance, without loss of accuracy, at orders of magnitude cost savings.
Elementl Secures $33 Million in Series B Funding for Advanced Data Use Cases
The new capital will allow Elementl to scale go-to-market activities and continue its rapid product evolution. Dagster is not just the emerging leader in greenfield data platforms. It is increasingly attracting users who are migrating off of legacy technologies such as Apache Airflow. In January, the Elementl team lowered the barrier to migrating by releasing new tooling which allows users to run data pipelines written for Apache Airflow directly on Dagster.
Informatica Announces Integration with Microsoft Fabric
Existing and potential IDMC customers can enroll in private preview with access available starting June 2023. Informatica is one of the first ISV design partners for Microsoft Fabric and brings Azure customers access to IDMC's comprehensive suite of capabilities as a first-party service.
Microsoft Unveils New Microsoft Fabric Unified Data Analytics Platform
Fabric integrates technologies like Azure Data Factory, Azure Synapse Analytics, and Power BI into a single unified product, empowering data and business professionals alike to unlock the potential of their data and lay the foundation for the era of AI.
Ocient Releases Latest Version of its Hyperscale Data Warehouse
This latest release builds upon Ocient's hyperscale data integration and data movement capabilities while adding new real-time analytics features, query performance enhancements, and support for additional business intelligence (BI) tools. Ocient's ability to continuously stream, load, and transform large scale datasets and execute machine learning directly within the database enables customers to execute complex, continuous data integration, transformation, and exploration alongside real-time analytics and OLAP-style workloads from a single solution stack.
Reltio Releases New Out-of-the-Box Solutions for Financial Services and More
Reltio's velocity packs help organizations speed time to value by significantly reducing the time it takes to collect, unify, and enrich their core data, so they can begin using the real-time data to drive business outcomes far more quickly than traditional MDM solutions.
Rivery Nabs $30 Million in New Venture Capital Funding
Rivery provides a single end-to-end ELT solution which covers key processes to create the optimal data stack: Ingestion, Transformation, Orchestration and Reverse ETL. Teams can choose from the different modules to build their ideal data infrastructure. Before Rivery, companies had to rely on legacy ETL platforms that were not built for cloud, and lacked the flexibility to scale.
Safe Software Partners with Trimble on Advanced Construction Workflows
Safe Software has already developed several key integrations between Trimble Cityworks, applications within the Trimble construction portfolio and other key third-party enterprise software solutions. The work will continue to provide additional pre-developed APIs to drive innovation and enable more customers to take advantage of total process improvement without the cost and time associated with DIY solutions.
Soda Secures Select Tier Partner Status with Snowflake
As a Select tier partner, Soda can accelerate the digital transformation of its joint customers to fully leverage the performance, flexibility, and near-infinite scalability of the Snowflake Data Cloud. Organizations are increasingly using data to generate additional revenue growth, innovate within their market space, and improve decision-making processes.
Teradata and Dataiku Join Forces on Enterprise AI At Scale
The ClearScape Analytics capabilities are designed to allow enterprise customers to import and operationalize Dataiku AI models inside the Vantage analytics and data platform. With these new capabilities, Teradata expects to integrate and operationalize Dataiku models at scale. This combination of Dataiku and Teradata's ClearScape Analytics empowers customers to accelerate digital transformations and deliver AI-led business value.
Expert Insights Section
Watch this space each week as Solutions Review editors will use it to share new Expert Insights Series articles, Contributed Shorts videos, Expert Roundtable and event replays, and other curated content to help you gain a forward-thinking analysis and remain on-trend. All to meet the demand for what its editors do best: bring industry experts together to publish the web's leading insights for enterprise technology practitioners.
Solutions Review Set to Host Snowflake, Satori, and Monte Carlo for Expert Roundtable on June 8
In this expert roundtable discussion, our panelists will share their experiences, discuss best practices for integrating technology solutions, and offer guidance for establishing a sustainable information risk program for ensuring the governed accessibility to sensitive corporate data. The 60-minute virtual event is moderated by an independent industry analyst, with a topic introduction hosted by Solutions Review – all broadcast live to an audience of registered attendees.
For consideration in future data management news roundups, send your announcements to the editor: tking@solutionsreview.com.