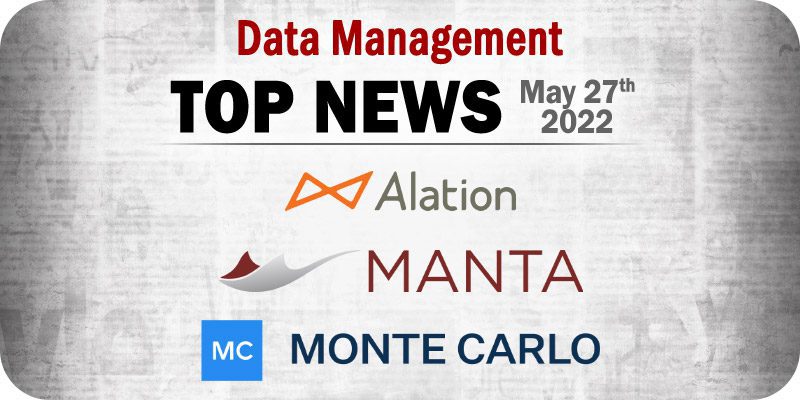 The editors at Solutions Review have curated this list of the most noteworthy data management news items for the week of May 27, 2022.
Keeping tabs on all the most relevant big data and data management news can be a time-consuming task. As a result, our editorial team aims to provide a summary of the top headlines from the last week, in this space. Solutions Review editors will curate vendor product news, mergers and acquisitions, venture capital funding, talent acquisition, and other noteworthy big data and data management news items.
Top Data Management News for the Week Ending May 27, 2022
Alation Launches Open Data Quality Initiative
The Open Data Quality Initiative was designed to accelerate data governance and access to trusted self-service analytics for the broadest range of data consumers. Data quality is a top priority for organizations that are automating processes and creating new products and services using data. Alation's Open Data Quality Framework (ODQF) opens up Alation Data Catalog to any data quality vendor in the modern data stack, and provides teams with openness and interoperability that best suit their needs.
Claravine Secures $16 Million in Series B Funding
The round was led by Five Elms Capital with participation from existing investors Grayhawk Capital, Next Frontier Capital, Peninsula Ventures, Kickstart Fund and Silverton Partners. This new funding will help Claravine meet its aggressive growth goal of doubling its headcount this year, accelerating product development, and investing in its integrations to automate data standards across digital experiences.
Equalum Enhances its Modern Data Integration Features and CDC Support for Google Cloud
Equalum offers an enterprise-class data ingestion platform for collecting, transforming, manipulating, and synchronizing data. The product effectively combines batch and streaming pipelines with modern data transformation and manipulation. Equalum touts an intuitive, user-friendly interface that enables users to build and deploy data pipelines via a no-coding approach. The solution also features a drag-and-drop UI that lets different user personas configure, maintain, and derive insights from the Equalum platform.
MANTA Nabs $35 Million in Series B Funding
The round was led by Forestay Capital, with participation from existing investors Bessemer Venture Partners, SAP.io, Senovo, Credo Ventures, Dan Fougere, and new investor European Bank for Reconstruction and Development. MANTA's automated data lineage platform provides a line of sight into data environments by building a powerful map of all data flows, sources, transformations and dependencies to help improve data governance, streamline migration projects, enable observability and accelerate incident resolution.
Matillion Releases Data Loader 2.0
Matillion Data Loader provides a single unified experience across batch loading and real-time, log-based change data capture (CDC) pipelines, and a consumption-based pricing model to help customers better manage data integration costs.  Matillion Data Loader lifts the burden of coding and maintaining data pipelines, simplifying and accelerating the data loading process for all users.
Monte Carlo Raises $135 Million in Series D Funding for Data Observability Platform
Monte Carlo has raised a total of $236M in a 20-month period, most recently announcing their Series C in August 2021 and a suite of new product functionalities to help data teams achieve more reliable data. Monte Carlo intends to use the capital infusion to continue improving experiences for its hundreds of customers, scale the data observability category to new verticals, and grow its U.S. and EMEA go-to-market and engineering teams.
NetApp Closes its Acquisition of Open-Source Database Vendor Instaclustr
The acquisition of Instaclustr builds on a series of strategic acquisitions made by NetApp to deliver a comprehensive suite of offerings for Cloud Operations (CloudOps). Cloud Operations (CloudOps) is the set of activities, tools, and processes that keep cloud-native applications and underlying infrastructure operating optimally.
PlanetScale Adds New Features to its MySQL Database Service
The first of these new features is PlanetScale Portals, a new multi-region read-only replica system that will allow PlanetScale customers to replicate their data to any other AWS region (with support for Google Cloud and potentially other clouds coming later). With this update, PlanetScale is also launching Insights, a new real-time performance monitoring service for its database system that will allow users to keep tabs on how their queries are performing without having to use a third-party system.
Redgate Software Updated its SQL Data Catalog Solution
As more healthcare and financial services companies look for continuous data protection and management capabilities, Redgate's offering can help ensure sensitive, personal data is protected before databases are made available for use in development, testing, and more.
VAST Data Announced the Latest Version of Universal Storage
With an install base of multiple exabytes and an annual growth rate of 300 percent, customers are continually challenging VAST with new feature requests to power their data-intensive use cases. This release, in total, represents more than 30 new features that have been directly requested by VAST customers. Testament to VAST's R&D team, the average turnaround of "feature request to code" is four months.
For consideration in future data analytics news roundups, send your announcements to tking@solutionsreview.com.

Latest posts by Timothy King
(see all)