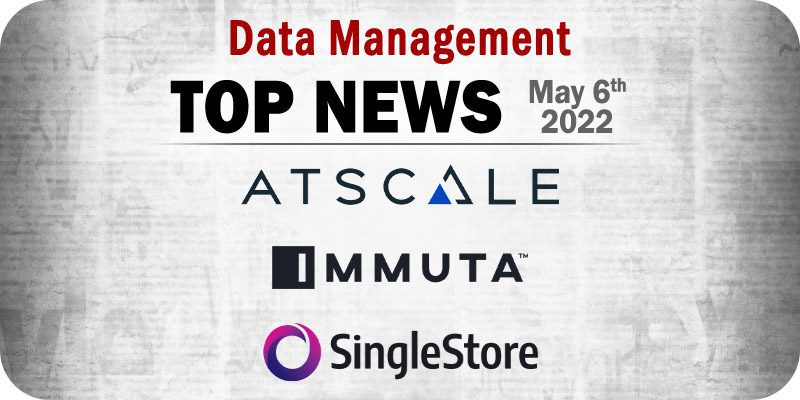 The editors at Solutions Review have curated this list of the most noteworthy data management news items for the week of May 6, 2022.
Keeping tabs on all the most relevant big data and data management news can be a time-consuming task. As a result, our editorial team aims to provide a summary of the top headlines from the last week, in this space. Solutions Review editors will curate vendor product news, mergers and acquisitions, venture capital funding, talent acquisition, and other noteworthy big data and data management news items.
Top Data Management News for the Week Ending May 6, 2022
Alluxio Releases the Latest Version of its Data Orchestration Platform
This new release features enhanced interface support for the Amazon S3 REST API; security improvements for sensitive applications with strict encryption compliance and regulatory requirements; and strengthened automated data movement functionality across heterogeneous storage systems without the need to manually move or copy the data.
AtScale Launches Cloud Dataholics YouTube Show
Each episode of the series explores a different facet of modern cloud data analytics. Set in a dramatized cloud data warehouse, the main characters are personifications of common business data types including CRM, Finance, Support, and HR. A high-strung Query Engine attempts to corral the data sets into satisfying requests from "The Business."
Bigeye Introduces Metadata Metrics
Metadata Metrics scan existing query logs to automatically track key operational metrics, including the time since tables were last loaded, the number of rows inserted, and the number of read queries run on every dataset. Metadata Metrics take only minutes to set up, with zero manual configuration and almost no additional load to the warehouse.
Digibee is Now Available on the Google Cloud Marketplace
Companies searching Google's marketplace for cloud solutions to integrate and connect disparate systems (apps, servers, data, clouds, gadgets and other things) will now be able to partner with Digibee. Digibee's entrance to Google Cloud Marketplace follows the company's $25 million Series A and will support its international expansion.
Immuta and Starburst Partner to Deliver Integration Plugin
An integration plugin now ships with every Starburst Enterprise instance and features include scalable attribute-based access control (ABAC), sensitive data discovery and classification, data policy enforcement and advanced policy building, and dynamic data masking auditing.
SingleStore Collabs with IBM on Enterprise Databases
This subscription-based software, which can be deployed on prem, in private clouds, or in public clouds, is designed to enable customers to scale out as needed; enjoy the familiarity of a relational database while being able to handle complex queries for analytics; and process, query and serve near real-time and historic data using a single, multi-model database.
Syniti Enhances its Flagship Data Management Platform
Building on the platform's history of success in complex enterprise data migrations, the company is introducing the fully cloud-based version of Syniti Advanced Data Migration, now called Syniti Migrate. With Syniti Migrate, customers will have greater control of their data in a faster, more secure offering – from any source to any target.
TDWI Drops New Data Management Assessment and Guide
The TDWI Data Management Maturity Model Assessment Guide provides a primer on what's driving the need for data management (including data fabrics, increasing diverse data types, hybrid cloud environments, AI and other modern analytics, and augmented intelligence). The model provides a framework for companies to understand where they are, where they've been, and where they still need to go to support strong data management.
For consideration in future data analytics news roundups, send your announcements to tking@solutionsreview.com.

Latest posts by Timothy King
(see all)