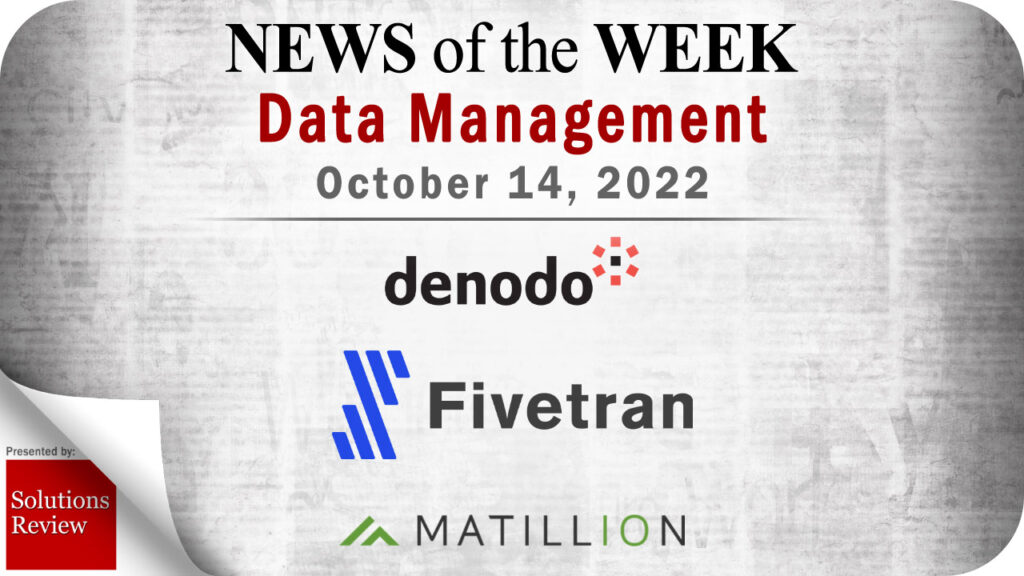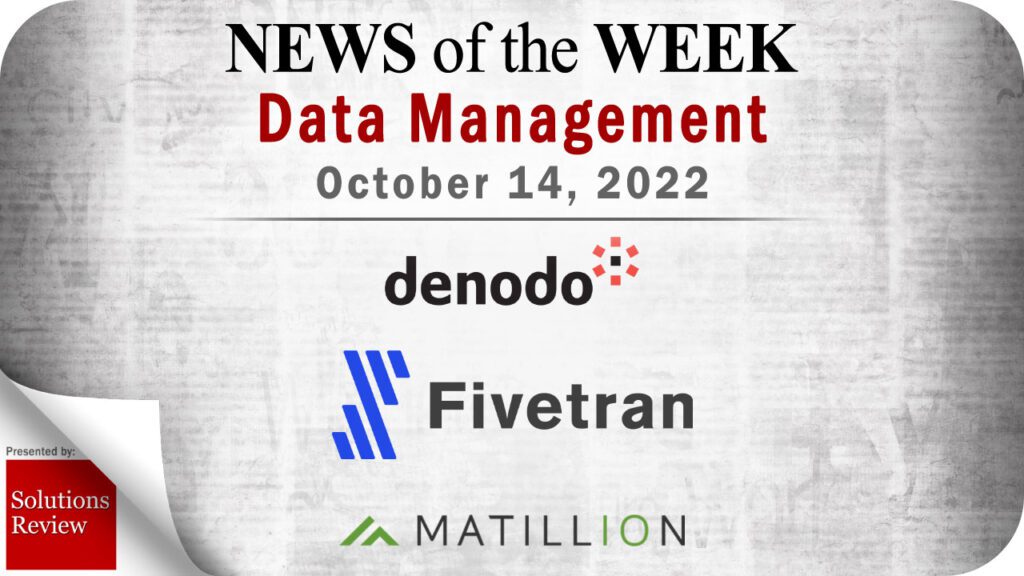 The editors at Solutions Review have curated this list of the most noteworthy data management news items for the week of October 14, 2022.
Keeping tabs on all the most relevant big data and data management news can be a time-consuming task. As a result, our editorial team aims to provide a summary of the top headlines from the last week, in this space. Solutions Review editors will curate vendor product news, mergers and acquisitions, venture capital funding, talent acquisition, and other noteworthy big data and data management news items.
Top Data Management News for the Week Ending October 14, 2022
Anomalo Partners with Google Cloud to Offer Data Observability on BigQuery
Anomalo addresses the data quality problem by monitoring enterprise data and automatically detecting and root-causing data issues, allowing teams to resolve any hiccups with their data before making decisions, running operations or powering models. The combination provides customers with a way to monitor the quality of the data in any table in BigQuery's platform without writing code, configuring rules or setting thresholds.
data.world Expands Partnership with Snowflake on Data Cataloging
The joint platform creates a single, semantically organized view of data from multiple sources so more people can find, understand, and discover relationships among data no matter where it lives or what format it's in. data.world's reporting capabilities, now Powered by Snowflake, make it easier for joint customers to know who is using what data, how often, for what purpose, and if it is useful in solving their business problems.
Denodo Secures Google Cloud Ready – BigQuery Designation
By earning this designation, Denodo proved that the Denodo Platform has met a core set of functional and interoperability requirements when integrating with BigQuery. This designation enables common Denodo and Google Cloud customers to discover and have confidence that the Denodo Platform works well with BigQuery.
EDB Leads Contribution of PostgreSQL with Version 15
EDB's significant development and contributions to Postgres 15 include the introduction of the MERGE SQL command, which makes it easier for enterprises to migrate from expensive, legacy databases to open-source. Postgres 15 also features improved database security, enhanced backup and recovery options, and advanced logical replication capabilities.
Fivetran Adds New Product Features and Expands Partnership with Microsoft Azure
The deepening partnership between Fivetran and Microsoft Azure includes support for the Microsoft Intelligent Data Platform, in addition to integrations with Azure Synapse and Azure Data Lake Storage (ADLS) products. Fivetran supports the Intelligent Data Platform by integrating with Azure Synapse and providing reliable, high-quality data movement across the ecosystem.
Immuta Updates Data Security Platform with New Monitoring Tools and Launches BigQuery Integration
These new features include native integration with Google BigQuery, expanded integrations with Snowflake, including external OAuth support, audit log data export into Amazon S3, and better policy onboarding for Databricks.  Paired with Immuta, BigQuery customers gain automated data discovery capabilities, dynamic access and security controls, and always-on monitoring and reporting.
Informatica Now Among Microsoft's Intelligent Data Partner Ecosystem
Microsoft announced the launch of this ecosystem during its Microsoft Ignite 2022. This initiative represents an investment both companies are making towards helping enterprises truly operationalize AI with trusted and governed data. This announcement follows the recently announced Multidomain Master Data Management-as-a-Service on Microsoft Azure.
MANTA Expands Data Lineage Platform with 'Release 38'
With Release 38, MANTA is offering new scanners for cloud-based data integration tools Fivetran and Azure Data Factory. By connecting to and scanning these two popular data integration solutions, MANTA users will achieve comprehensive visualization of data flows to produce informed, actionable business insights.  Release 38 incorporates several enhancements to existing data lineage scanners to improve user experience and offer greater visibility into data pipelines.
Matillion Introduces New Data Productivity Cloud
Matillion's Data Productivity Cloud helps teams get data business-ready, faster, accelerating time-to-value and increasing the impact data can have. Users load, transform, synchronize, and orchestrate data on an integrated platform. These workloads improve productivity and efficiency for data teams.
Melissa Unveils 2023 Data Catalog Update
Melissa's Solutions Catalog features the data quality, enrichment, and identity verification solutions powering compliance, fraud prevention, sales, customer engagement, and analytics. Developed as an industry resource for database administrators and developers alike, this catalog highlights tools that clean, verify, update, dedupe, and enrich customer contact data.
Reltio Expands Google Cloud Partnership for Data Consolidation
This collaboration improves the customer experience by making it easier for them to consolidate, cleanse and enrich data in real-time with master data management capabilities in Google BigQuery. Reltio will now offer pre-built industry-specific solutions for core data domains like customer, product, and location in Google Cloud BigQuery.
TDWI Drops New Resource Guide on Data Integration and Data Management Modernization
This original, survey-based report focuses on how modernization trends for full-featured data platforms as well as independent data integration and data management solutions are leading teams to increase the value of their enterprise data sets. The author of the report, David Stodder, is the senior director of TDWI Research for business intelligence.
The purpose of this course is to build your practical knowledge and maximize your success as a current or future data governance professional. The lessons and materials provided will be instrumental in your planning and implementation of a data governance program. You will learn the practical steps, best practices, and templates to put together and implement your data governance program from scratch or improve the one you have.

Latest posts by Timothy King
(see all)