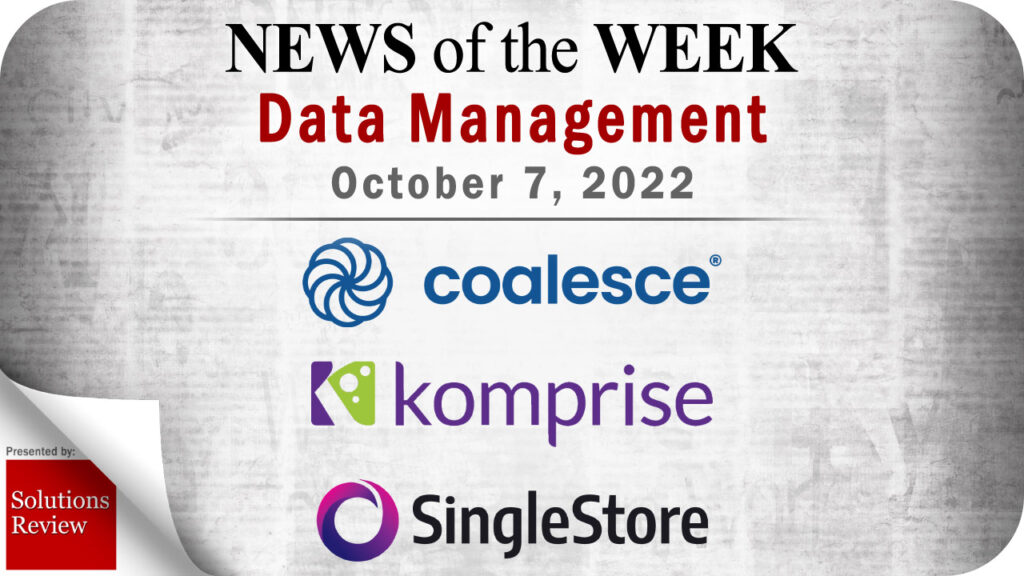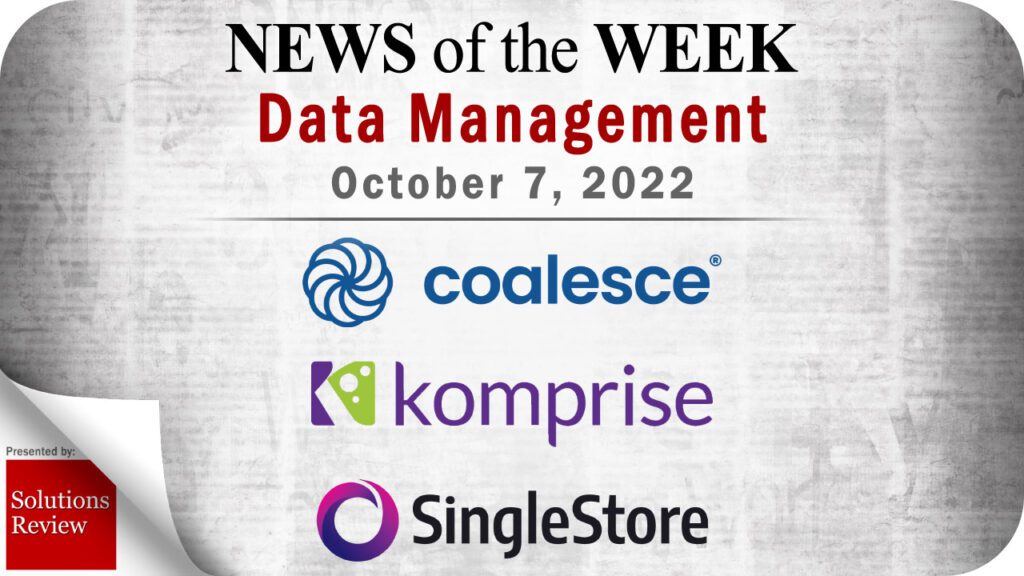 The editors at Solutions Review have curated this list of the most noteworthy data management news items for the week of October 7, 2022.
Keeping tabs on all the most relevant big data and data management news can be a time-consuming task. As a result, our editorial team aims to provide a summary of the top headlines from the last week, in this space. Solutions Review editors will curate vendor product news, mergers and acquisitions, venture capital funding, talent acquisition, and other noteworthy big data and data management news items.
Top Data Management News for the Week Ending October 7, 2022
ArangoDB Launches ArangoGraphML and ArangoGraph Insights Platform
ArangoGraphML provides enterprise-ready, graph-powered machine learning (ML) available as a cloud service – helping both experts and non-experts turn deeper insights into innovations. Powered by the ArangoDB graph database, ArangoGraph Insights Platform (ArangoGraph) is a cloud-based graph data and analytics platform that uncovers insights in data that are difficult or impossible to obtain with traditional SQL, document, or even other graph databases
Coalesce Raises $26 Million in Series A Funding for Snowflake Data Transformation
Coalesce combines the speed of an intuitive graphical user interface (GUI), the flexibility of code, and the efficiency of automation for data transformations. This round follows a momentous year for Coalesce as the company exited stealth and raised $5.92 million in seed funding in January. This round of funding will build on that momentum with Coalesce continuing to invest in the product and ecosystem.
Dynatrace Launches Grail Core Technology to Power Analytics, Observability, and Security
Initially, Dynatrace is leveraging Grail to power log analytics and management. Going forward, the company expects to extend the technology to power additional IT, development, security, and business analytics solutions. Grail is a causational data lakehouse with a massively parallel processing (MPP) analytics engine.
Komprise Drops Fall 2022 Release of Intelligent Data Management
The Fall 2022 release builds upon Komprise Smart Data Workflows, a new capability that allows IT teams to automate the process of tagging and discovering relevant file and object data across hybrid data storage silos and feeding the right data to cloud services. Komprise is a well-established provider of unstructured data management and mobility software.
IT Infrastructure Player Kyndryl Partners with Teradata on AI Data Modernization
The companies are uniting Kyndryl's Data and AI services and infrastructure management capabilities with Teradata's high-performance cloud analytics and data platform to help customers modernize and migrate their on-prem data warehouses to the cloud with hyperscaler platforms. Kyndryl and Teradata will also collaborate to help customers use AI to derive better insights and outcomes from their hybrid and multi-cloud data environments by designing, enabling and supporting enterprise data modernization solutions.
Materialize Announces Early Release of New Streaming Database
Materialize delivers in a single platform the separation of storage and compute, strict-serializability, active replication, horizontal scalability, and workload isolation — all through a simple SQL interface available as a fully-managed cloud service. Materialize's PostgreSQL-compatible interface lets users leverage the tools they already use as well.
Ocient's Data Warehouse is Now Available in the AWS Marketplace
Customers may engage directly with Ocient in AWS Marketplace, or with Ocient partners and resellers who can now offer Ocient deployed on AWS to their network of customers. AWS customers can harness the performance at scale of Ocient's Compute Adjacent Storage Architecture (CASA) optimized for nonvolatile memory express (NVMe) solid state drives (SSDs), high-core-count processors and 100GB networking.
Precisely Releases Future of Data Architecture Study
The study revealed major discrepancies in how data architecture and management is viewed across organizations – with central data and analytics teams generally satisfied with the future viability of their data landscapes, but business users unconvinced that existing architecture is modern enough to meet constantly evolving business needs.
Provectus Launches New Open-Source Data Discovery and Observability Tool
Provectus is an AI consultancy and solutions provider, helping companies in a variety of industries. The Open-Source Data Discovery (ODD) and Observability Platform is a data discovery and observability service built in close collaboration between Provectus and the open-source community. Provectus is headquartered in Palo Alto, California.
SingleStore Secures $146 Million in Series F-2 Financing
Led by Goldman Sachs, This funding comes on the heels of SingleStore's recent onboarding of Senior Vice President of Marketing Sanjay Aurora. SingleStore also welcomed Prosperity7 as a new investor as part of its F-2 funding round. SingleStore announced its product integration with SAS Viya earlier this summer, was recognized by Dresner Advisory Services and TrustRadius, and was included on the Inc. 5000 list.
Editor's Choice in e-Learning and Online Training: Learn SQL Nanodegree
Perform analysis on data stored in relational and non-relational database systems to power strategic decision-making. Learn to determine, create, and execute SQL and NoSQL queries that manipulate and dissect large-scale datasets. Begin by leveraging the power of SQL commands, functions, and data cleaning methodologies to join, aggregate, and clean tables, as well as complete performance tune analysis to provide strategic business recommendations.

Latest posts by Timothy King
(see all)