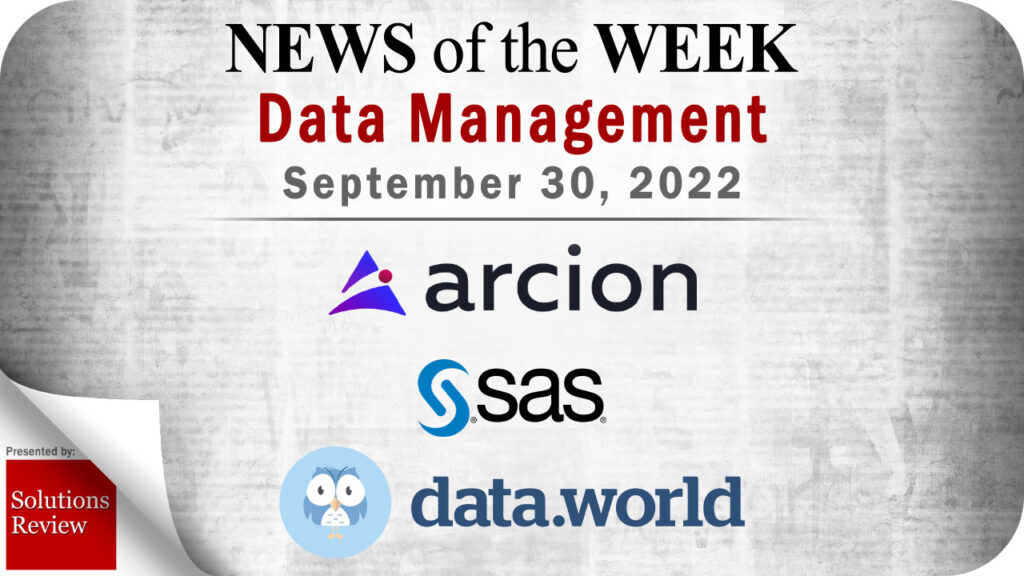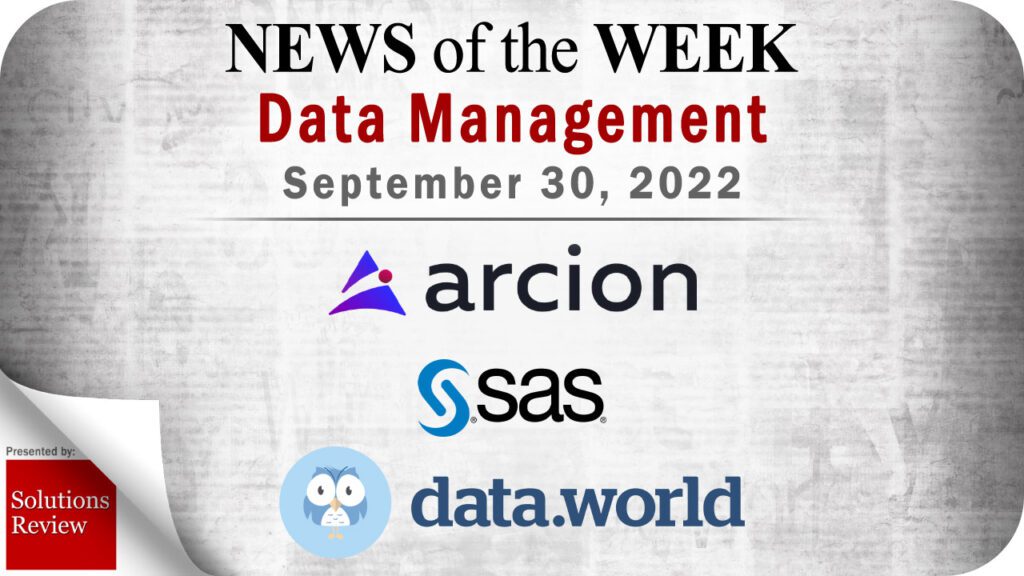 The editors at Solutions Review have curated this list of the most noteworthy data management news items for the week of September 30, 2022.
Keeping tabs on all the most relevant big data and data management news can be a time-consuming task. As a result, our editorial team aims to provide a summary of the top headlines from the last week, in this space. Solutions Review editors will curate vendor product news, mergers and acquisitions, venture capital funding, talent acquisition, and other noteworthy big data and data management news items.
Top Data Management News for the Week Ending September 30, 2022
Acceldata Partners with Snowflake for Enterprise Data
This expansion of Acceldata's partnership with Snowflake, the Data Cloud company,  aims to provide joint customers with improved visibility and reliability into monitoring and analyzing the performance and configuration of modern data environments. Acceldata's Data Observability Cloud provides data teams with actionable insights into spend, administration, and usage trends, as well as alerts for misconfigurations or anomalies.
Aiven Acquires Open-Source Kafkawize Data Governance Tool
Marking a first for the company, this acquisition signals Aiven's evolution from an open-source contributor to a steward of open-source communities. As part of this transition, Kafkawize has been renamed Klaw. Klaw directly meets the needs of developers by providing a Kafka governance interface that can manage topic-level operations.
Arcion Announces Agentless Change Data Capture for Supported Databases
Arcion provides agentless CDC for all supported platforms, including Microsoft Azure and SQL Server, Oracle, DB2, SAP HANA, Salesforce, PostgreSQL, MongoDB, Snowflake, MySQL, and numerous others. Agentless CDC eliminates the need to install and manage proprietary software on the database server.
data.world Partners with Fivetran on Cloud Data Adoption
Together, data.world and Fivetran deliver significant benefits to enterprises moving to a modern data stack, including end-to-end pipeline visibility and plug-and-play data governance. data.world leverages the Fivetran Metadata API to track data "in-flight" from source to destination, increasing efficiencies and minimizing strain on data engineers.
DiffusionData Realigns with New Market Strategy
DiffusionData, formerly known as Push Technology, announced the final details of the company's business realignment strategy to meet the digital transformation needs of the broad range of markets it serves. The last step is to present the renaming of the company to assure absolute clarity on the corporate mission — to manage and reduce the costs of data Consumption, Transformation, and Delivery in real-time at Internet scale.
Flatfile Raises $50 Million Series B Funding for Enterprise Data Exchange
Bringing Flatfile's current total funding to nearly $100 million, the round will enable the company to expand and support its fastest-growing segment: global enterprise companies. Soon, Flatfile will release a major update that will enable developers to build directly on top of Flatfile's underlying platform components.
SAS Software's Viya Data Management and Analytics Offering Now Available on Azure
The SAS Viya analytics platform is now available in the Microsoft Azure Marketplace with the click of a button on a pay-as-you-go basis. Full-featured SAS Viya on Microsoft Azure equips customers worldwide with access to essential data exploration, machine learning, and model deployment analytics. It's available in many translated languages and includes an extensive in-app learning center to support immediate onboarding and long-term success.
thatDot's Quine Reaches One-Million Events Per Second Processing Milestone
While most graphs top out around thousands of events per second or less, Quine can process over 1 million simultaneous writes and also execute the equivalent of over 1 million four-node graph queries simultaneously. To benefit the developer community, Quine has published the results and actual test code so that others can reproduce the benchmark and tailor it to their use cases for their own business benefit.
VAST Data and Dremio Partner on Data Silos and Fast Queries at Scale
Regardless of physical location – on-premises or in the public cloud – Dremio customers can now analyze their data anywhere by leveraging VAST's massively parallel architecture for concurrent and near real-time data access at any scale. VAST and Dremio are at the forefront of a market shift away from siloed data warehouses and legacy data platforms such as Hadoop.
For consideration in future data management news roundups, send your announcements to the editor: tking@solutionsreview.com.
This module will show you how to build a production-ready data infrastructure. This training will take you 5 months to complete, and intermediate Python and SQL skills are recommended. Students will learn to create relational and NoSQL data models to fit the diverse needs of data consumers, as well as sharpen their data warehousing skills and deepen their understanding of data infrastructure.

Latest posts by Timothy King
(see all)